App-based takeout surged during the pandemic. But did it drive new business, or reinforce what was already there?
Food delivery surged during the pandemic – especially third-party delivery services. Here's how Americans used those apps.
Americans' use of third-party takeout and delivery services surged during the pandemic, as people spent more time at home but less time in-person at restaurants. 38% of Americans say they order takeout using a third-party service sometimes or often, and 23% say they're doing it more than they were last year, according to new data from the Ipsos Coronavirus Consumer Tracker.
These numbers still lag the number of Americans who order directly from restaurants – 67% say they order takeout directly from restaurants sometimes or often. But are people using delivery to explore new options, or support their existing favorites? The good news for the restaurant industry is that the answer is "both."
32% say they use third-party services to support restaurants they've ordered from before
25% use them to try new places to eat
18% use them to try new dishes at restaurants they've ordered from before
Those who use third-party services say there are several perks:
30% say they use them to have a variety of choices in restaurants and cuisines
28% say they use them because it's more convenient than ordering directly from a restaurant
21% say they use them because it's the only way they can get delivery food in their area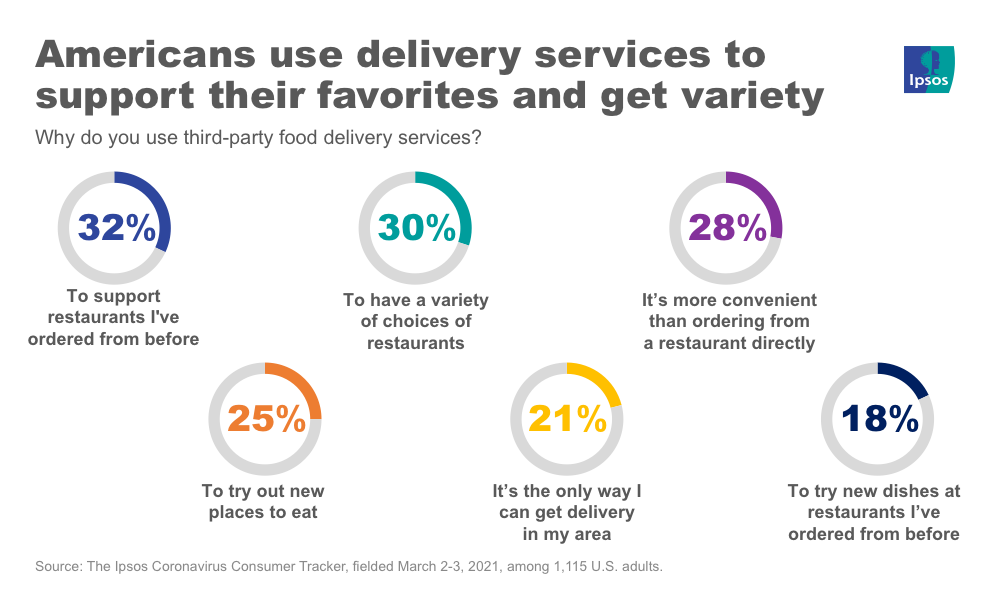 So, when people open their computers or phones to order food, how do they decide which app to use?
The most commonly cited reason: which restaurants are available. 34% of people who have used third-party services said this was important.
That was closely followed by low service fees, which were cited by 33% of app users.
22% of users said short wait times are important; 18% cited customer service.
Lower on the scale: User experience on the app/website (13%), loyalty benefits (10%), ability to apply or adjust tips after ordering (9%), and ability to tip both the driver and the restaurant (8%).
The inability to dine in-person over the last year may have increased demand for delivery during the pandemic. However, delivery may soon face renewed competition from in-person dining. Half of Americans say they dined out at a restaurant last summer, but 78% say they're likely to dine out at a restaurant this year.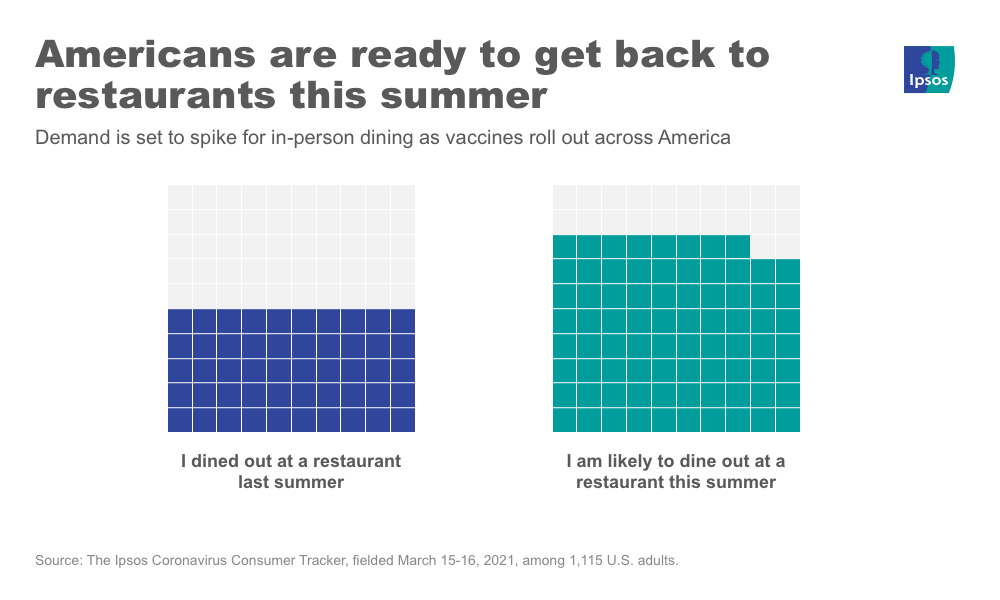 While some dollars may shift back, it won't be all of them – ordering food on mobile devices is here to stay, says Alyson Heffernan, a senior vice president in Ipsos' Innovation service line. Restaurants will still need to pay attention if they want to maintain this crucial source of revenue.
"Online ordering services have become a key part of the restaurant economy, and they'll be crucial as players in the food industry work to recover and thrive after the pandemic," Heffernan said. "While we may not see the same level of demand in the future, for many people, the way they order food from restaurants may have permanently shifted. That makes the user experience important, so make sure you're offering the service in a way that's as frictionless as possible for your customers – they want solutions that make their lives easier, and tastier."