Public Rates Governors Stronger than President on COVID-19
New Washington Post-Ipsos data shows residents of states pushing to reopen early rate their governors worse than those maintaining lockdowns
Washington, DC, May 12, 2020 – A newly released Ipsos poll on behalf of The Washington Post finds that more Americans approve of how their state's governor is handling the coronavirus outbreak than how President Trump is handling it. States that are reopening early, though, see lower approval for how their governor is handling the outbreak. Most believe that containing the spread of the virus should be prioritized, rather than reopening businesses.
While most approve of their state governor's handling of the coronavirus pandemic, just under half approve of President Trump's.
Seven in ten Americans (71%) approve of the way their state's governor is handling the outbreak, while 43% approve of President Trump's handling.
Moreover, 69% say their governor is doing enough to ensure that people can return to work safely, while only 42% think President Trump is doing the same.
Most Americans think the U.S. should focus on slowing the spread of the coronavirus over reopening businesses. Those living in states where the governor is pushing to reopen businesses now are less likely to approve of the governor's handling of the coronavirus outbreak.
Three in four Americans (74%) believe the U.S. should keep trying to slow the spread of the coronavirus, even if that means keeping many businesses closed.
As many states begin reopening, 56% think their state government is handling restrictions on business activity correctly.
The residents of Georgia (39%), Texas (57%), and Florida (60%), all of which are reopening early, are less likely overall to approve of their governor's actions (71% overall). They are also less likely to think that their state government is handling restrictions correctly, with just 27% of Georgians , 33% of Texans, and 42% of Floridians saying this compared to 56% overall.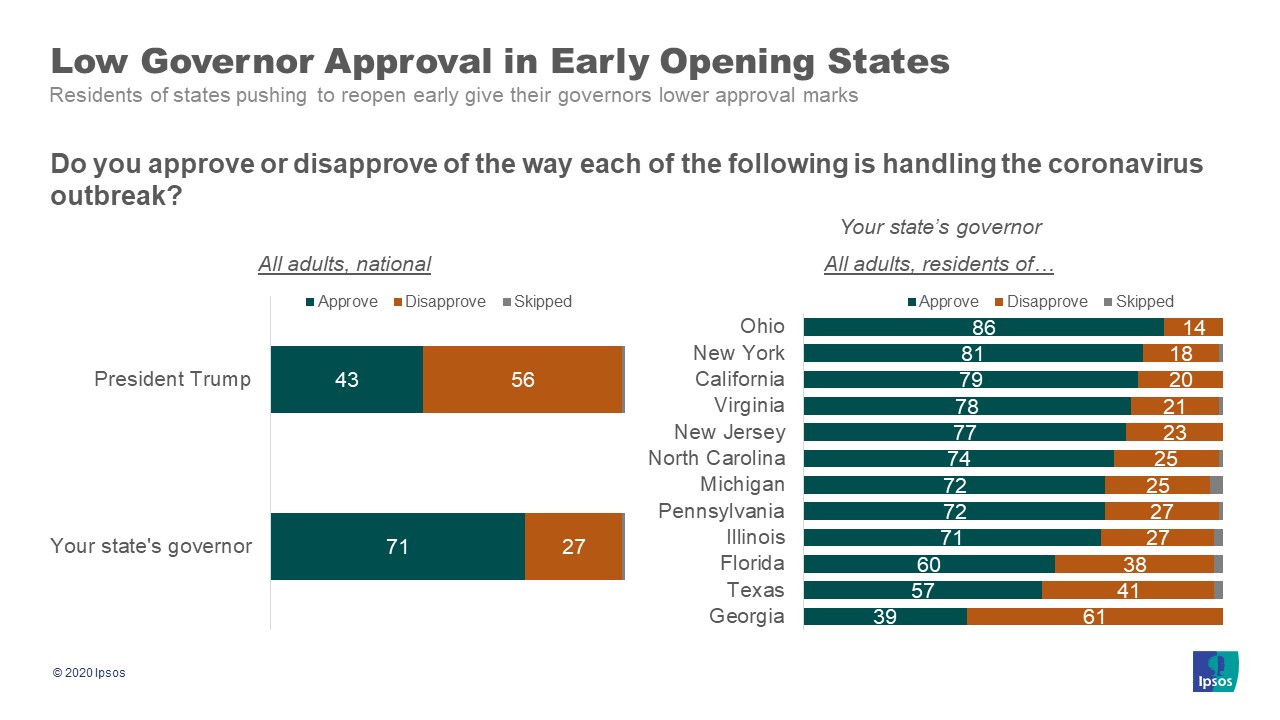 The Washington Post story can be found here. 
About the Study
This poll was jointly sponsored and funded by The Washington Post and Ipsos. The poll is a random sample of adults in the United States. Interviews were conducted in English and Spanish.
This questionnaire was administered with the exact questions in the exact order as they appear in this document. Demographic questions are not shown. If a question was asked of a reduced base of the sample, a parenthetical preceding the question identifies the group asked. Phrases surrounded by parentheticals within questions indicate clauses that were randomly rotated for respondents.
Ipsos conducted sampling, interviewing, and tabulation for the survey using the KnowledgePanel, a representative panel of adults age 18 and over living in the United States. KnowledgePanel members are recruited through probability sampling methods using address-based sampling. Panel members who do not have internet access are provided with a netbook and internet service.
This survey uses statistical weighting procedures to account for deviations in the survey sample from known population characteristics, which helps correct for differential survey participation and random variation in samples. The overall sample was weighted to match the demographic makeup of general population adults age 18 or older by sex, region, age, race/ethnicity, education, household income, and language proficiency according to the Census Bureau's American Community Survey, and to residence in a metropolitan area according to the Current Population Survey.
The margin of sampling error including the design effect for the full sample is plus or minus one percentage point. The error margin is 3.5 among the sample of 928 people who were laid off. For results based on other subgroups, the margin of sampling error may be higher. Note that sampling error is only one of many potential sources of error in this or any other public opinion poll.
All error margins have been adjusted to account for the survey's design effect, which is 1.2 for this survey. The design effect is a factor representing the survey's deviation from a simple random sample and takes into account decreases in precision due to sample design and weighting procedures. Surveys that do not incorporate a design effect overstate their precision. 
For more information on this news release, please contact:
Chris Jackson
Senior Vice President, US
Public Affairs
+1 202 420-2025
chris.jackson@ipsos.com
Kate Silverstein
Media Relations Specialist, US
Public Affairs
+1 718 755-8829
kate.silverstein@ipsos.com    
About Ipsos
Ipsos is the world's third largest market research company, present in 90 markets and employing more than 18,000 people.
Our passionately curious research professionals, analysts and scientists have built unique multi-specialist capabilities that provide true understanding and powerful insights into the actions, opinions and motivations of citizens, consumers, patients, customers or employees. We serve more than 5000 clients across the world with 75 business solutions.
Founded in France in 1975, Ipsos is listed on the Euronext Paris since July 1st, 1999. The company is part of the SBF 120 and the Mid-60 index and is eligible for the Deferred Settlement Service (SRD).
ISIN code FR0000073298, Reuters ISOS.PA, Bloomberg IPS:FP www.ipsos.com
Download