Black Americans wholly support protest movement, but optimism for change is muted
New Washington Post-Ipsos poll finds that Black Americans are saddened and angered by Floyd's killing, but not surprised
Washington, DC, June 26, 2020
The third story from our Washington Post-Ipsos survey of Black Americans highlights the extent to which the COVID-19 pandemic has hit the Black community harder than other segments of America. This reality potentially explains why Black Americans have a much more cautious attitude towards the pandemic response than other segments of the population.
Detailed Findings
Black Americans are much closer to the ravages of the pandemic with a third (31%) knowing someone who has died of COVID-19, compared to only 13% among the entire population
As a consequence, the Black community is much more cautious about reopening the economy, with four in five (83%) saying controlling the virus is a higher priority than restarting the economy.
The Washington Post story can be found here. 
Washington, DC, June 25, 2020
The second in a series of releases from the new Washington Post-Ipsos poll of African and Black Americans finds that racism and police treatment of Black Americans are top tier issues, they overwhelmingly support former Vice President Joe Biden this November, but their support is as much opposition to Trump as it is support for Biden.
Detailed Findings
Over two-thirds of Black Americans say that racism and police treatment of Black Americans are one of the most important issues in their vote for president, above the economy, health care, or the coronavirus pandemic.
This focus on racism and police is much higher than among all Americans where only about one in three say it is the most important issue.
Black Americans overwhelmingly support Joe Biden for president, at a 92 to 5 margin vs. President Donald Trump.
This margin has grown from January 2020 when a hypothetical Democrat won Black Americans at an 82 to 4 margin.
Voting for Biden is mixed between half (49%) saying it is to support Biden, and half (50%) saying it is to oppose Trump.
Black Americans are mixed on the importance of adding a Black woman to the Democratic ticket, with half (50%) saying it is important and half (49%) saying it is not important to them.
Looking forward, Black Americans have much higher expectations of Joe Biden if he were to win than they currently do of Donald Trump.
Only 3% of Black Americans say that Trump has done a great deal or a good amount to reduce discrimination against Blacks in the criminal justice system. Compare that to two-thirds (65%) expecting Biden to do some or a great deal to reduce discrimination.
Almost nine in ten (87%) believe that Donald Trump is biased against Black people, compared to 17% thinking the same of Joe Biden.
Washington, DC, June 24, 2020
The first in a series of releases from the new Washington Post-Ipsos poll of African and Black Americans finds that while they overwhelmingly support the nationwide protests, many Black Americans are not optimistic it will produce lasting change, with most saying white Americans do not understand the level of discrimination they face.
Detailed Findings
Virtually all Black Americans (91%) support the protests that have taken place in cities across the country after the killing of George Floyd.
Floyd's killing has saddened (73%), angered (72%), and troubled (61%) the Black community. Far less say it has shocked (24%) or surprised (8%) them, though.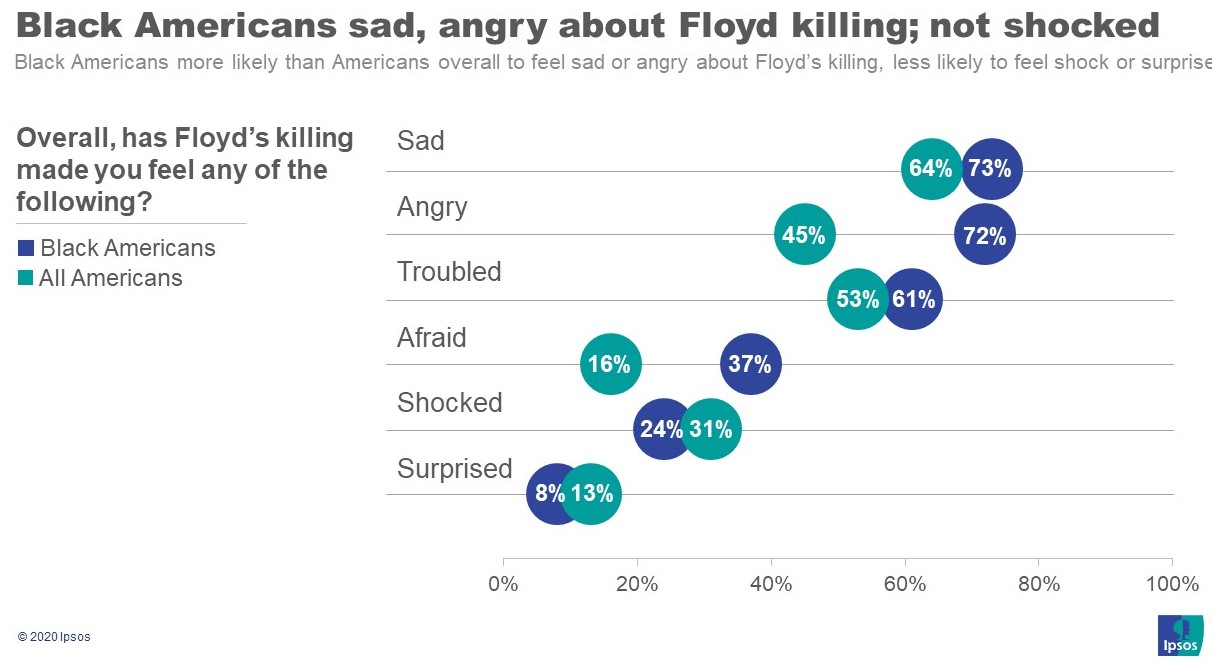 One in ten Black Americans (11%) say they've attended a protest, compared to about one in twenty (5%) of the total population.
Almost all (89%) of Black Americans believe holding protests calling for justice is an effective way to improve police treatment of Black Americans.
However, a majority of Black Americans (57%) believe that vandalism and looting undermined the goals of the protests a great deal or good amount.
Ninety-four percent of Black Americans say the country needs to continue making changes to give Black Americans equal rights to whites, compared to 64% of the total US population.
Nearly all Black Americans (95%) believe that Black people are treated less fairly than white people by the police in the U.S. This sentiment is shared by 67% of all Americans.
Around the same number of Black Americans say the same concerning police in the respondent's community (89%). However, all Americans are much less likely to call out racial discrimination by local police (52%).
Black Americans almost unanimously believe police are more likely to use deadly force against a Black suspect (93%) than a white suspect (<1%) or both equally (5%).
Three in ten Black Americans (31%) report that they've been treated unfairly by police in the last few years, and 36% report fearing a police officer might physically hurt them. This is compared to just 15% and 11% among entire U.S. population who reports being treated unfairly or fearing physical harm from a police officer.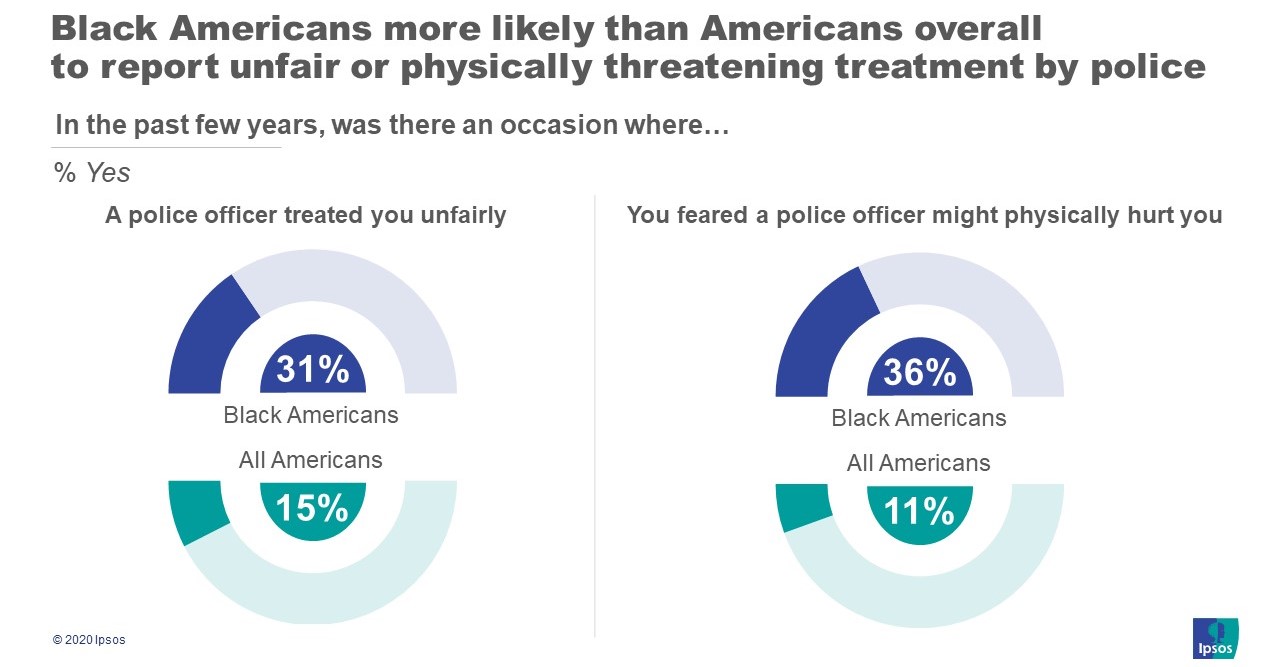 While, on balance, most Black Americans (54%) are optimistic that police treatment of Black Americans is likely to improve in coming years, they are far less optimistic than others (69% likely among all Americans).
Most Black Americans (81%) believe that most white people do not understand the level of discrimination experienced by Blacks, but more than half (59%) say that the attention to Floyd's killing by police will increase how much white Americans are concerned about police discrimination against Black Americans.
The Washington Post story can be found here. 
About the Study
This poll was jointly sponsored and funded by The Washington Post and Ipsos. The poll includes a random sample of 1,051 adults in the United States, as well as a partially overlapping sample of 1,153 non-Hispanic black adults. Interviews were conducted in English and Spanish.  
Ipsos conducted sampling, interviewing and tabulation for the survey using the KnowledgePanel, a representative panel of adults age 18 and over living in the United States. KnowledgePanel members are recruited through probability sampling methods using address-based sampling. Panel members who do not have internet access are provided with a tablet and internet service.
This survey uses statistical weighting procedures to account for deviations in the survey sample from known population characteristics, which helps correct for differential survey participation and random variation in samples. The overall sample and the non-Hispanic black sample were weighted separately to match the makeup of the respective population demographics by sex, region, metropolitan status, age, education and household income according to the Census Bureau's 2018 American Community Survey. The overall sample included an additional adjustment for race/ethnicity. Benchmarks for metropolitan status were from the Census Bureau's March 2019 Current Population Survey.
The margin of sampling error for the sample of non-Hispanic blacks is plus or minus four percentage points, while the error margin for the overall sample is 3.5 points. For results based on other subgroups, the margin of sampling error may be higher. Note that sampling error is only one of many potential sources of error in this or any other public opinion poll.
All error margins have been adjusted to account for the survey's design effect, which is 1.7 for the non-Hispanic black sample in this survey and 1.2 for the sample of U.S. adults overall. The design effect is a factor representing the survey's deviation from a simple random sample and takes into account decreases in precision due to sample design and weighting procedures. Surveys that do not incorporate a design effect overstate their precision.
For more information on this news release, please contact:
Chris Jackson
Senior Vice President, US
Public Affairs
+1 202 420-2025
[email protected]
Kate Silverstein
Media Relations Specialist, US
Public Affairs
+1 718 755-8829
[email protected]    
About Ipsos
Ipsos is the world's third largest market research company, present in 90 markets and employing more than 18,000 people.
Our passionately curious research professionals, analysts and scientists have built unique multi-specialist capabilities that provide true understanding and powerful insights into the actions, opinions and motivations of citizens, consumers, patients, customers or employees. We serve more than 5000 clients across the world with 75 business solutions.
Founded in France in 1975, Ipsos is listed on the Euronext Paris since July 1st, 1999. The company is part of the SBF 120 and the Mid-60 index and is eligible for the Deferred Settlement Service (SRD).
ISIN code FR0000073298, Reuters ISOS.PA, Bloomberg IPS:FP www.ipsos.com