Voices of Ukraine: Documenting Life During Wartime
In this first installment of Ipsos' weekly photo-essay series, Ukrainians from all walks of life share their personal experience of living in the middle of a war.
Washington, DC, September 29, 2022 - For more than six months, the war in Ukraine has captured headlines with stories of brutality, destruction, and loss. Now, Ipsos is offering a different lens: stories of "new normal," which detail the daily challenges of Ukrainians through its weekly photo-essay series Voices of Ukraine; how do people access essential services such as food, clean water, and healthcare? Where do kids go to school? How are people taking care of themselves and their neighbors?
Each week we will share a collection of first-hand experiences, anecdotes, quotes and visual stories collected by photojournalist Maranie R. Staab. Our first installment is a series of portraits introducing the public to the people living in the conflict. Through these stories, Ipsos seeks to show the people behind the data and offer a way for Ukrainians to tell their stories. This work is a living documentary.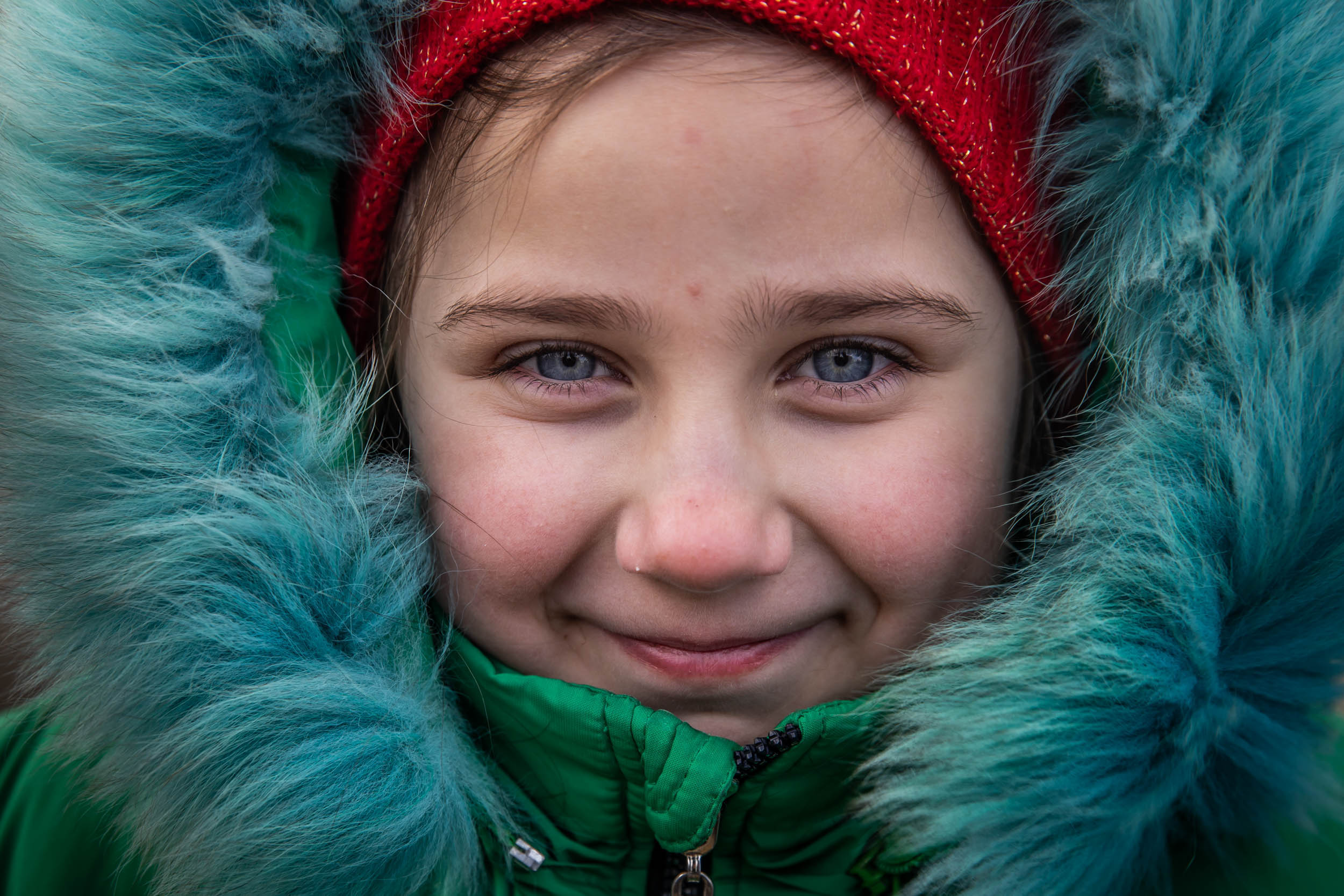 "My father stayed at home," says Leeza. "He said he would stay to protect Ukraine but that he loved me and would see me again soon."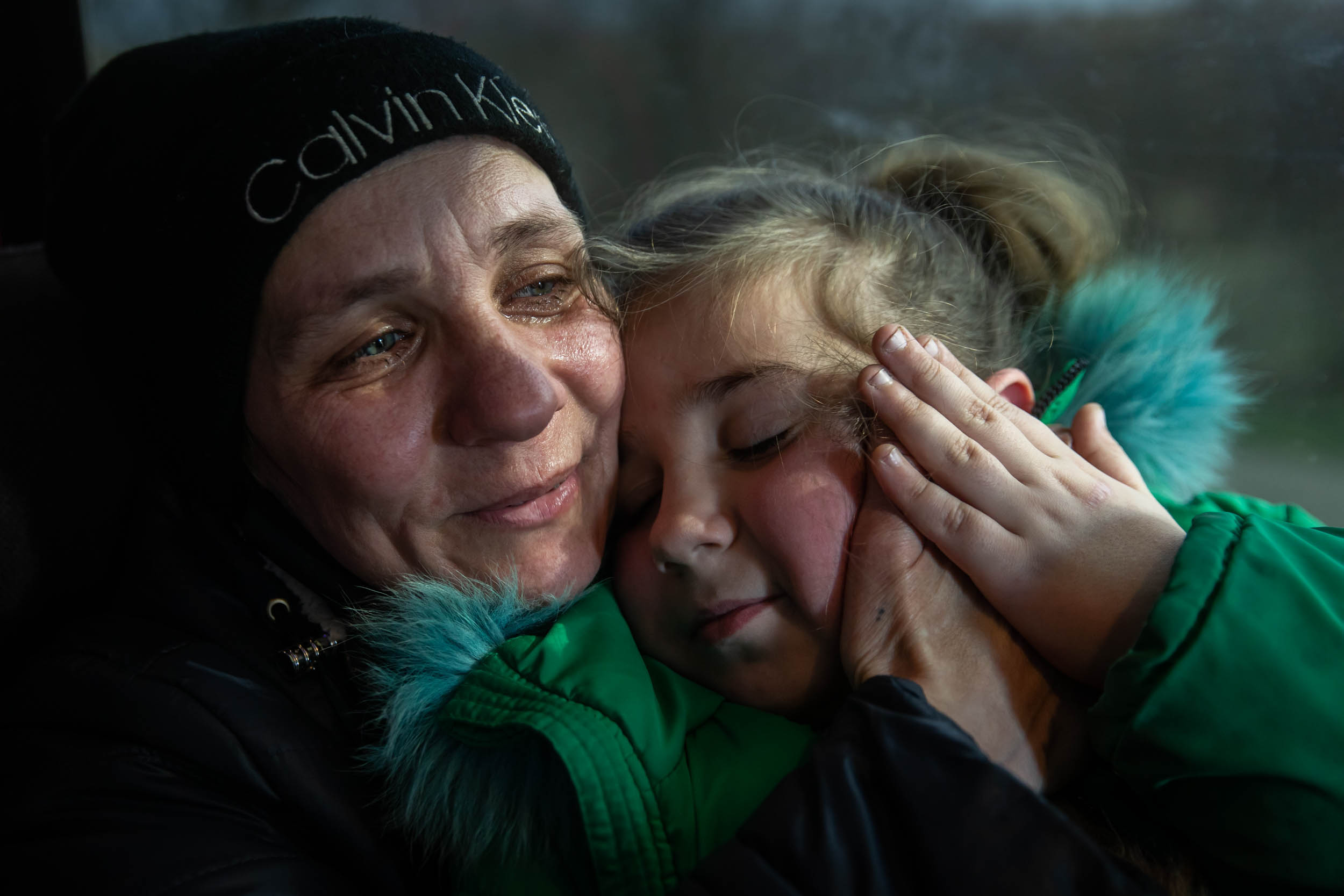 "We left everything behind," says Leena. "Our home, my husband, all of my clothes and keepsakes. It's just me and Leeza now."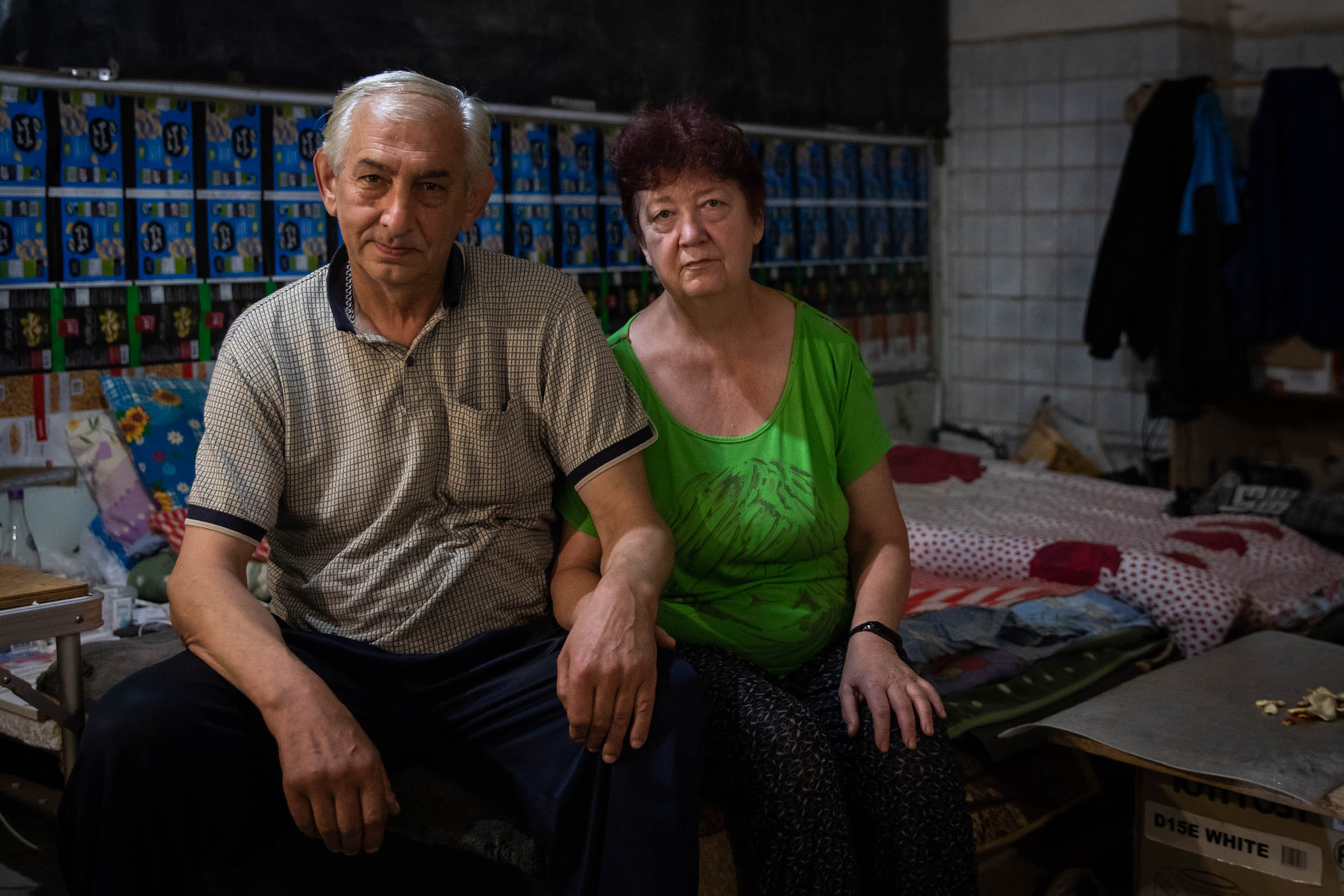 In Derhachi, a town north of Kharkiv, more than 60 people live in a large windowless concrete hole. Previously the basement of an office building, it was quickly converted to a bunker following the invasion.
Ludmilla and Slava, married for 50 years, have used this bunker as a home every night for over three months, sharing a makeshift bed constructed of pallet boards and foam padding. Like many Ukrainians, they count the days their country has been under attack, the months they have been displaced, and the friends and relatives who have perished.
"We live in fear," Ludmilla says. "At the beginning [of the war] we didn't leave our bathroom for three weeks. I thought I might go crazy, but outside of our flat there were explosions—I know too many people who did not survive."
Those who live in the bunker have few other options; their homes were bombed, leaving them damaged or destroyed. The streets are not safe, especially after dark.
By day, residents of the basement spend time above ground tending to gardens, some look for work, and others simply relish any time outside of the dark cellar that has been their home for months. Several times a week, Ludmilla goes back to what remains of her home, feeds her beloved pets and delivers food to a neighbor who, she explains, is too traumatized to leave.
"Every day, missiles hit places such as kindergartens, houses of civilians and humanitarian aid centers. There are no military objects nearby."
Fewer than 4,000 people remain in Derhachi, a town once home to more than 11,000.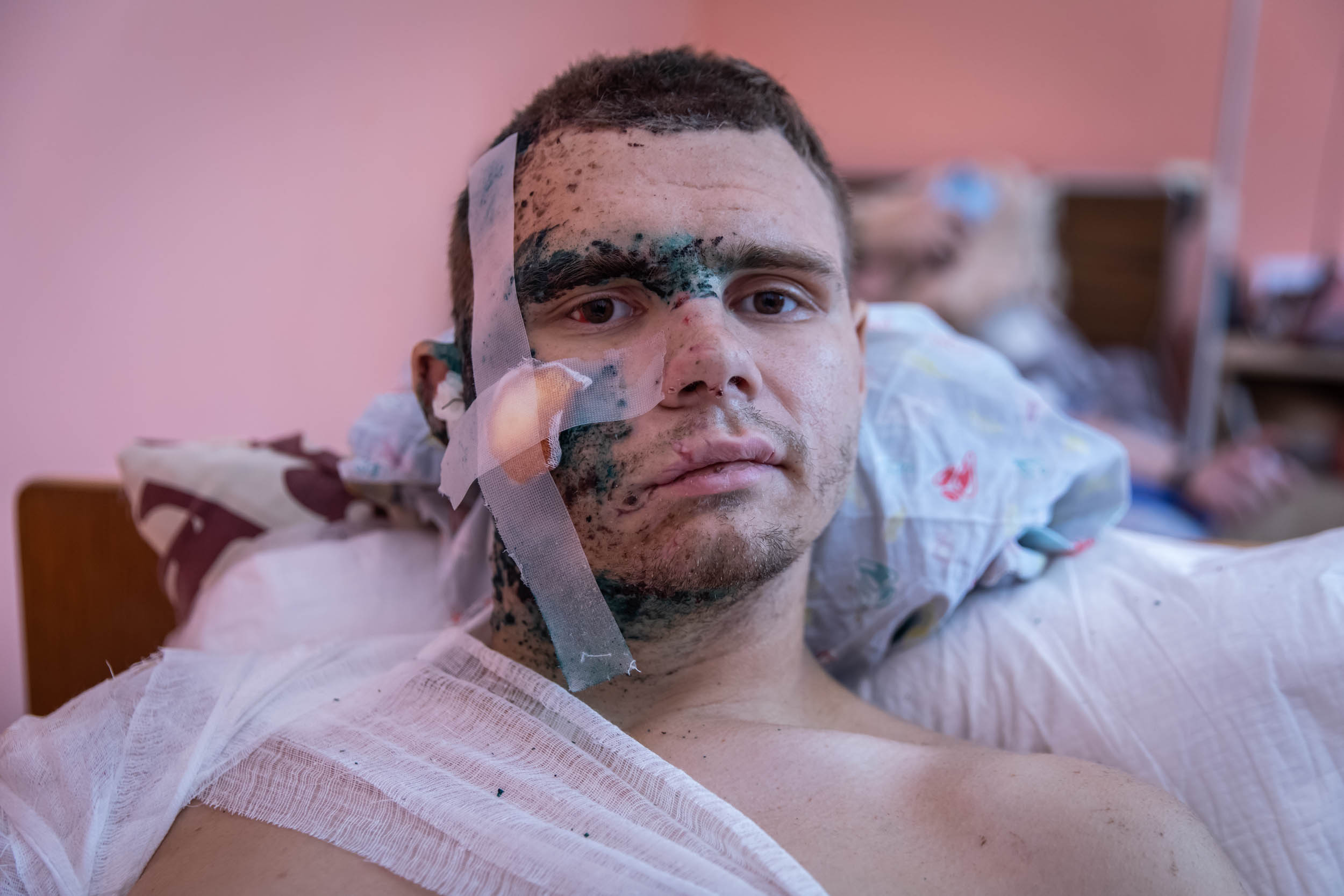 Diana, Nika, Glyb, and Alexei were celebrating their recent university graduation in Serhiivka, on the Black Sea, when a missile struck the hotel resort. All were hospitalized but survived the July 1st attack, which killed six people in the hotel resort and another 16 in a nearby apartment building.
"I remember everything that happened," says Glyb. "When we heard the first explosion, I called my parents, and then the missile hit our building. The boys were in the other room and were even more injured. But we are lucky; many did not survive."
When asked what he'll do when he can walk again, Glyb said with a laugh, "Dance. I want to dance. And to continue to live and enjoy peaceful times."
Diana, Nika, and Alexei all aspire to work in restaurant and hotel management. Glyb dreams of working at a marina.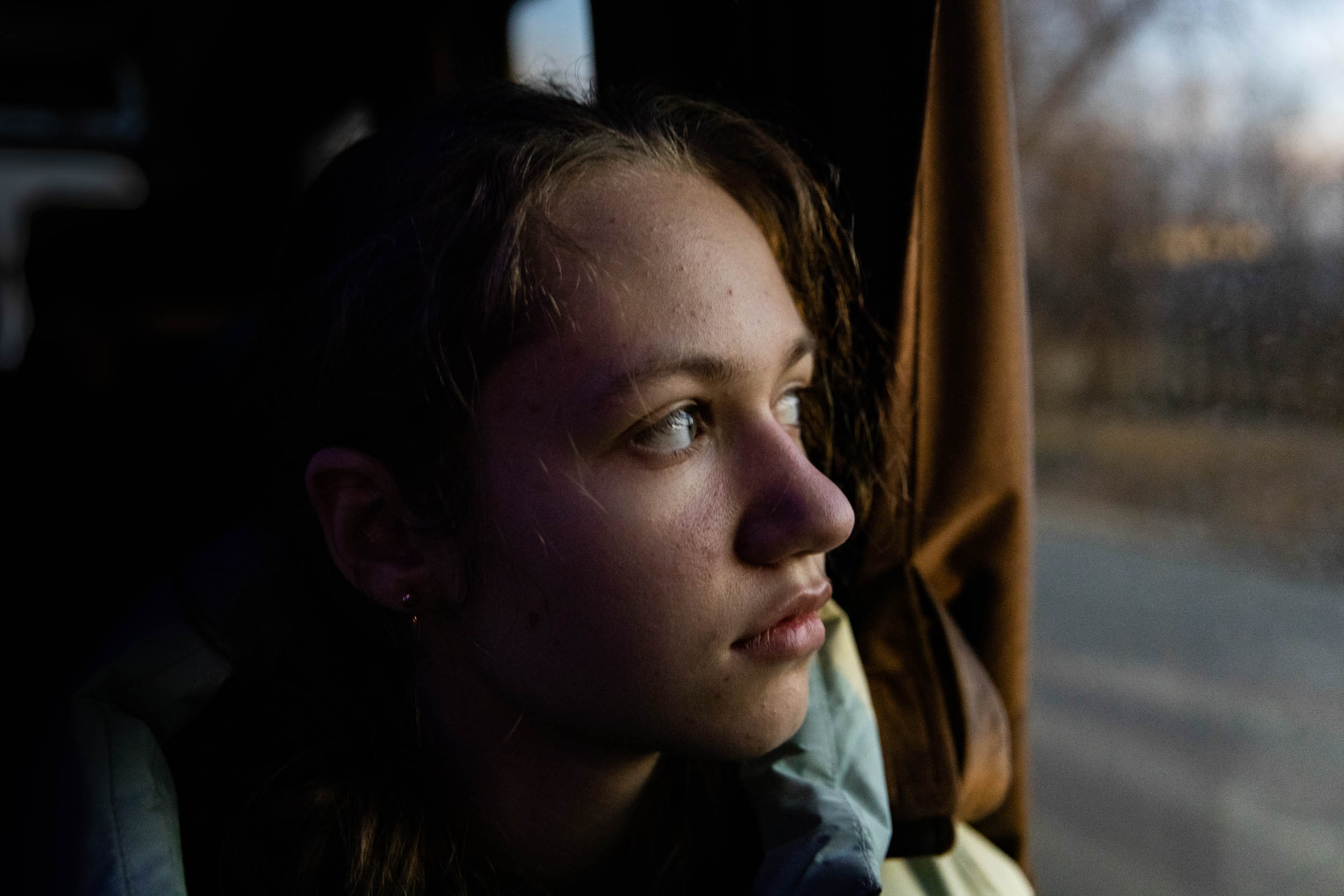 "Right before this happened, I was shopping for my prom dress," says Aliona. "It [was] my final year of school, and life was good, life felt normal. Now, I'm on a bus talking to you with only this small bag, and we're running away—we left everything behind".
"No one would ever think this would happen to them…but here we are. My father stayed home, and I don't know what will happen…to him, to us…to Ukraine".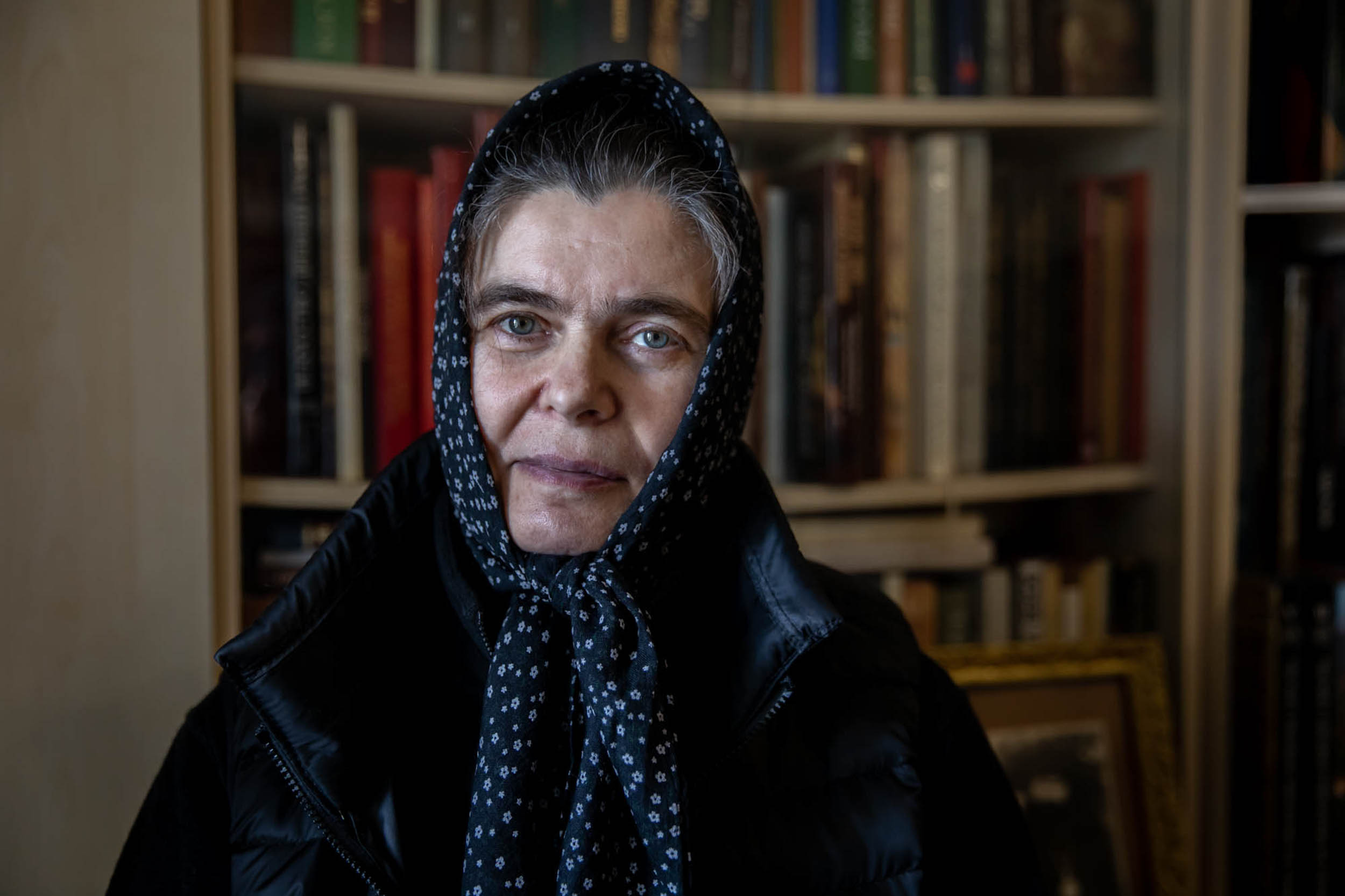 "To care for the people, to love, it's our duty, " says Mother Superior Seraphima. "Here we host about 130 elderly people with some refugees among them. We also host IDPs [internally displaced persons] who come from the regions with active military actions. Generally, there are several dozens of them per day. Sometimes more, sometimes less. When the escalation starts, the number of refugees increases. There are also many poor people [sheltering here]. We give food and help not only to refugees but also Odesa's poor, mostly retired elderly."
"There are many difficult stories, too many. Each new story is scarier than the previous one. When refugees come, they tell their stories. They escaped death. I heard so much that I almost started to be sick. It's very difficult for me."
Mother Superior Seraphima explained the importance of hot meals at the monastery: "Many of our elderly people are here because of the war. This food is important to them because they feel the warmth of people's hearts. And I think that this is the most important." "For suffering people, to receive a hot meal in such a difficult time is not only about food; they feel cared for, they feel loved, and [they] understand that people want to help. A slice of bread means a lot to them."
"Receiving meals is of great help to the monastery because gas is now really expensive. If we cook the food, we go into great debt. We do not have this problem if someone brings us ready-to-eat hot meals. Elderly people need their food not only to be fresh and hot, but also served on time. And now they get them at the right time."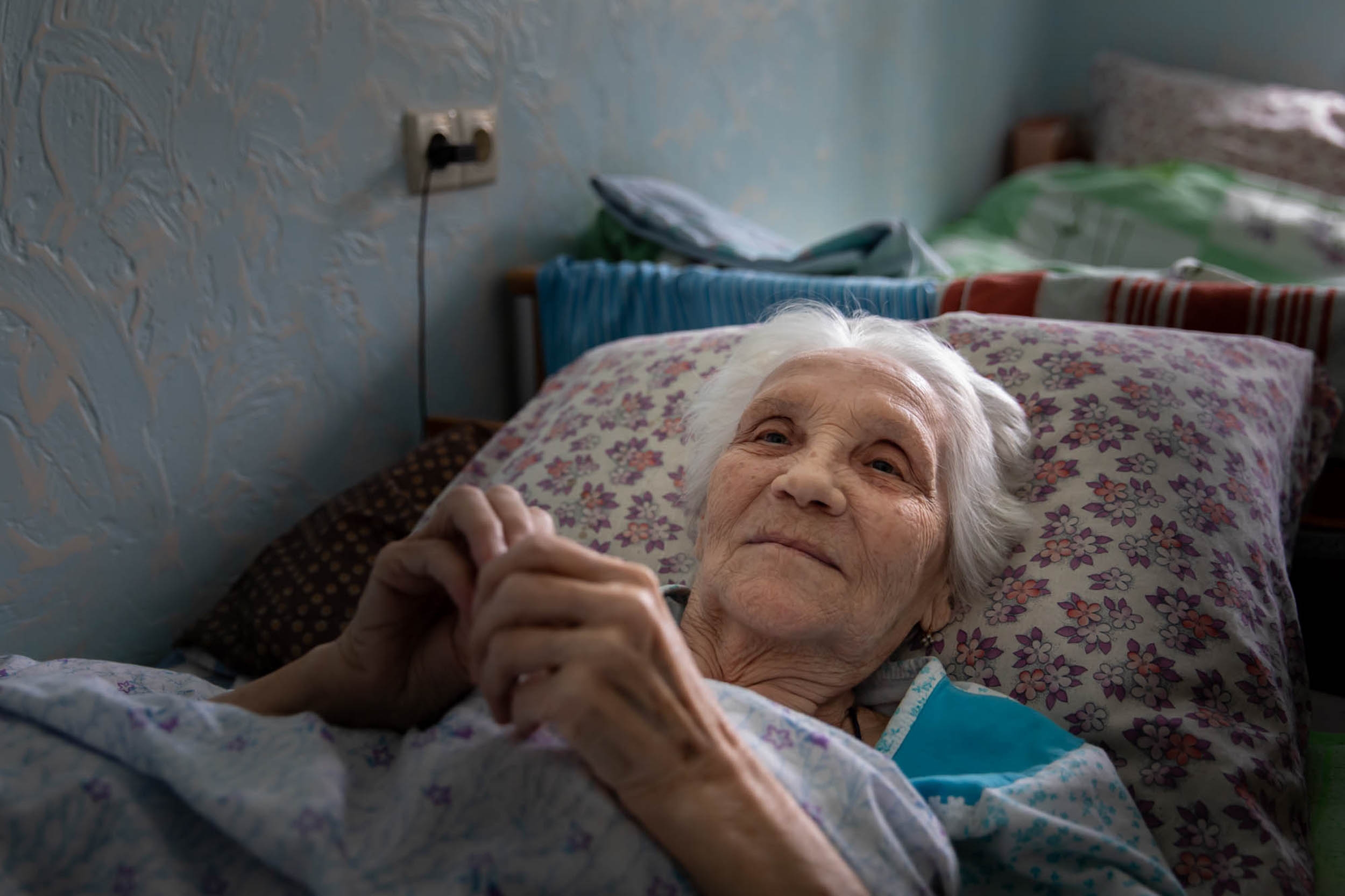 Maia Konstantinovna was born and raised in Odesa. She has spent all of her life in the city known as the Pearl of the Black Sea. As the war began to escalate in early March, Maia moved to a nearby monastery. She has one daughter who lives in Germany. That's her only family.
When asked about her favorite memories of Odesa, Maia couldn't pick just one, "You know, it's difficult to choose one memory. All memories about Odesa are great."
For more than 40 years, Maia worked as the head of a chemical lab. "I was the head of the lab; I worked there for many years and managed maybe 100 people. I liked my job."
While staying at the monastery, she has made new friends and likes to spend time with them or read. She also spoke warmly of the food, "You know, I want to say that I like everything to eat here. Everything is tasty."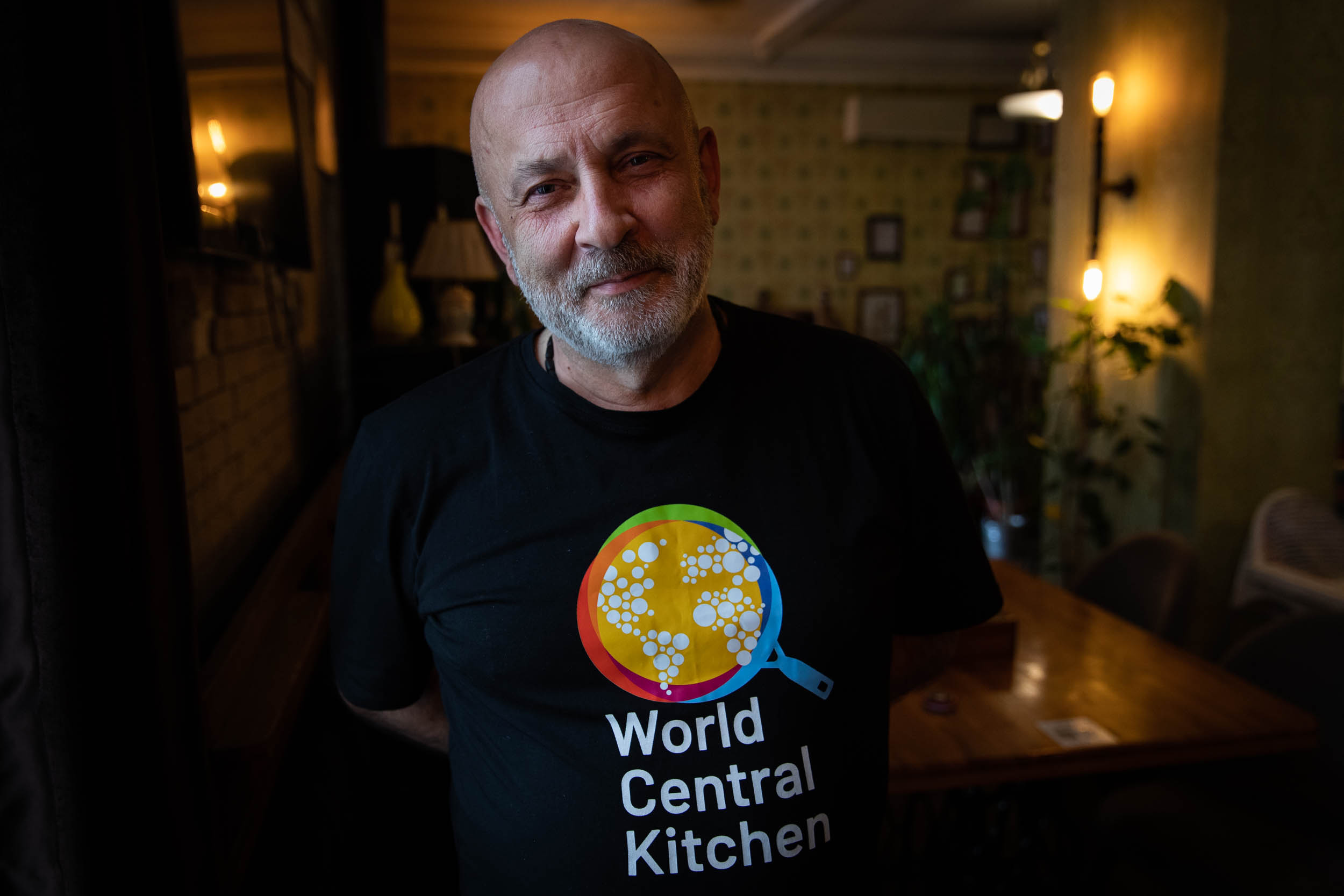 Chef Gella was born in Georgia, but he moved to Ukraine as a young man. He has worked in a kitchen for most of his life. Since February 24th, he has spent each day preparing food for both distribution for IDPs and the guests at Grifel Cafe in Mykolaiv.
"I have no right to leave," Gella answers when asked why he stayed. "We need to protect the women and the children. But many of the women chose to stay."
"We all need to work together and be united in this time[…] In the 21st century, no one should be hungry. We must keep the tradition of preparing meals and pass this on to the next generation and then the next. This knowledge of good food should be passed down; I aim to bring gastronomical happiness."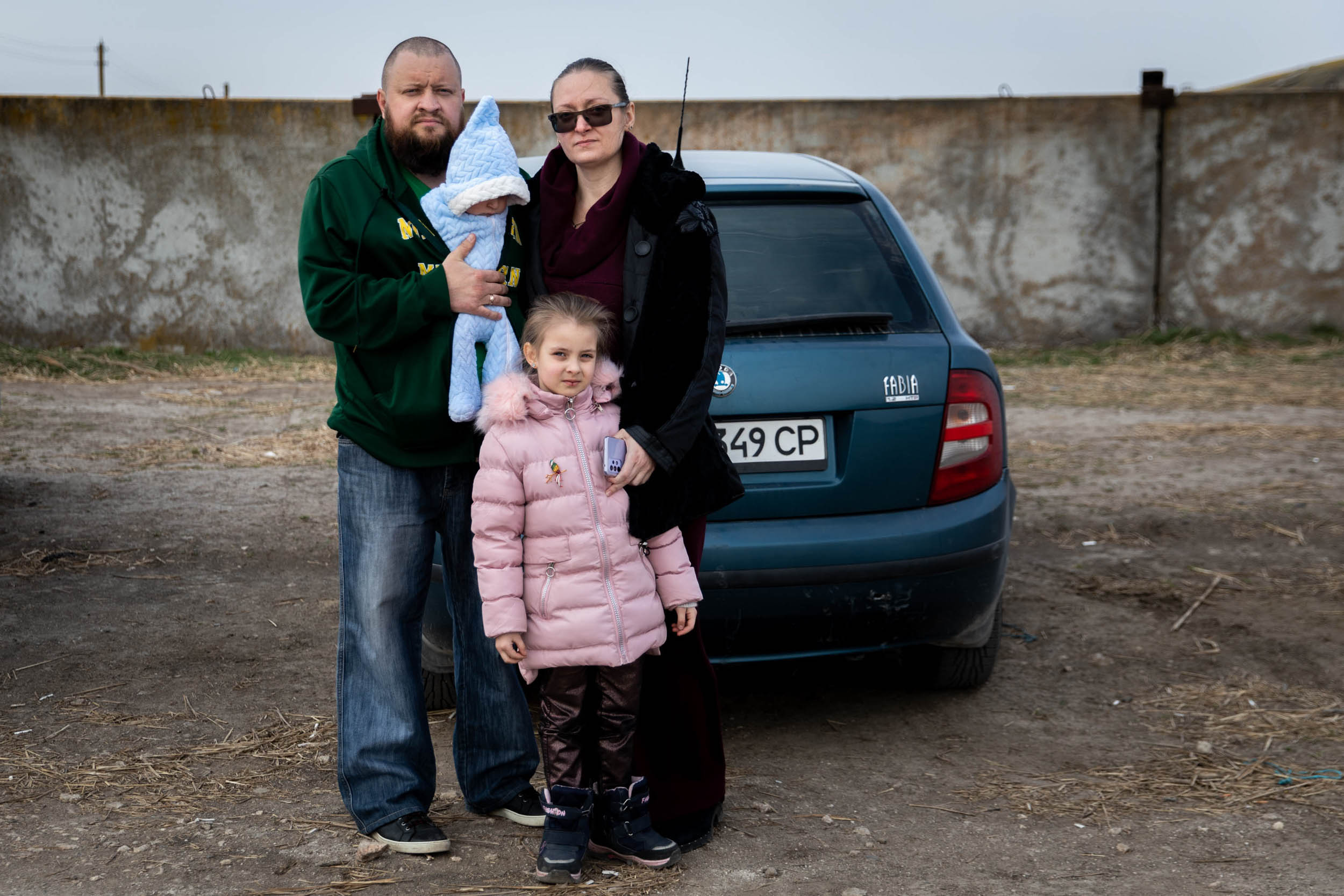 Andre, Ana, Viromira, and little Daria all fled Kherson. Ana shared their experience, while crossing the border into Moldova at the Palanca crossing in early March 2022. They were making their way to Italy in their vehicle.
"We are afraid […] there will be fighting in the town and in the streets. There are too many kids. I work as a schoolteacher, and I see how many kids there are…and I know what happened in Mariupol—we have some relatives still there—only one cousin managed to get out. She wrote a message when she could, but now it's been about 20 days, and we don't know anything. There is no connection."
"We want to return, of course, but I don't know when this will be possible."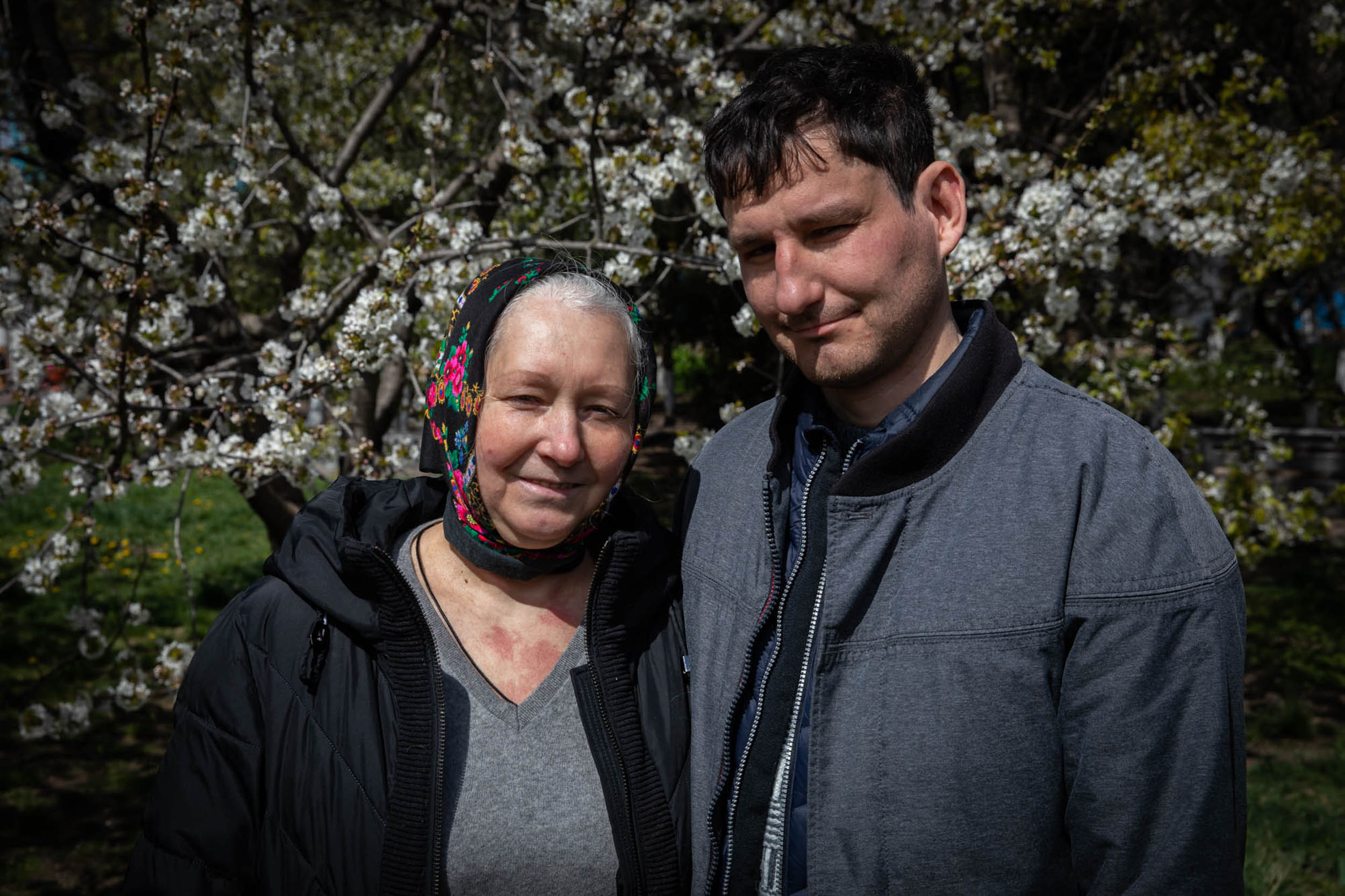 "I lived with my son in the Prymorskyi district of Mariupol," Irina says. "We heard the sounds of explosions, but we did not expect that it would be this way. We had no electricity, no gas, no water. We had no phone connection. As the fighting came closer to us everyone started to say to us 'you should leave now'."
"The first two weeks were terrifying. It was not that houses were destroyed one by one. No. No. Whole districts were destroyed at the same time."
"We were in the basement all the time. The house close[st] to ours was destroyed and missile shrapnel damaged our house too: windows were broken, the roof was damaged."
"Our things were packed, but I didn't want to leave. I thought, my neighbor is an old woman who is 93 years old […] how could I leave her and move away? All my neighbors are elderly people."
"My son had a real panic attack, so we decided to go and left in just three minutes. We packed the documents, things, icons, the Psalm."
"We went with other people; we didn't know them, but we knew that it was easier to go through a checkpoint when there were several cars traveling together. We had no green corridor. We had no phone connection. I put three of my elderly neighbors in the car. Our windows crashed, and the roof was damaged by shrapnel. I had only a jacket and shoes with me. All the clothes I have now are from kind people."
"There have been many good people despite all the bad events."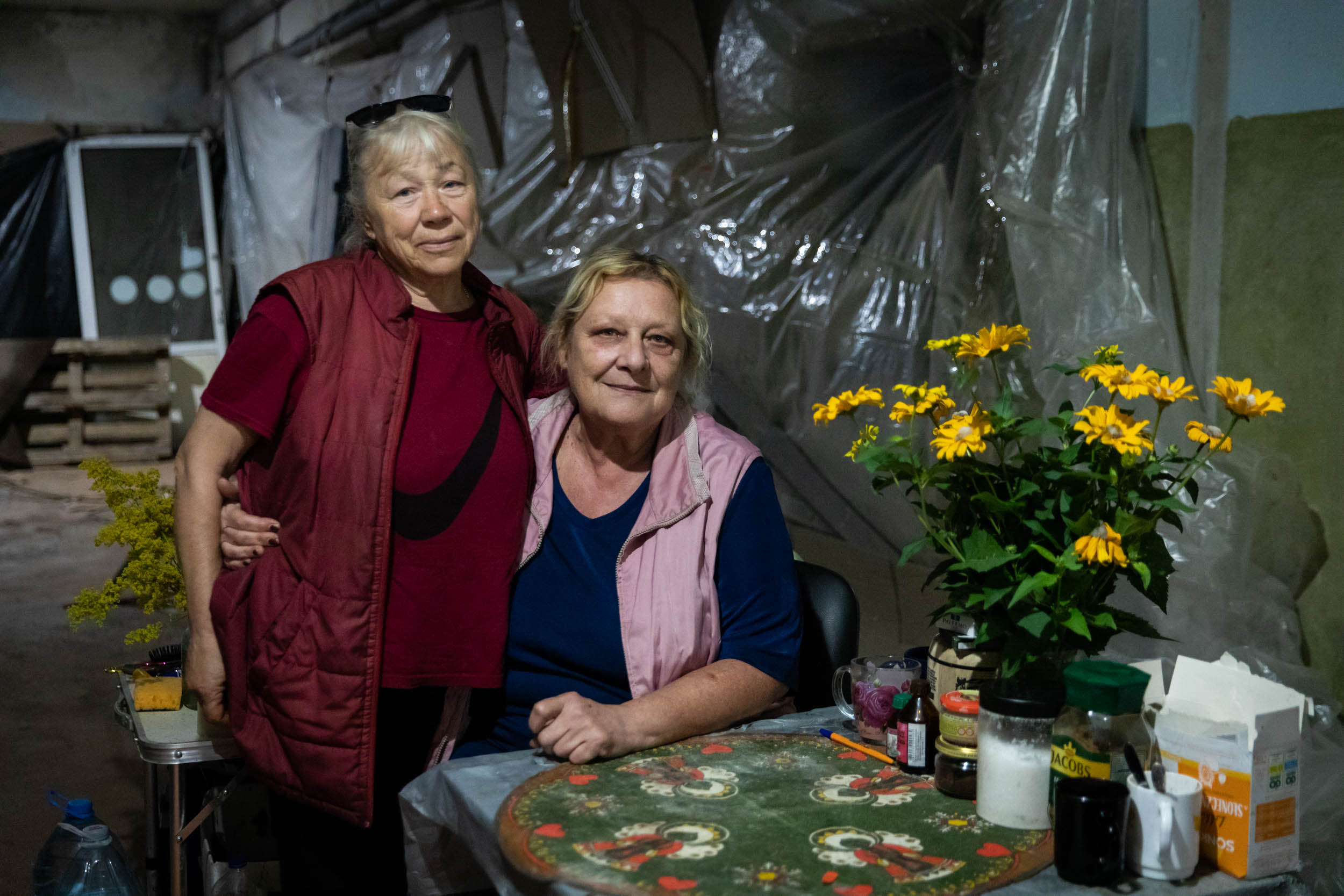 After missiles destroyed both their homes in Derhachi, Olga and Ludmilla gathered their few remaining possessions and moved to an underground bunker.
"We've been here from the beginning," said Olga. "Every day the bombs continue; it is not possible to live in our homes. Our option is to stay in a basement. That is why we come here."
When asked about her favorite food, Ludmilla answered with a smile, "We both love potatoes. And cutlets and borsch! Super simple but delicious."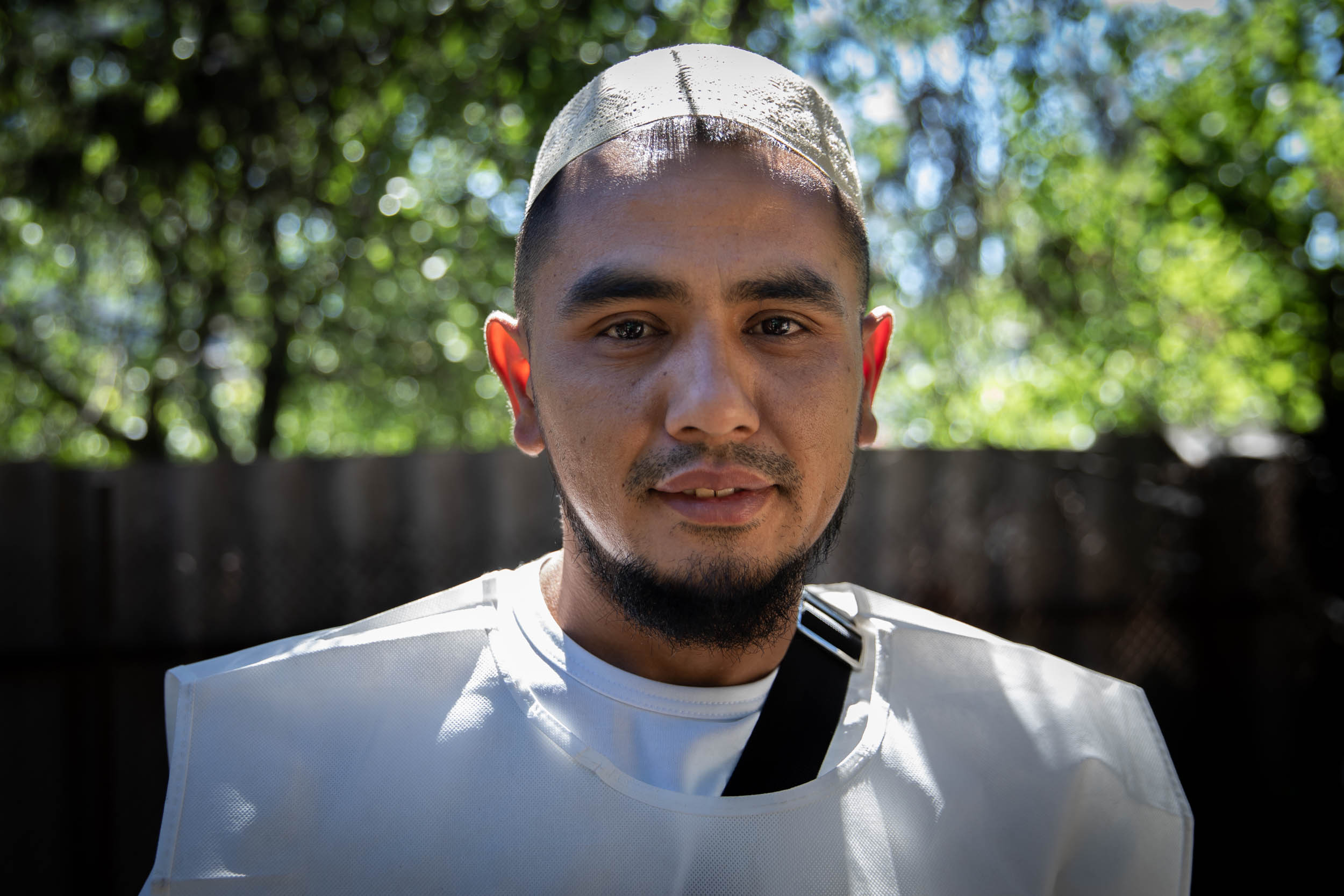 "I can't leave people here. I have a responsibility to help," says Sardor. "Here I can cook and help people. At least they won't starve. In war, the most atrocious thing is starving." 
When asked what he would share with the world, "Appreciate each other. Love each other. Love is the strongest thing. It supports life. Some people cannot leave [Chuhuiv]. If we don't think about them who will?"
"I am grateful for my team—this team—because we are united. I am proud of their work. We are doing as much as we can, but if there is a possibility to do more, we will do more. The worst thing is to watch someone leave with an empty plate."
"The war has shown the real faces of people. Those who have stayed are genuine souls and this has united everyone. We need to stay as one. We have a responsibility and a mission."
"I will stay here until the end."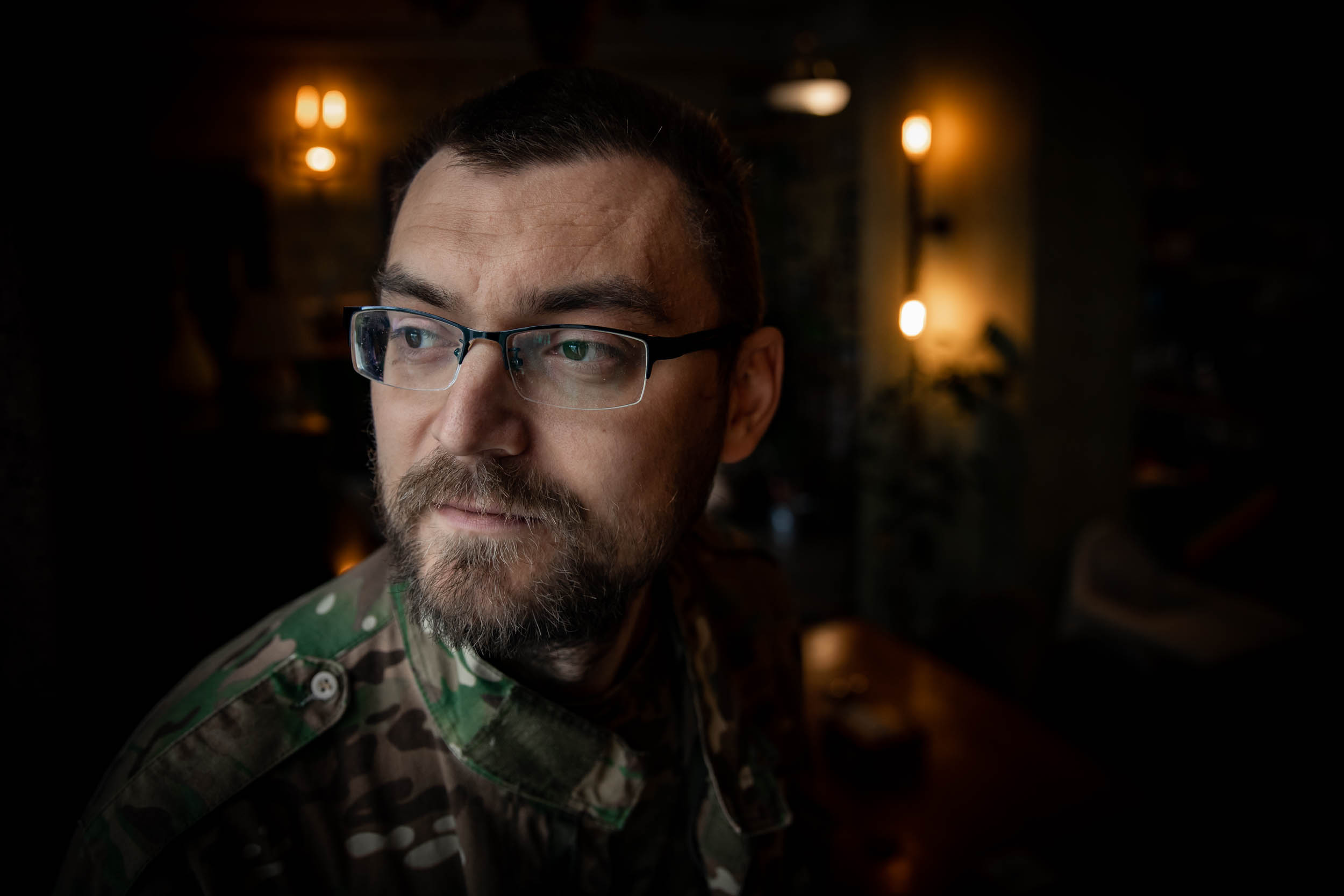 In 2014, Serg served as part of the Territorial Defense. Today, he is a volunteer and uses the experience he gained during his service to deliver critical humanitarian aid and hot meals in some of the most dangerous areas of Ukraine. "People are suffering," Serg says. "…I can help by delivering warm food, blankets, diapers to mothers or just sitting with someone who has been alone too long ... this is why [I serve in the Territorial Defense]."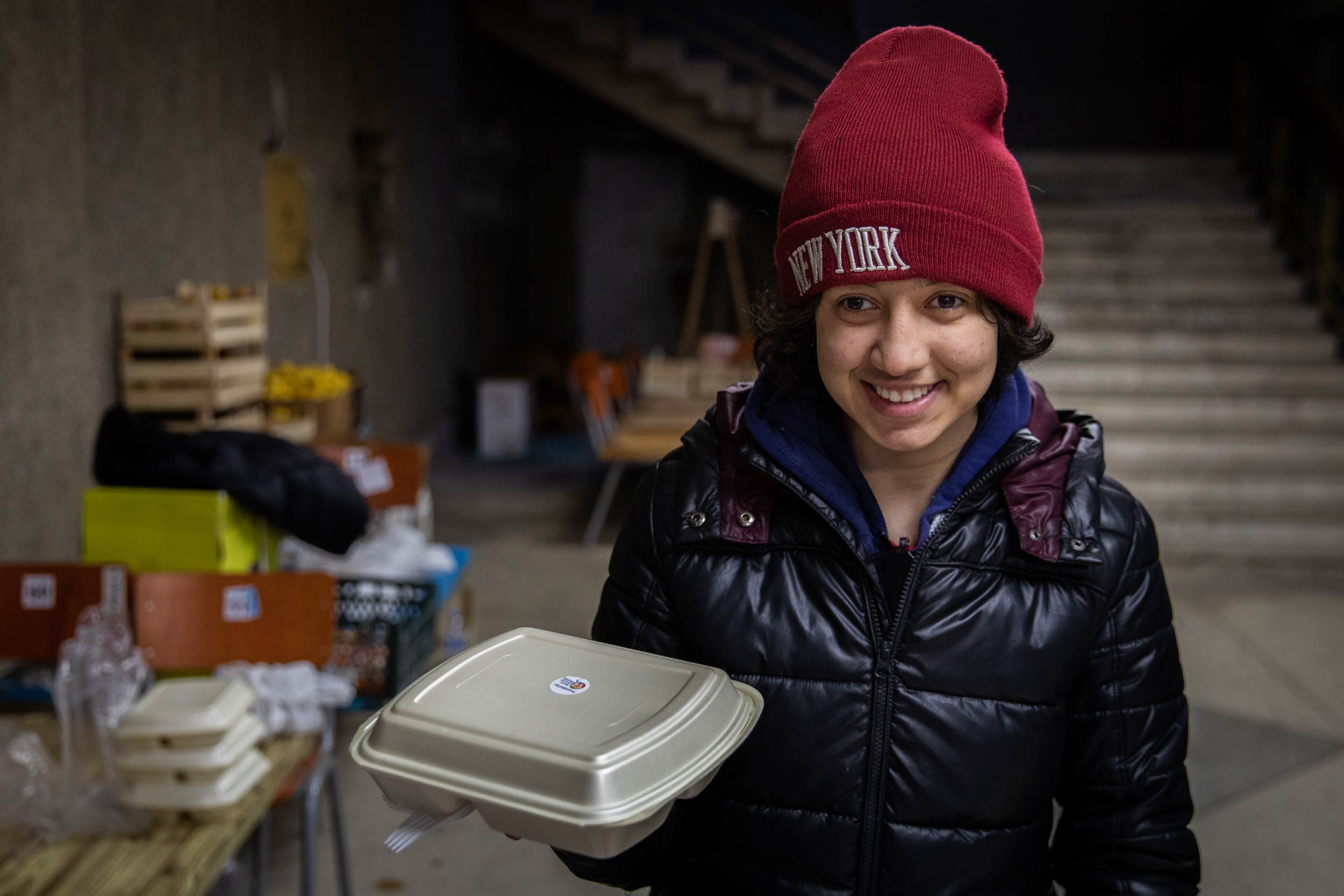 Every day, Ekaterina volunteers at the Manej Sports Arena in Chisinau, Moldova's capital city. Once a place where athletes practiced and competed, the facility is now an emergency shelter for Ukrainians fleeing the war. As many as 500 to 700 refugees who stay there on any given day are of Romani ethnicity.
"I like to give people a chance, a little hope, so they feel safe," says Ekaterina. "To give them everything they need. Love, a blessing, anything that can make them feel better. I really like helping other people."
"When we found out that the war started, and a lot of people were coming to us in Moldova, we asked the manager to give us this place, to make it home for refugees."
"I usually do fun activities with the kids. I help them to become independent. I teach them about freedom of speech so that they're not afraid to speak out, to ask for something they need."
"My literature teacher told me once that we all have a purpose while we're here, and I think mine is to help others."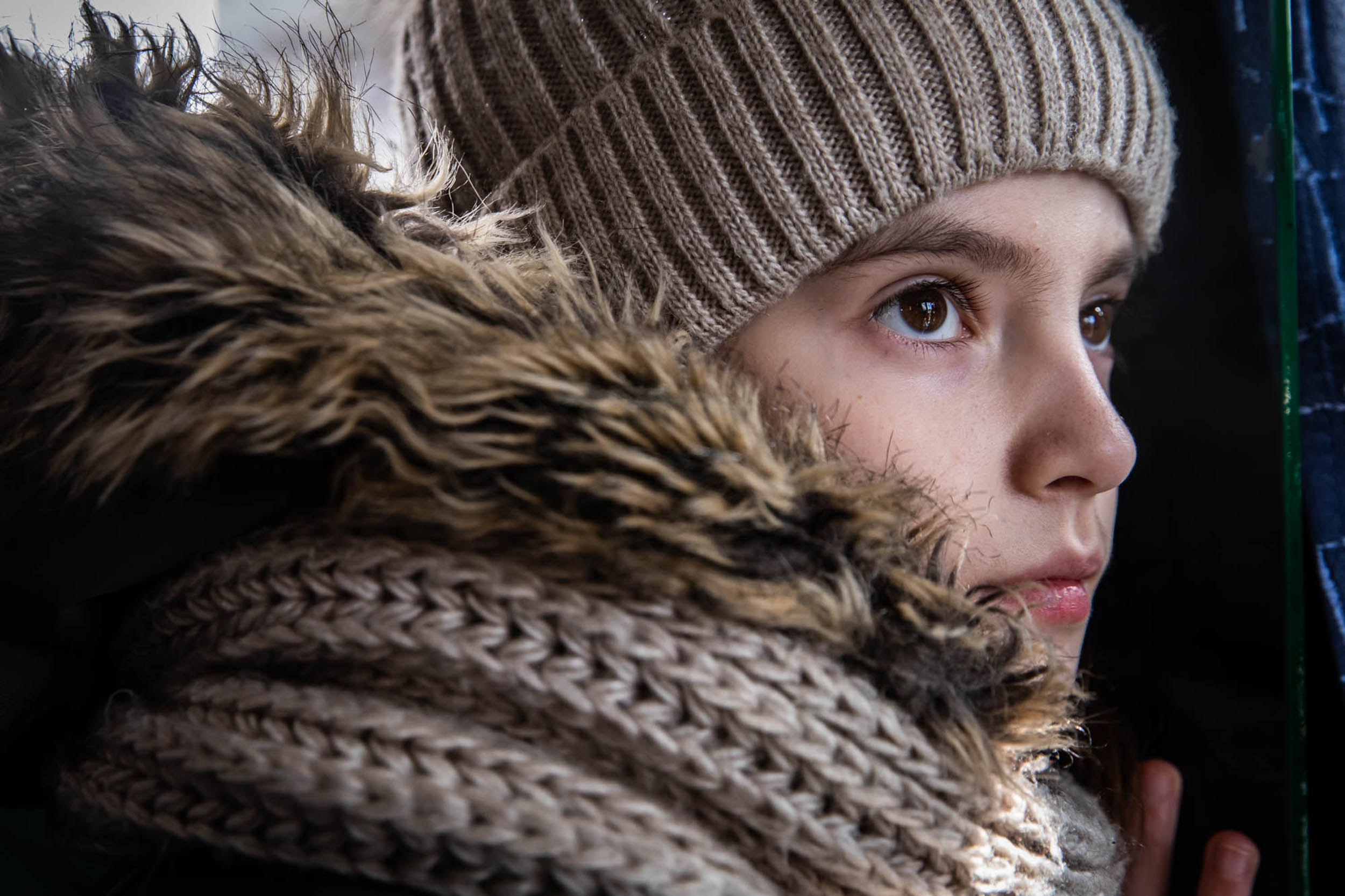 "I'm most afraid for my dad because he was not allowed to come with us," says Lena. "He's not a soldier, but if they call him, then he will go."
For more from this series, please visit our Voices of Ukraine mini-site.