U.S. Consumer Confidence remains stable despite the Silicon Valley Bank failure 
Washington D.C., March 20, 2023 -  A new Ipsos poll finds that the United States Consumer Confidence National Index sits at 52.6, up more than one point from earlier this month. This comes in the aftermath of the Silicon Valley Bank crisis last week that resulted in the bank becoming the biggest U.S. lender to fail since 2008. However, American consumers appear to have weathered the crisis fine, as the Current, Investment, and Jobs' indices have all risen since early March. Lastly, while sentiment does remain stable, Americans' expectations have been slightly damaged.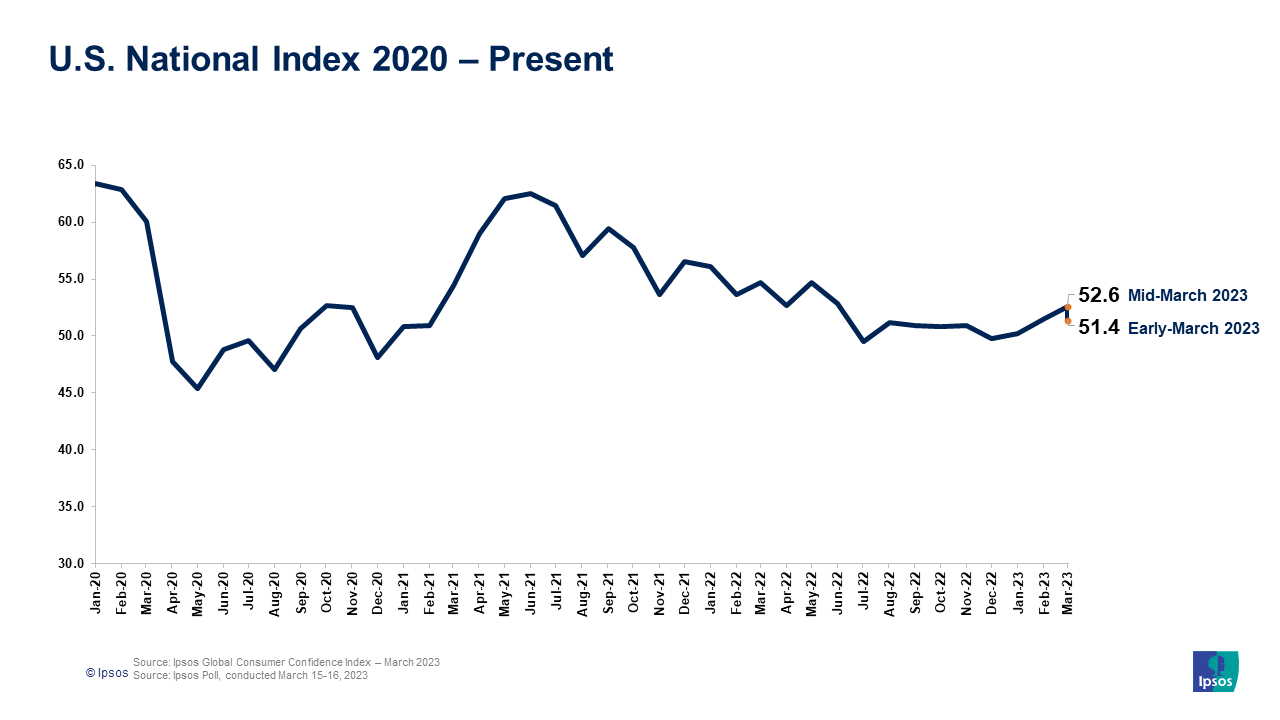 Detailed Findings
1. The United States' National Index sits at 52.6, up 1.2 points from early March.
As we approach the quarter mark of 2023, this week's reading marks the high point for the year and is the index's highest since June 2022 (52.8).
2. The Current and Investment sub-indices both show gains since early March, of 2.8 and 1.8 points, respectively. Similar to the National Index, this week's readings are the highest for both the Current and Investment index since June 2022.
39% of Americans say they are more comfortable making major household purchases compared to six months ago, up 3 points since early March.
42% of report being more comfortable making other household purchases, up 3 points from early March.
3. The Jobs' sub-index sits at 67.7, up 2.5 points since early March.
51% of Americans are more confident about job security for themselves, their family, and other people they know personally, up 5 points since early March.
23% report they, a family member, or a personal acquaintance lost a job in the past six months, down 1 point since early March.
4. The Expectations sub-index sits at 58, down 1.1 points and the only index to show a decline.
21% of Americans expect their local economy to be stronger in the next six months, down 3 points from early March.
33% expect their personal financial situation to be stronger in the next six months, down 2 points from early March.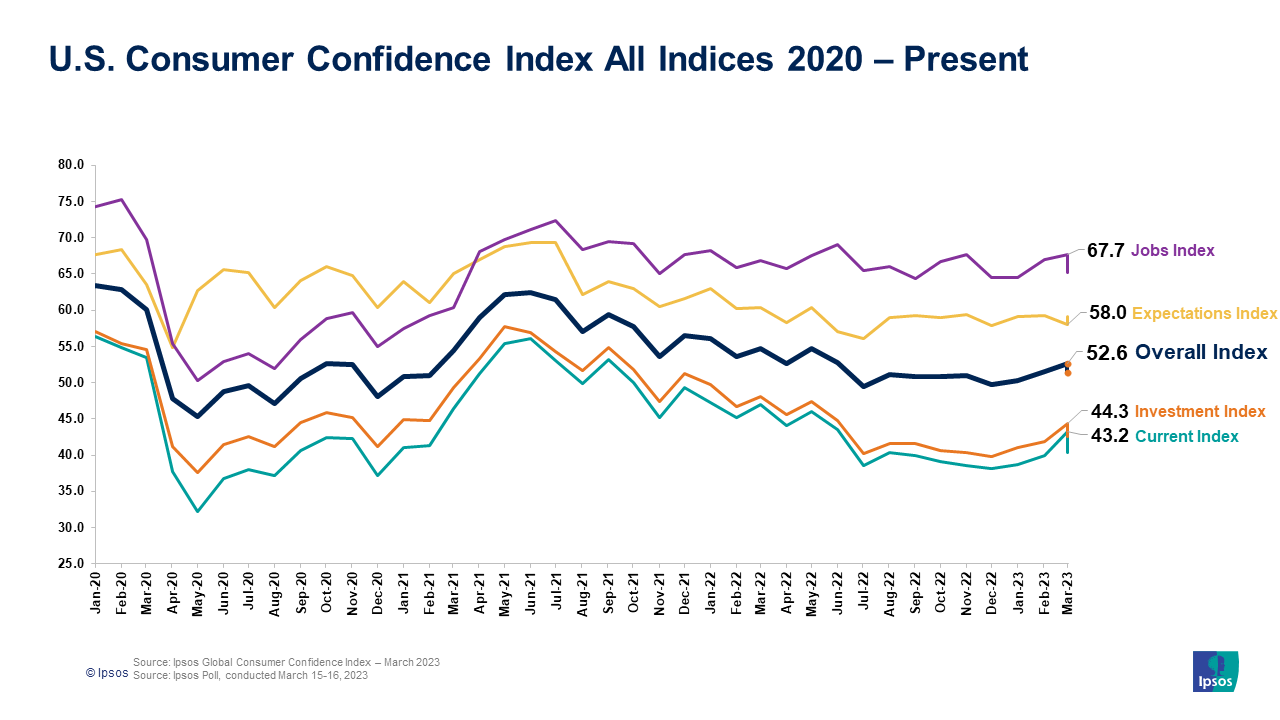 5. Despite the banking crisis, Americans' banking behaviors are largely unchanged.
Only one in ten Americans report withdrawing larger amounts of cash than normal from their bank accounts in the last week.
Of note, those ages 18-34 (14%) are more likely than their older counterparts to have withdrawn larger amounts of cash than normal.
Even fewer Americans report selling stock, equities, or other investments to have more cash on hand (4%), and changing their primary bank to one they believe is safer or more stable (4%).
About the Study
These are some of the findings of an Ipsos poll, conducted between March 15-16, 2023. For this survey, a sample of 916 adults age 18+ from the continental U.S., Alaska, and Hawaii was interviewed online in English.
The sample was randomly drawn from Ipsos' online panel, partner online panel sources, and "river" sampling and does not rely on a population frame in the traditional sense. Ipsos uses fixed sample targets, unique to each study, in drawing a sample. After a sample has been obtained from the Ipsos panel, Ipsos calibrates respondent characteristics to be representative of the U.S. Population using standard procedures such as raking-ratio adjustments. The source of these population targets is U.S. Census 2019 American Community Survey data. The sample drawn for this study reflects fixed sample targets on demographics. Posthoc weights were made to the population characteristics on gender, age, race/ethnicity, region, and education.
Statistical margins of error are not applicable to online non-probability polls. All sample surveys and polls may be subject to other sources of error, including, but not limited to coverage error and measurement error. Where figures do not sum to 100, this is due to the effects of rounding. The precision of Ipsos online polls is measured using a credibility interval. In this case, the poll has a credibility interval of plus or minus 4.0 percentage points for all respondents. Ipsos calculates a design effect (DEFF) for each study based on the variation of the weights, following the formula of Kish (1965). This study had a credibility interval adjusted for design effect of the following (n=916, DEFF=1.5, adjusted Confidence Interval=+/-5.5 percentage points).
About the Study
This Ipsos poll was conducted March 17 to March 19, 2023, by Ipsos using the probability-based KnowledgePanel®. This poll is based on a nationally representative probability sample of 1,020 adults age 18 or older.
The survey was conducted using KnowledgePanel, the largest and most well-established online probability-based panel that is representative of the adult US population. Our recruitment process employs a scientifically developed addressed-based sampling methodology using the latest Delivery Sequence File of the USPS – a database with full coverage of all delivery points in the US. Households invited to join the panel are randomly selected from all available households in the U.S. Persons in the sampled households are invited to join and participate in the panel. Those selected who do not already have internet access are provided a tablet and internet connection at no cost to the panel member. Those who join the panel and who are selected to participate in a survey are sent a unique password-protected log-in used to complete surveys online. As a result of our recruitment and sampling methodologies, samples from KnowledgePanel cover all households regardless of their phone or internet status and findings can be reported with a margin of sampling error and projected to the general population.
The study was conducted in English. The data were weighted to adjust for gender by age, race/ethnicity, education, Census region, metropolitan status, and household income. The demographic benchmarks came from the 2022 March Supplement of the Current Population Survey (CPS). The weighting categories were as follows:
Gender (Male, Female) by Age (18–29, 30–44, 45–59, and 60+)
Race/Hispanic Ethnicity (White Non-Hispanic, Black Non-Hispanic, Other, Non-Hispanic, Hispanic, 2+ Races, Non-Hispanic)
Education (Less than High School graduate, High School graduate, Some College, Bachelor's and beyond)
Census Region (Northeast, Midwest, South, West)
Metropolitan status (Metro, non-Metro)
Household Income (Under $25,000, $25,000-$49,999, $50,000-$74,999, $75,000-$99,999, $100,000-$149,999, $150,000+)
The margin of sampling error is plus or minus 3.2 percentage points at the 95% confidence level, for results based on the entire sample of adults. The margin of sampling error takes into account the design effect, which was 1.09. The margin of sampling error is higher and varies for results based on sub-samples. Sampling error is only one potential source of error. There may be other unmeasured non-sampling error in this or any poll. In our reporting of the findings, percentage points are rounded off to the nearest whole number. As a result, percentages in a given table column may total slightly higher or lower than 100%. In questions that permit multiple responses, columns may total substantially more than 100%, depending on the number of different responses offered by each respondent.
For more information on this news release, please contact:
Chris Jackson
Senior Vice President, US
Public Affairs
+1 202 420-2025
[email protected]
About Ipsos
Ipsos is one of the largest market research and polling companies globally, operating in 90 markets and employing over 18,000 people
Our passionately curious research professionals, analysts, and scientists have built unique multi-specialist capabilities that provide true understanding and powerful insights into the actions, opinions, and motivations of citizens, consumers, patients, customers, or employees. We serve more than 5,000 clients across the world with 75 business solutions.