The Economic Pulse of the World - February 2017
Despite the optimistic ending to 2016, 2017 has not started on a positive note, with all three economic indicators stumbling right out of the gate. The future will show if this is a momentary glitch, or a sign of things to come.
Global @dvisor welcomes Serbia
The global national economic assessment holds steady this month, as four in ten (40%) respondents around the world rate their national economy "as good". North America is a regional winner in February, as both the United States (55%, +3 pts.) and Canada (55%, +3 pts.) show improvement since last sounding. Both Middle East (43%, -2 pts.) and Latin America (27%, -1 pt.) lose ground this month. The assessment average for all other regions remains unchanged.
The local economic assessment average (30%) is down for a second month in a row. Regional players that drive the average lower this sounding are Middle East/Africa (37%, -2 pts.) and Latin America (19%, -1 pt.).
The future national economic assessment remains unchanged since last sounding, as one quarter (26%) of respondents expect their national economy to be "stronger" in the next 6 months. Most of the regions stay in the positive territory, with only Europe (13%, -2 pts.) and Latin America (43%, -1 pt.) being down since January.
Global Average of National Economic Assessment Unchanged: 40%
The average global economic assessment of national economies surveyed in 25 countries remains unchanged with 40% of global citizens rating their national economies as 'good'.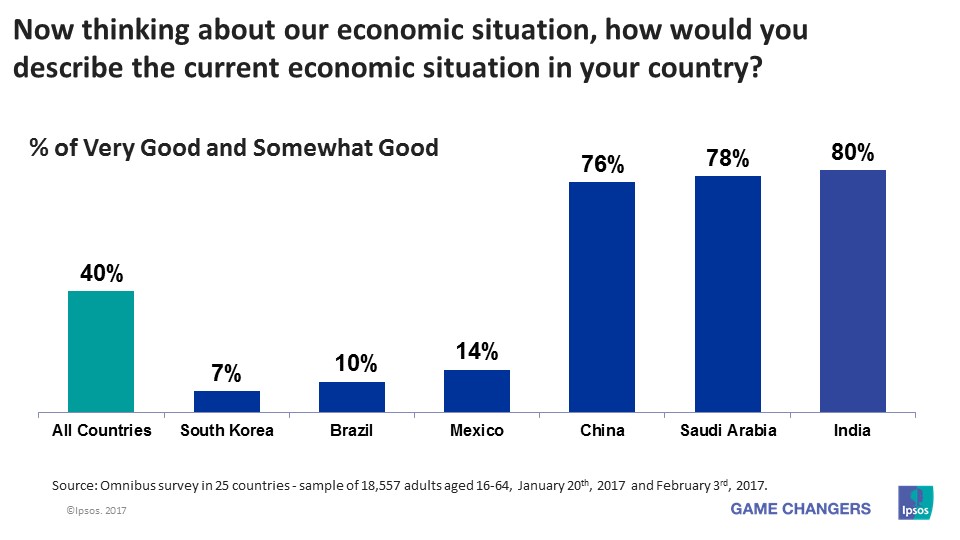 Global Average of Local Economic Assessment (30%) Down One Points
When asked to assess their local economy, nearly one third (30%) of those surveyed in 25 countries agree that the state of the current economy in their local area is 'good'. The local economic assessment is down one point since last sounding.
Global Average of Future Outlook for Local Economy (26%) Unchanged
The future outlook is unchanged since last month, with one quarter (26%) of global citizens surveyed in 25 countries expecting their local economy to be stronger six months from now.