[EVENT] ISPOR Europe 2019
02 November 2019
- 06 November 2019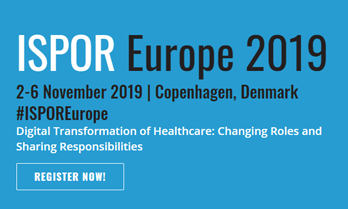 Ipsos is excited to be presenting our insights and exhibiting at the International Society for Pharmacoeconomics & Outcomes Research (ISPOR) European conference in Copenhagen.
Our HEOR, Market Access and Global Therapy Monitor experts have deep insights into evidence, value and access. Ipsos' evidence-based approach provides your organization with global launch strategies that are nuanced enough to capture value across stakeholders, supported by the right evidence at the right time and fit for a variety of scenarios.  
Come by Booth #35 at ISPOR to meet our expert team or view our 19 posters. Among the topics included:
Monday, November 4
Targeted literature review and payers' perspectives on the current progress of HTA system implementation in the MENA region
Current and future EU5 payer landscape for oncology somatic mutation panels
Adoption and uptake of liquid biopsy-based NSCLC somatic mutation testing in the EU5 clinical setting
Tuesday, November 5
Growth factors and their impact on healthcare utilization and cost in cachectic HIV patients
Variations in treatment patterns of psoriasis patients experiencing first-line biologic therapy in Europe
Examining biologic prescribing behaviours and attitudes of atopic dermatitis specialists in Europe
Comparison of hospitalization rates and limitation of daily activities in severe asthma patients receiving biologic and non-biologic treatment regimens
The cost of a cure: a review of healthcare technology assessments of gene therapies
Assessing whether products need to be cost-saving in order to gain accelerated access to collaborative rapid uptake status in NHS England
Identifying disease areas where disruptive innovation is likely to have a significant impact on healthcare systems and budgets: the importance of tracking payer behaviours
The impact of biosimilar and price contagion on new innovation in inflammatory diseases
Feasibility of using real-world evidence to inform decisions on conducting a cost-effective analysis – an example of stroke risk reduction therapies in atrial fibrillation
Wednesday, November 6
Bayesian network analysis of Medicare patients with C-Diff
Paediatric and adult GHD tests for diagnosis in Europe
Analysis of the G-BA benefit assessments and payer opinions on the assessment outcomes for orphan drugs in Germany
What actions should be taken now to facilitate market access and value being delivered in the future?
(Presentation) Use of episodic therapy in moderate/severe Hemophilia A patients across the EU5
We also invite you to a relaxed and casual dinner on Tuesday, November 5 at 8 p.m., following conference cocktails. We'll be your host at Fleisch, located in the Copenhagen Meatpacking district near the ISPOR hotel zone. RSVP to jessica.gates@ipsos.com or reach out to set up a chat onsite with our team!
Together we can tackle your evidence, value and access challenges, and find workable solutions as we chart a path to success for your business as we move into 2020.