[EVENT] VIVA TECHNOLOGY 2019
16 May 2019
- 18 May 2019
Paris, Expo Porte de Versailles
France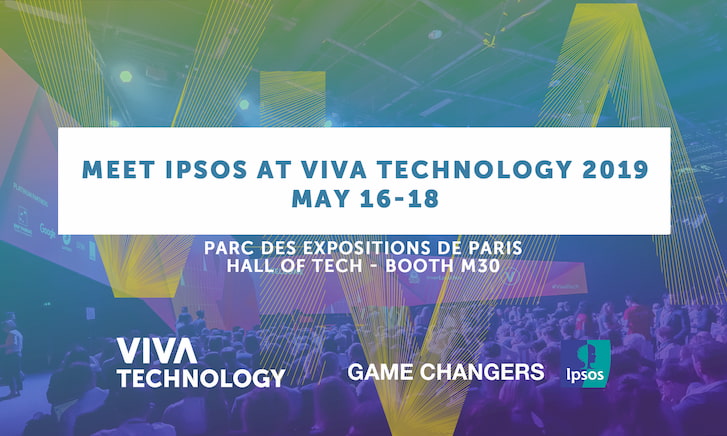 This year again, Ipsos is a partner of VivaTech, the world's rendezvous for startups and leaders to celebrate innovation. It's a gathering of the world's brightest minds, talents, and products taking place in Paris on 16–18 May 2019.
From top speakers and exhibitions to open innovation and live experiences, VivaTech is a celebration of today's innovations and tomorrow's possibilities for everyone who believes in the power of technology to transform business and society.
New usages, innovative technical solutions (neuroscience, virtual or augmented reality, artificial intelligence ...) make the business of market research even more exciting. Come and talk to our experts and discover how Ipsos takes up the challenge with its teams and partners!
BOOTH M30
THURSDAY 16 MAY
10am and 4pm / A Virtual Reality Immersion in the data of the Great National Debate, by Mathilde Guinaudeau and Benoît Hubert
11am and 3pm / How neuroscience boosts brand communication, by Davide Baldo, Ornella Godard and Katell Le Coueffic
1:30pm-2pm / The European elections campaign: do social networks change the game?
Open-ended round table with Brice Teinturier, Deputy CEO of Ipsos in France and Dominique Seux, Deputy Managing Director of Les Echos
FRIDAY 17 MAY
10am and 3pm / Data Science: a thousand segmentations to detect and activate the best targets, by Jean-Noël Zeh and David Juzdzewski
11am-12pm / Create innovative solutions in Africa
Open access round table with Marie-Paule Bayol, Director Africap and Valérie Chan, Orange MENA Head of Customer Experience and Africa
12pm-1pm / Innovate better using science: ambition Ipsos + Sorbonne
Open-ended roundtable with Helen Zeitoun, CEO of Ipsos in France and Marie-Blandine Prieur, Director of Development, Partnerships and Corporate Relations at Paris-Descartes University
1pm and 4pm / Artificial Intelligence: the case MaTéléMaRadioDemain, by Bruno Schmutz, Mathilde Guinaudeau and Arthur Boussac
SATURDAY 18 MAY - FREE ACCESS
10am-5pm / Meet the Ipsos Millennials
11:30am-12:45pm / A Tribunal for Future Generations - Stage One
Usbek & Rica's Tribunal for Future Generations is a mock trial, during which we try to answer a major question about our future. A Head of the Court, a prosecutor, Nora Hamadi (Arte), an attorney for the defense, Thierry Keller (Usbek&Rica), witnesses, Audrey Pulvar and Najat Vallaud-Belkacem, and an audience-member jury form the cast, Vincent Edin. The two opposing camps argue it out, and the jury delivers a final verdict meant to benefit our future generations.