Future of the world order: How do you view the U.S. and China's influence?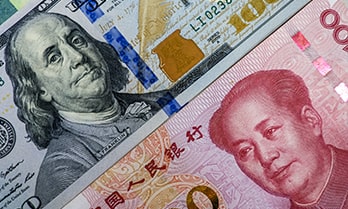 An ongoing trade war between the world's two biggest economies is having an impact on how people view the influence that the U.S. and China have on world affairs.
A new Global Advisor survey of more than 18,500 people across 28 countries, conducted on behalf of the Halifax International Security Forum, finds that half of the respondents (52%) think the U.S. will have a positive influence on world affairs in the next decade.
That's up 2 percentage points from last year, but down 13 percentage points from 2015.
Similarly, more than half (53%) think China will have a positive influence in the next 10 years, which remains unchanged from last year and four years ago.
Darrell Bricker, CEO of Public Affairs, said the findings show the world is divided on the role of superpowers and it highlights how much leadership matters.
"It is undeniable that President Trump's controversial leadership has effected the standing of the United States around in the world," said Bricker.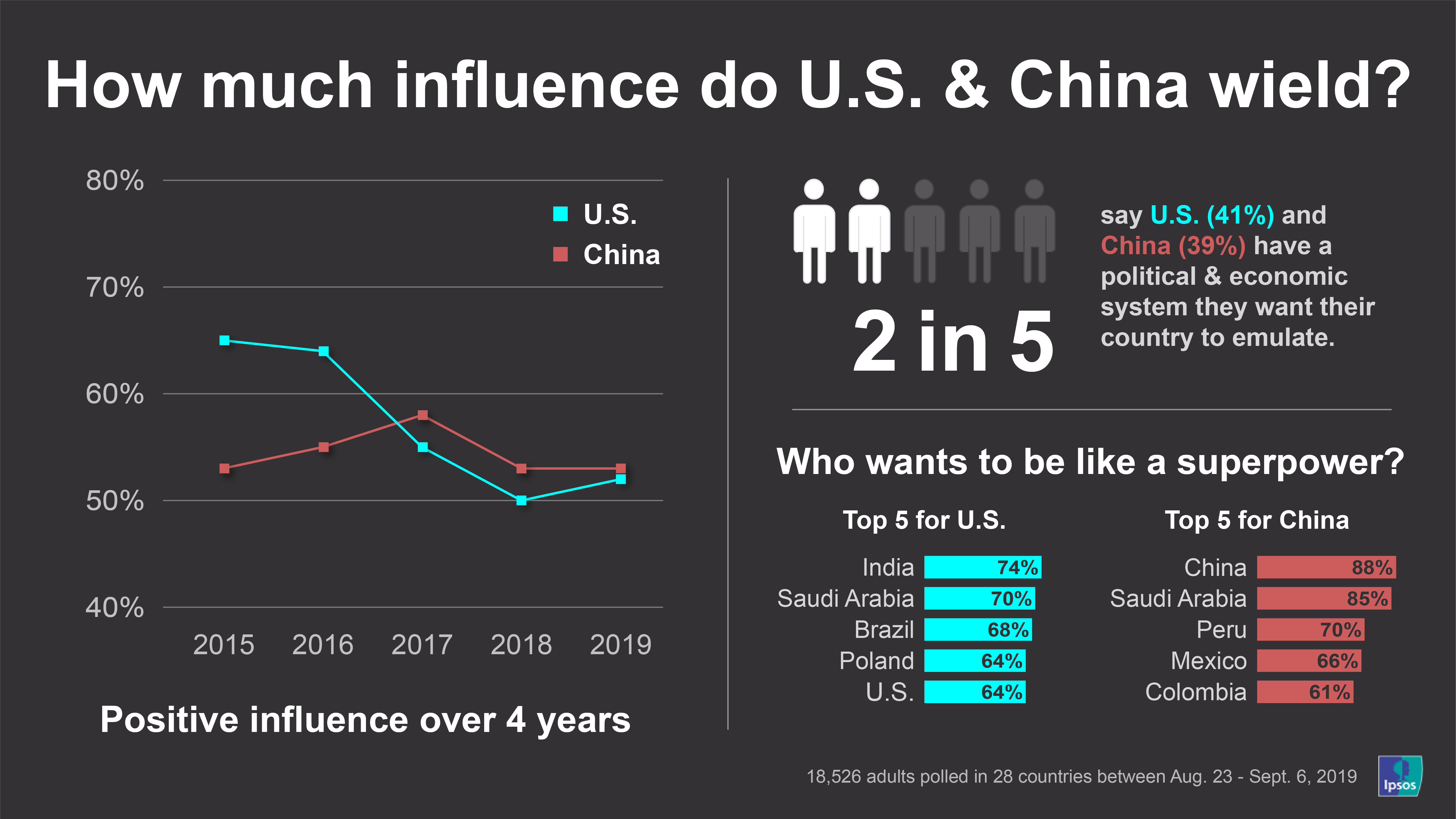 Global alliances
India (85%), Brazil (79%), U.S. (78%), Peru (77%) and Poland (71%) are the top five countries where most people feel the U.S. will have a positive influence on the world.
For China, people in Mexico (82%), Russia (82%), Peru (81%), Saudi Arabia (78%) and Brazil (76%) are most likely to think the Asian giant will have a positive global influence.
It's interesting to note that people in emerging markets are more likely to think the world's biggest economies will have a positive influence on global affairs over those in the developed world. Other than the U.S., Japan is the highest ranked developed nation (12th) to view U.S. influence as positive, while Spain is the highest ranked developed country (13th) to view China's influence as the same.
Bricker said Americans are unsure about the standing of their country in the world today and the role the Trump administration's trade policies has played in this is measurable.
"The desire of Americans to play a leadership role in the world is enduring and undiminished," said Bricker. "It's clearly up to their leaders to represent this to the world."
China, meanwhile, was the number one nation out of 27 countries where people feel the political system represented them.
The importance of trade
Aside from political influence, global trade has never been more in focus than in recent times with fears over the fallout from a trade war and tariffs constantly in the headlines.
More than four in five people globally (81%) said free trade is beneficial for their economy – up 1 percentage point from last year.
The top three countries most likely to agree with this are Mexico (93%), China (92%) and Great Britain (91%). The first two are negotiating trade deals with the U.S., while the third is in the middle of an exit from the European Union.
"Even populations who are in disputes over specific trade issues continue to support the concept of freer trade in general," said Bricker. "For most of the world's citizens, more free trade is seen as better than less."
Overall, nearly three in five people (58%) think the political system in their country has been captured by an elite group that are corrupt, obsolete and not capable of reform – with this sentiment highest in South America.
Wanting more from their political and economic systems, these are the countries where most people want to emulate the world's biggest superpowers.
Where most want to emulate U.S.'s political & economic model
India (74%)
Saudi Arabia (70%)
Brazil (68%)
Poland, U.S. (64%)
Where most want to emulate China's political & economic model
China (88%)
Saudi Arabia (85%)
Peru (70%)
Mexico (66%)
Colombia (61%)
In terms of how much people want their countries engaged in global affairs, nearly four in five people (79%) said their country should work with other nations towards global goals even if their country does not always get what it wants.
In comparison, less than three in four people (73%) said their country needs to focus less on the world and more at home, given difficult economic issues.
The entire results of this survey can be found here.
These are the findings of an Ipsos survey conducted between August 23rd and September 6th, 2019. The survey instrument is conducted monthly in 28 countries around the world via the Ipsos Online Panel system.