Global consumer confidence at its lowest in years
At 44.4, April 2020's Global Consumer Confidence Index, is down 4.2 points compared to both last month and the beginning of the year and is lower than at any time since December 2012. The Global Consumer Confidence Index is the average of the National Index of 24 world markets surveyed monthly by Ipsos.
Since the first reports of the coronavirus outbreak in January, all but one of the 24 markets have registered a significant drop in their National Index:
Eight countries show a three-month decline of five points or more: Australia, Israel, the United States, Mexico, Canada, Hungary, Italy and Japan.
In 18 of the 24 countries, the National Index is at its lowest point in at least five years; in six countries, consumer confidence has not been this low since Ipsos started measuring it*.
Argentina is the only country bucking the downward trend with a small uptick in confidence compared to January.
Eight countries now have a score of less than 40: Turkey, Russia, Italy, Japan, South Africa, South Korea, Hungary, and Spain.

The global Expectations Index (50.6), reflective of consumers' outlook on employment, their financial situation and their local economy is down 6.4 since the beginning of the year.
Globally, the Expectations Index is four points lower than at any time in its 10-year history.
Six countries show a drop of more than eight points vs. January in their Expectations Index: Australia, Israel, Hungary, Mexico, Poland and Italy.
Globally, the Jobs Index (52.6), which is indicative of confidence in job security and employment outlook, is at its lowest in six years. Concurrently, the Investment Index (38.6), indicative of the investment climate is at a seven-year low.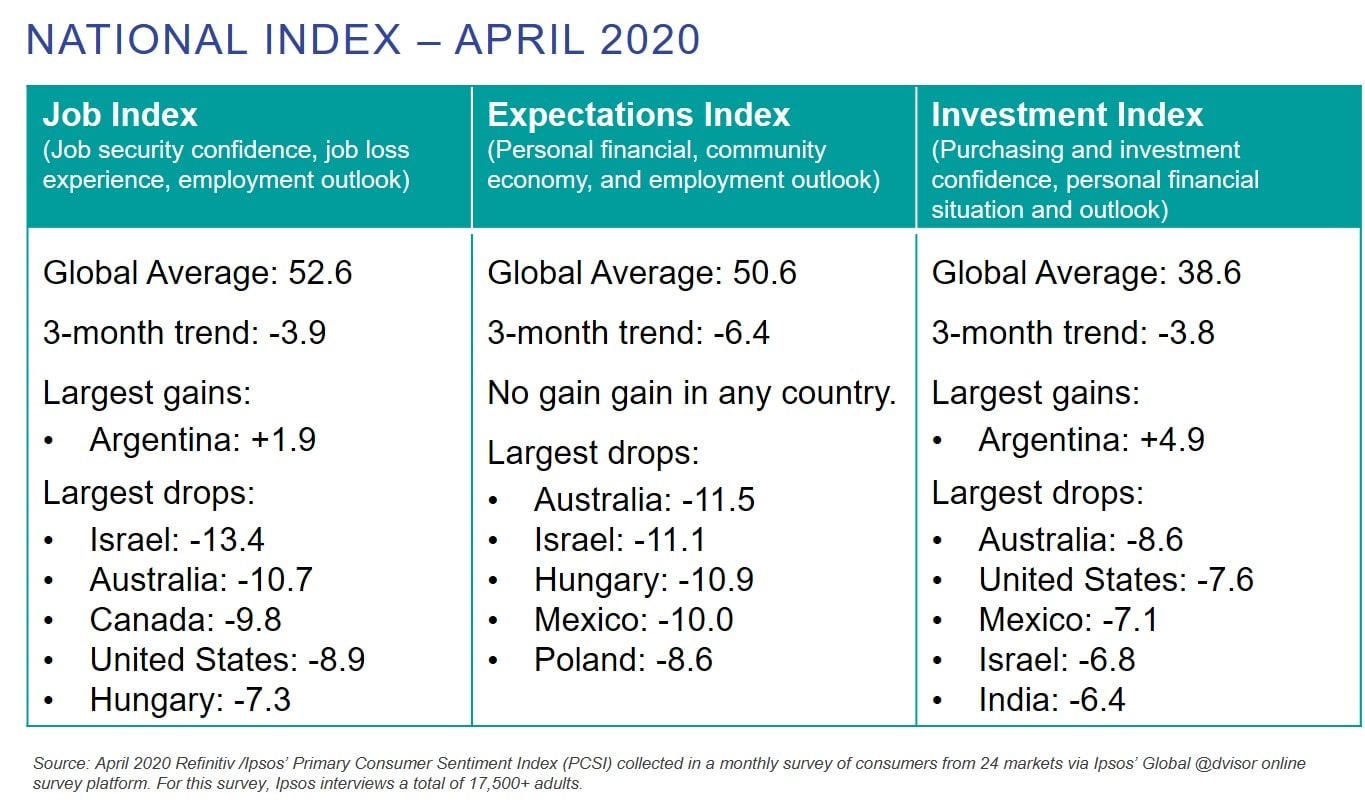 ---
Visit our interactive portal, Ipsos' Consolidated Economic Indicators for graphic comparisons and trended data pertaining to the Ipsos Global Consumer Confidence Index and sub-indices -- and all the questions on which they are based.
These findings are based on data from Refinitiv /Ipsos' Primary Consumer Sentiment Index (PCSI) collected in a monthly survey of consumers from 24 markets via Ipsos' Global @dvisor online survey platform. For this survey, Ipsos interviews a total of 17,500+ adults aged 18-74 in the United States of America, Canada, Israel, Turkey, South Africa; and age 16-74 in all other markets each month. The monthly sample consists of 1,000+ individuals in each of Australia, Brazil, Canada, China (mainland), France, Germany, Italy, Japan, Spain, Great Britain and the USA, and 500+ individuals in each of Argentina, Belgium, Hungary, India, Israel, Mexico, Poland, Russia, Saudi Arabia, South Africa, South Korea, Sweden and Turkey.