Global Infrastructure Index - Public satisfaction and priorities 2018
Majority across 29 countries believe not enough is being done to meet infrastructure needs.
Almost three quarters (73%) of people across the world agree that investing in infrastructure is vital to their country's future economic growth but 59% do not believe enough is being done to meet infrastructure needs.
The findings come from the latest Global Infrastructure Index survey conducted by Ipsos in partnership with the Global Infrastructure Investor Association (GIIA). The survey collected ratings of 10 infrastructure sectors with airports (67%), digital (54%) and water supply and sewerage (52%) performing particularly strongly.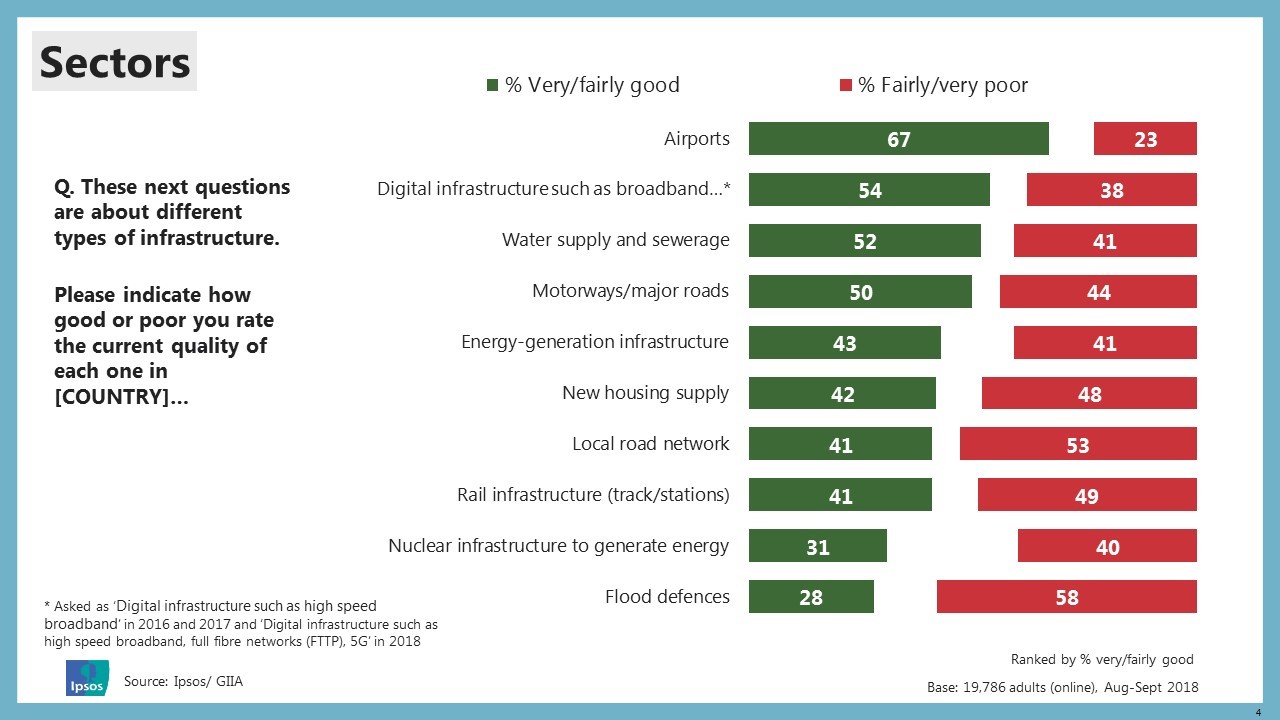 Europe scored the lowest of any region in terms of overall satisfaction, with only 26% of Europeans saying they are satisfied with their national infrastructure compared with 32% globally and 28% in the US.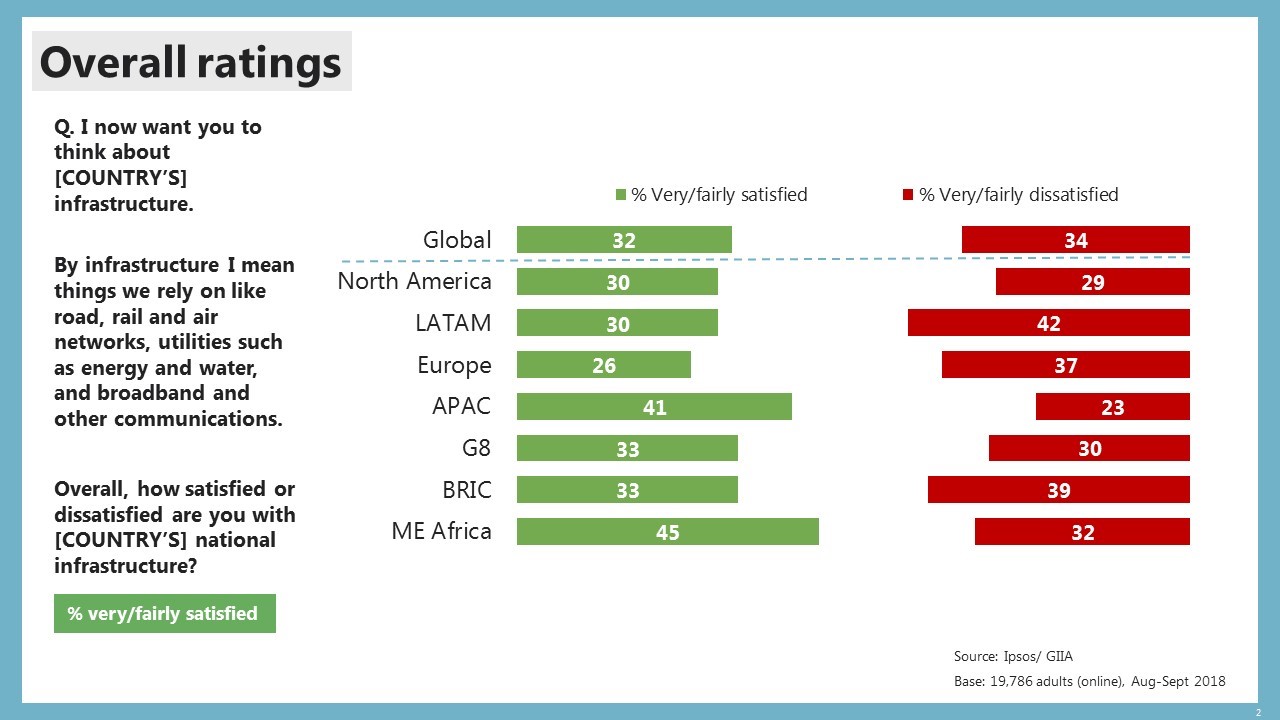 Romania, Italy, Hungary, Spain and Belgium occupy five of the bottom six countries. Overall satisfaction has declined in Europe but also in G8 nations and globally since the previous Global Infrastructure Index in summer 2017.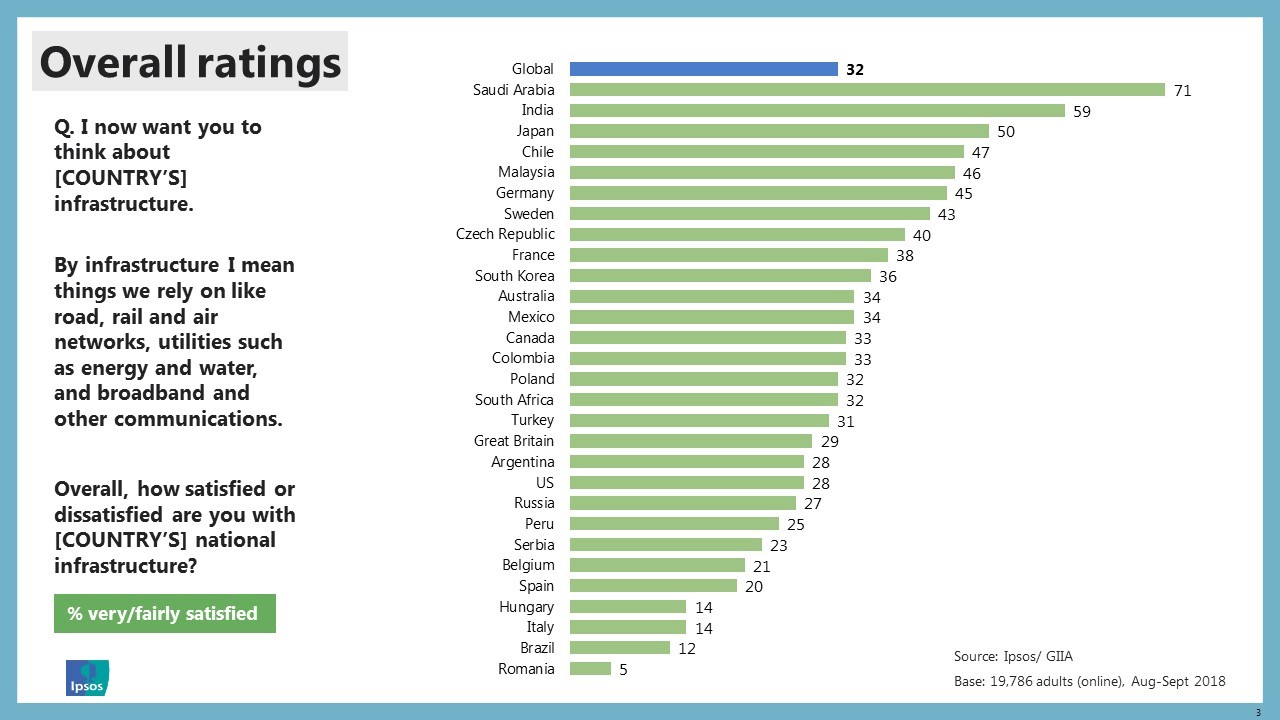 The top priorities for investment worldwide are improving local roads (chosen by 45%) and water supply and sewerage (43%). Motorways (42%), flood defences 41%) and rail infrastructure (40%) also featured among top-ranked sectors. The survey found 64% of people agreeing that local communities' views on infrastructure plans should be heard properly, even if it means delays, whilst 61% feel that their country does not do enough to involve people in decisions about which infrastructure to invest in. Globally, more say they are comfortable with foreign investment in new infrastructure if it means it gets built more quickly than are not, by a margin of two and a half to one (49% to 19%).