Global Perception of US Presidential Election
Most citizens around the world believe Hillary Clinton will win the upcoming U.S. presidential election, though Donald Trump is seen as the favorite by the people of a few countries. Clinton leads by very large margins in Latin American countries, while Eastern Europe shows higher support for Trump.
Ipsos sampled 38 countries to find out which candidate they believe would win the election.
Clinton enjoys significant support from Latin American countries, including Argentina (74%), Brazil (69%), Colombia (82%), Chile (82%) and Mexico (86%).
Chinese citizens are split between the candidates, with a small plurality saying "don't know" (39%) followed by Trump (32%) and Clinton (28%).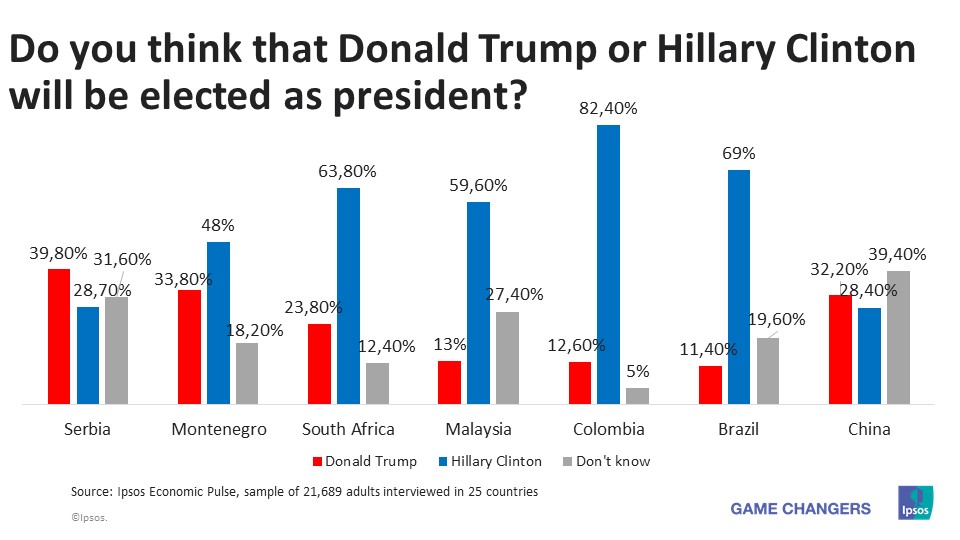 These are findings from an Ipsos poll conducted via Global @dvisor/Economic Pulse of the World. The survey instrument is conducted monthly in 25 countries around the world via the Ipsos Online Panel system.