Global vaccines research
As the race to vaccinate the global population gathers speed, the world continues to face many more questions than answers – not only about how long the vaccination process will take, but how it will roll out, willingness to have the vaccine, and once vaccinations have become widespread, how the journey continues back to 'normal'…?

You can find our latest insights and opinions below.
Polls & Reports | Articles & Papers | Webinars and Videos | Services
Polls & Reports
Most workers support workplace vaccine and mask mandates. The return to the pre-COVID workplace is highly uneven across countries and demographic groups. December 9
Most adults vaccinated against COVID-19 in all 13 countries surveyed intend to get a booster shot. Still, most citizens view getting first doses of COVID vaccines to all who want them a greater priority than making booster shots available. 10 September 2021
Post-COVID vaccination behaviours and return to activities. Confidence about returning to activities varies across nine countries surveyed says a new Ipsos study conducted in partnership with the World Economic Forum. 8 July 2021
Majorities of unvaccinated adults in most of 15 countries would get a vaccine if they could. Survey also points to a decline in vaccination intent not only where many have already been inoculated. 25 May 2021
Global public backs COVID-19 vaccine passports for international travel. Survey finds mixed views about mandating vaccine certificates for everyday activities. 28 April 2021
Global attitudes : COVID-19 vaccines. COVID-19 vaccination intent has risen in the past few weeks. New Ipsos-World Economic Forum global survey highlights the increasing demand for COVID-19 vaccines and diverging views on whether vaccination should be mandatory. 9 February 2021
U.S. and U.K. are optimistic indicators for COVID-19 vaccination uptake. New Ipsos-World Economic Forum survey following the release of a vaccine in the U.S. and U.K finds intentions to get vaccinated up in both countries, but down in several others as many worry about side effects. 29 December 2020
Americans prioritize frontline workers for coronavirus vaccine. As the first coronavirus vaccine reaches approval for use in the United States, a new ABC News/Ipsos survey finds that Americans prioritize getting the vaccine to health care workers, first responders, and those most at risk. When it comes to themselves, most Americans say they are likely to get the vaccine eventually, but people are split on getting it as soon as possible versus waiting a while. 14 December
Despite increase in COVID-19 cases this fall, Canadians continue to pull away from idea of mandatory vaccination. Most agree that front-line healthcare workers (62%) and first responders (52%) should receive first available doses. 28 November
COVID-19 vaccination intent is decreasing globally. Most adults across 15 countries don't expect a vaccine to be available any sooner than mid-2021; only half would get vaccinated within three months of its availability - 5 November
Coronavirus misinformation and reckless behaviour linked. New Axios-Ipsos poll in the U.S. shows celebrating upcoming holidays seen as somewhat risky – 20 October
Interest in COVID-19 vaccine waning. New Newsy/Ipsos poll shows COVID-19 pandemic has bolstered support for public health funding, but not in the form of a tax increase in the USA – 25 September
Two in three Americans likely to get coronavirus vaccine. New ABC News/Ipsos poll shows the number of Americans planning to get vaccinated, while still a majority, has declined from May – 20 September
3 in 4 Australians support mandatory COVID-19 vaccination. Following on from a recent Ipsos Study on behalf of the World Economic Forum which showed 88% of Australian adults surveyed would get a vaccine for COVID-19 if it were available, new data shows strong support for mandatory vaccination – 8 September
Three in four adults globally say they would get a vaccine for COVID-19. Most do not expect any will be available before the end of year; fear of side effects is top reason for not wanting to take the vaccine – 1 September
The race for a vaccine. In the turbulent times of COVID-19, businesses need to make critical decisions quickly. Synthesio and Ipsos are closely tracking millions of conversations to help our clients make informed, timely decisions – 20 August
COVID-19 Vaccine Research. Almost three in four people would get COVID-19 vaccine, says Ipsos in Ireland survey for IPHA – 13 July
Articles & Papers
Infographic: COVID-19: Vaccines, therapeutics & treatment impact – Perspectives from Ipsos's syndicated COVID-19 study portfolio.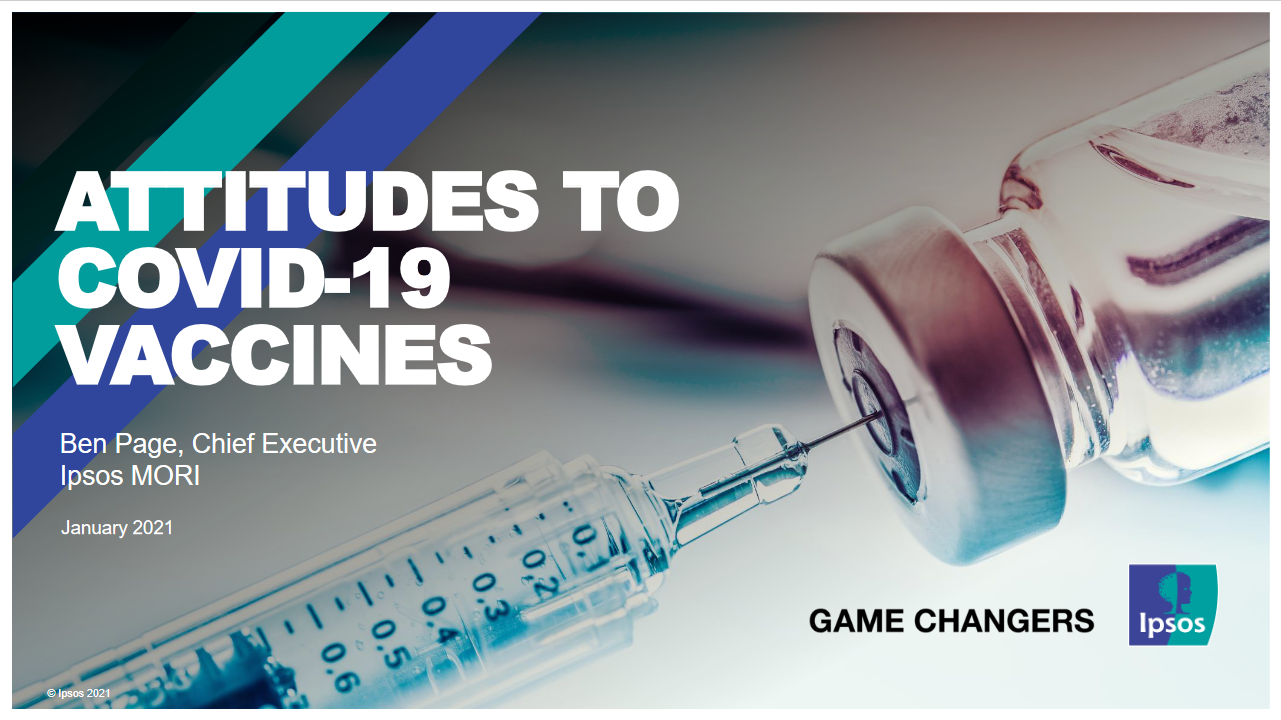 Attitudes to COVID-19 vaccines – The global rollout of COVID-19 vaccines will be the largest, fastest and most challenging vaccination program in history. This could bring many problems. Some we will anticipate; some we won't. One glaring problem that is quickly emerging is a major mismatch between vaccine supply and demand.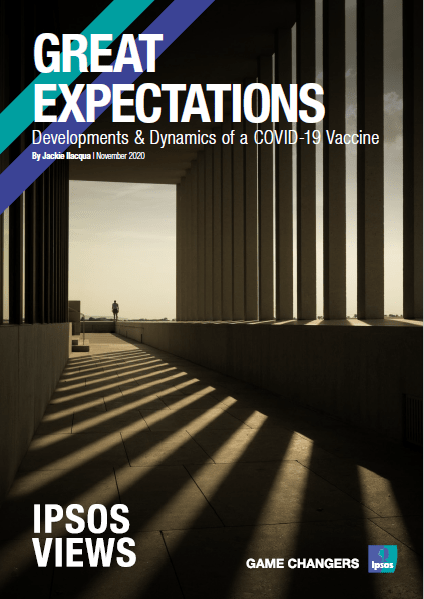 Great expectations: Developments & dynamics of a COVID-19 vaccine – As the world awaits further news on outcomes from COVID-19 vaccine trials, we must acknowledge that the task of vaccinating the world against COVID-19 won't be easy – especially when it comes to bringing the public on side. This paper uses Ipsos research to highlight the obstacles and opportunities that lie ahead, and the importance of building public support.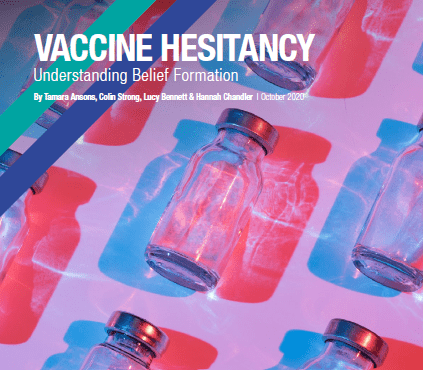 Vaccines hesitancy: Understanding belief formation – As we await the progress of COVID-19 vaccines, one question we can usefully consider now is how vaccination beliefs and behaviours are formed and maintained. This paper looks at the issue of vaccines hesitancy from a behavioural science perspective and asks whether the discussion to date has been overly focused on the individual, underestimating the role of cultural and political situations and other social drivers.
Webinars and Videos
Coming soon: KEYS – The Year in Review: Making Sense of 2021 – Register for Thursday 16 December. Our forthcoming KEYS webinar will include a presentation from Rhoda Schmuecking, Head of Ipsos' Virology & Vaccines CoE, on 'Vaccines – the Story So Far'. Based on Ipsos' research over the past year, Rhoda will reflect on how attitudes are evolving, who we trust and what we've learnt.
Building Better Insights Around the COVID Vaccine – Revisit our webinar to hear Ipsos' healthcare experts discuss how insights from our research can be used to help inform different communities of interest including healthcare providers and pharmacists as well as the consumer populations in your market.
Our ethnography team have been following people across the world since the beginning of the pandemic to see how habits and behaviours have changed throughout the crisis. In the video below, we follow one participant in the UK as they take their mother to be vaccinated.
Learn more about the CovidWatch study.
Services
Click here to learn more about Ipsos' global vaccines research capabilities, and how we can help answer your key questions: