Job losses stack up: COVID-19 to hit hourly workers, smaller businesses hardest, say experts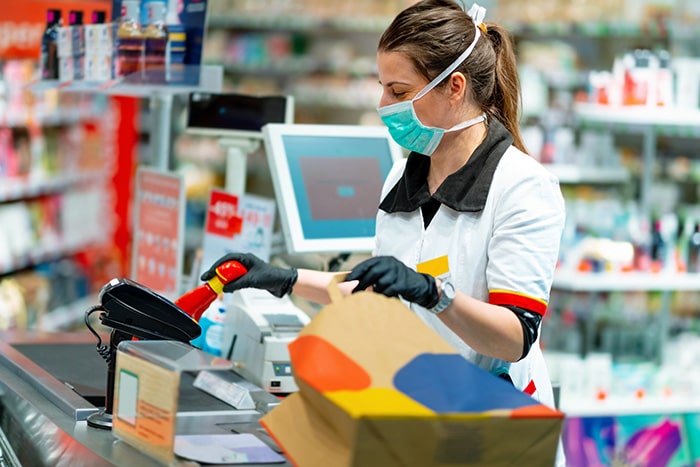 Small business owner Ravish Patel, who runs two smoke shops with his brother in Santa Ana, California outside of Los Angeles, says his stores are still open despite the recommended closure of all nonessential businesses in the area, but things could change at any minute.
"We have nine employees that rely on us for pay cheques each week," says the 39-year old, who's been running the business for 11 years.
"We do have savings for each business where we could probably weather about two months of rent without any revenue coming in if we were to close, but I'm more worried about my employees right now, because the majority of them just live pay cheque to pay cheque."
In order to keep his stores open, Patel has reduced operating hours to close at 5pm daily even though evenings are a peak period for his tobacco retail business, followed by shutting down completely on Sundays.
He's also reduced employees including three people who are not comfortable working during the coronavirus outbreak and enforced measures like workers having to wear gloves and clean the stores every 30 minutes, along with limiting the number of people inside a store to five at any time.
"We've lost customer traffic, but the sales are remaining the same because people are just stocking up. So, one person who was buying one thing, they're now buying two or three of the same now," says Patel.
"They also don't know what we're going do. They don't know if we're going to be shutting down for a period of time. We also don't know."
Patel is one of millions around the world living through the uncertainty brought on by the coronavirus pandemic whose livelihoods are being directly impacted by mandatory closures and lockdowns to limit the spread of infections at a time when government aid can't come fast enough.
In our latest Global Advisor survey across 14 major countries, more than half of people (51%) say there is a high threat to their job or business from the coronavirus outbreak. This sentiment has jumped by double-digits in developed economies of the U.K. (+20 percentage points), Canada (+16), Australia (+14), France (+12) and the U.S. (+10) from an earlier poll two weeks ago.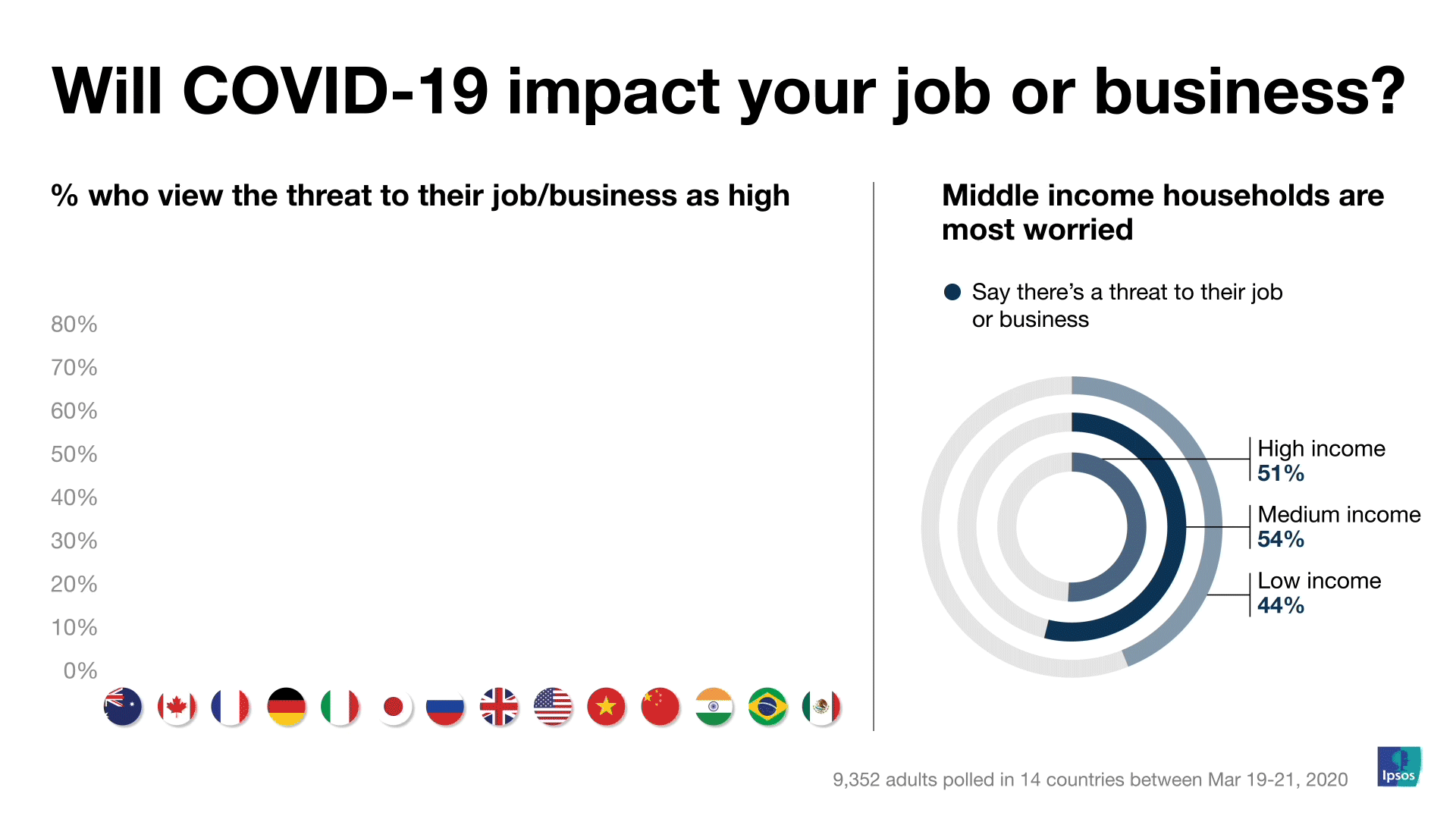 There are also now some staggering global projections on how many jobs could be lost during this crisis.
UN agency - the International Labour Organization (ILO) - said last week that up to 25 million jobs globally could be lost in a worst case scenario, while it could hit more than five million in a "low" case scenario. In comparison, about 22 million jobs were lost during the global financial crisis in 2008-9.
Who's going to be the hardest hit?
In terms of the sectors that will be the hardest hit from the outbreak, experts say everything related to tourism including airlines, cruises, casinos, movie theatres and restaurants will face an immediate impact. But this is trickling down to other parts of the economy and service industries that tend to have hourly-paid workers such as those employed by small to medium size businesses, which may not have significant cash buffers to weather the storm.
Megan Greene, Global Chief Economist and Senior Fellow at Harvard Kennedy School in the U.S., says the average cash buffer for a restaurant is about US$15,000, and they're being hit really hard.
"They can't tap the capital markets in the same way that much larger businesses can," says Greene. "The challenge with this crisis is how do we reach out to micro players like the guy who runs the coffee stand at the corner that can't sell to anyone because no one is walking to work now, or the Uber driver who has no business because there are no concerts."
Data released on Thursday from the world's largest economy – the U.S. – showed a record-breaking 3.28 million Americans filed for unemployment last week, nearly five times higher than the previous record, ending a decade long expansion. Some economists are predicting the unemployment rate will soon hit double-digits to levels unseen since the great depression.
In Europe, there's layoff announcements from major companies like airlines and aircraft maker Airbus and large automakers like Volkswagen idling production even as governments push to keep workers in their jobs.
On the opposite end, some of the world's biggest retailers like Walmart, Amazon, and Instacart are looking to hire hundreds of thousands of workers to keep up with demand for online shopping.
But Greene says while certain sectors such as healthcare and technology (think streaming companies and video conferencing like Zoom) will benefit, for the most part we're seeing a "stop" in the economy in a way we've never seen in modern history outside of world wars before.
Patel, who started his business after selling property before the last financial crisis, adds that he's never seen anything like this before, as employees worry about their health and their jobs at the same time.
"Now, it's starting to get worrisome because the news just keeps getting worse and worse every single day," he says. "I don't really have any concrete answers for them [my employees] at this moment other than just being as safe as possible, washing their hands and disinfecting."
"As far as business is concerned, I don't know. I tell them the same thing. When we hear something, I'll let you guys know."
What needs to be done
In terms of what we've seen from government around the world, there's been emergency stimulus packages in the billions to trillions of dollars passed through parliaments, including direct payouts to consumers and businesses, tax and loan deferrals, and increased benefits. Economists say fiscal policy will have to play a much bigger role this time around than in previous recessions.
Brad Setser, Senior Fellow at the Council on Foreign Relations in Washington D.C., says policies that help employers keep workers and businesses on their payroll such as work sharing arrangements and reducing work hours rather than laying people off will help.
"An expansion of unemployment benefits, funding for states that are on the front lines, and an all-out effort to raise production of medical equipment will all be critical," says Setser, who is a former deputy assistant secretary for international economic analysis at the U.S. Treasury Department.
But Greene points out this crisis is really different from what happened in the last recession in 2008, because banks were at the centre of that, and then it trickled down to the real economy. This time around the problem has started in the real economy and has now extended into the "financial plumbing."
"It is central banks' jobs to make sure the financial plumbing works and I think for the most part they've done a really good job of acting much faster than some of us feared, but that doesn't necessarily address what's going on in the real economy, and the immediate hit to demand that a lot of individuals and business are facing," says Green.
Central banks around the world have reduced interest rates to near 0% and continue to inject trillions of dollars into the stock markets and economy to provide tons of liquidity and loans to businesses.
This is one way to use the banks to act as an intermediary, so that they feel calm and comfortable lending to small and medium size businesses who have seen their revenues come to a screeching halt without worrying about the implications on their bank balance sheet, according to Greene.
However, she says policymakers have panicked on the monetary and fiscal side and relaxed on the health policy front. Until we actually figure out how to contain the virus, none of these measures are really going to make a difference.
"It's a bit like having a massive comet heading towards Earth and cutting interest rates to try to address it. It won't do any good," says Greene.
"The first priority has to be to address the health policy side of things like ramping up on testing, and basically, figuring out what our health providers need to do their job and providing it."