Presidential election in France: Emmanuel Macron re-elected but abstention hits record high
Rejection and a weariness of voting to keep candidates out rather than in is the prevailing sentiment among abstainers and voters who cast a blank or invalid ballot, with little support for the plans of the two candidates among those who did cast a ballot. This survey conducted by Ipsos and Sopra Steria for france-tv and radiofrance on the motivations for voting shows that neither Marine Le Pen nor Emmanuel Macron truly succeeded in convincing those beyond their electoral base of the first round.
The motivations of the vote
For both Emmanuel Macron (La République En Marche) and Marine Le Pen (Rassemblement National), voting out of support ("I vote for this candidate: above all because they will make a good President of the Republic") has slightly overtaken preventative voting ("I vote: above all to block" the other candidate). The balance between support and preventing the opposing candidate measured at 58% vs. 42% among Emmanuel Macron's electorate, and 54% vs. 46% among Marine Le Pen's. But for both candidates, the balance is tilted in the right direction essentially thanks to their electoral base in the first round. Among first-round voters for Jean-Luc Mélenchon (La France Insoumise), Yannick Jadot (Europe Ecologie les Verts) or Valérie Pécresse (Les Républicains), a majority voted in the second round in order to prevent one of the candidates rather than to support the other, regardless of who they chose.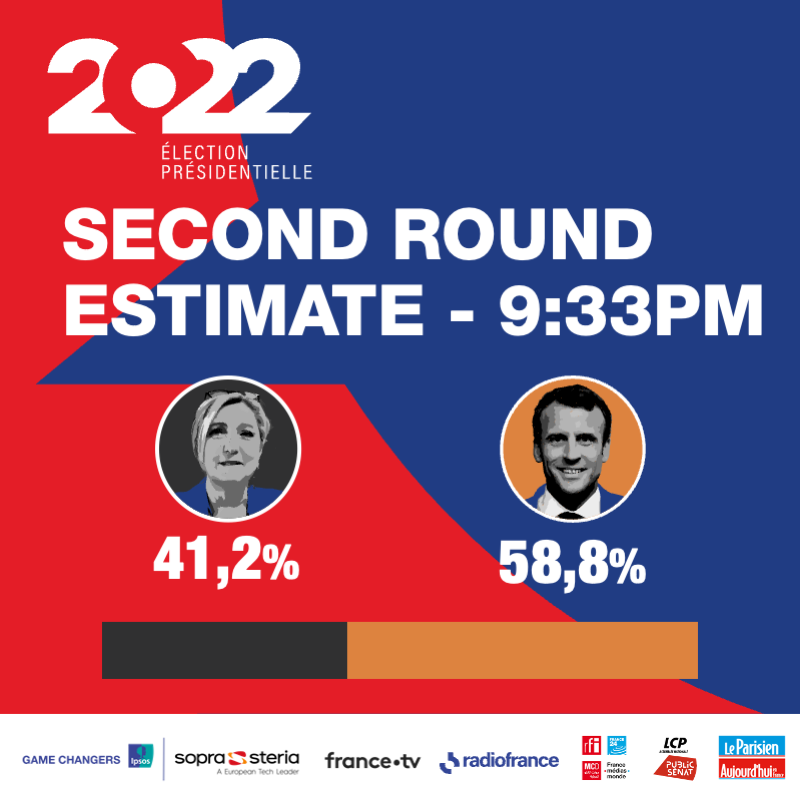 The campaign between the two rounds did not allow Emmanuel Macron or Marine Le Pen to really convince those beyond their electoral base. Nearly one in two French people think that Marine Le Pen "had a rather good campaign" (46%), while 35% think that her campaign was "neither good nor bad" and 19% think it was "rather bad". The overall opinions are more severe for Emmanuel Macron's campaign: only one in four French people think it was "rather good" (26%), while 40% think it was "neither good nor bad" and 34% think it was "rather bad". As for the televised debate, the high point of the inter-campaign period, those who saw it or heard about it had a mixed assessment. Emmanuel Macron "rather worried" one viewer in four (25%), "rather reassured" one in three (32%), while 43% were neither worried nor reassured. The proportions are more or less the same for Marine Le Pen - still a much better performance for her than in 2017. The Rassemblement National candidate thus rather reassured 27% of viewers (vs. 13% in 2017), rather worried 35% (vs. 56% in 2017), and neither reassured nor worried 38% (vs. 31% in 2017).
The reasons for abstention
The rate of abstention was again very high in the second round of the 2022 presidential election. When asked to select from a list of possible options the two reasons that best explained why they were not planning on voting in the second round, the most selected reason was the fact that "no candidate matches my ideas", chosen by a third of abstainers (35%). One in four abstainers are "fed up with having to vote only to block a candidate" (25%), or even "refuse to choose between two candidates [they ] totally reject" (24%). The lack of stakes - "the game is already up, there is no suspense about who will win" - was also cited by a quarter of abstainers (24%). The fact that the vote was taking place during the holiday period for two out of three school zones was only marginally relevant, with 10% of abstainers citing "unavailability (family constraints, vacations, etc.)". An equivalent proportion of abstainers said that voting in general no longer made much sense, either because they felt that the election would have no impact on their lives or the situation in the country or because they were not interested in politics in general (10% in both cases).
Behind this overall hierarchy of reasons for not voting, there are quite different choices according to party proximity. Abstainers who voted for Jean-Luc Mélenchon in the first round were the most likely to reject the two finalists "totally" (43%) and to no longer wish to vote to prevent a candidate from winning (39%). Those who voted for Yannick Jadot felt more than others that their ideas were not represented in the second round (58%), while voters for Eric Zemmour (Reconquête), more than elsewhere, thought that "the game was already up" (44%). As for voters casting blank or spoilt ballots, their reasons for rejecting the second round seem to be even more intense than for the average abstainer: "I refuse to choose between two candidates that I totally reject" is cited by half of them, "I'm tired of voting only to prevent another candidate from winning", by one in four.
Beginning of the five-year term, legislative elections: priority to appeasement
What's next? With concern about the emergence of unrest and social movements, our survey highlights a strong desire among French voters for appeasement. As the new five-year term begins, the priority should be to bring people together rather than to carry out major reforms, such as the legislative elections, with "alliance" being the rallying cry across all parties.
Given the low enthusiasm shown by voters for the second round of the Presidential election, it is difficult to imagine that any state of grace will accompany the re-election of Emmanuel Macron. The French are divided between "relief" (20%), "indifference" (20%), "disappointment" (20%), and "anger" (18%). Very few feel "hope" (10%), or even "joy" (4%).  Negative feelings (46%) outweigh positive feelings (34%) and the French are very worried. More than three out of four people (77%) fear "unrest and tension in the country over the next few months". This fear is widespread among the population, and worries 90% of first-round voters for Marine Le Pen and Eric Zemmour, 85% of voters for Jean-Luc Mélenchon, 73% of voters for Valérie Pécresse, 67% of voters for Yannick Jadot, and even 58% of first-round voters for Emmanuel Macron.
Faced with this concern, the French suggest going "easy". For 57% of them, it would be preferable "for the President of the Republic to devote the first few months of the five-year term to bringing the French together, even if this means postponing certain important but divisive reforms", rather than "reforming the country in depth, even if this may provoke large-scale social movements" (43%). Notably, this desire to appease before reforming is shared by nearly half of Emmanuel Macron's first round voters (48%).
At the same time, the majority do not want the policies of the next five years to shift either to the left or to the right. Between "more to the left" (35%) and "more to the right" (22%), "neither more nor less" prevails among all French people (43%), among Emmanuel Macron's first-round voters (60%), but also for 45% of Marine Le Pen's first-round voters and for 43% of Valérie Pécresse's voters.
The fear of disorder and the desire for appeasement are also apparent when the French look ahead to the legislative elections. For each of the eight political parties included in the study, from La France Insoumise to Reconquête, less than 50% of those surveyed would like them to emerge "weakened" at the end of the election, with the majority divided each time between "strengthened" and "neither one nor the other". While more than 80% of those who voted in the first round either for Jean-Luc Mélenchon, Marine Le Pen or Eric Zemmour want Emmanuel Macron to lose the legislative elections, half of Yannick Jadot's voters and 60% of Valérie Pécresse's voters want him to obtain a majority in the National Assembly. Among the first-round voters for Emmanuel Macron, 60% would like him to obtain a majority "so that he can implement his program", but the remainder would prefer it primarily "for consistency, to avoid a 'cohabitation' government" – where a president is forced to name a Prime Minister from a different political party.
In all camps, the tendency is to unite and to erase the divisions of the presidential campaign. The overwhelming majority of left-wing sympathisers (93%), regardless of the party they feel close to, call for the main parties to "form an alliance and present common candidates in their constituencies". The majority of French people (57%) also share this opinion. The same is true of the far-right, with three-quarters (70%) of those close to the Rassemblement National and 94% of Reconquête supporters wanting joint candidates. We also see a majority of those on the right hoping for an alliance, though there is less agreement on who to align with. 37% of Republican supporters would like an alliance with La République En Marche and the presidential majority (welcomed by 70% of LREM supporters), 23% would prefer an alliance with the Rassemblement National and Reconquête (welcomed by 80% of Reconquête supporters and 55% of RN supporters). For 40% of Republican supporters "neither" is preferable, and they do not wish to make an alliance for the legislative elections.
---
About this survey
This survey was conducted by Ipsos & Sopra Steria for France Télévisions, Radio France, France24/RFI/MCD, Public Sénat/LCP Assemblée Nationale and Le Parisien-Aujourd'hui en France among a representative sample of 4,000 French people aged 18-75 and registered on the electoral roll.