Restarting the economy: Older people most likely to believe jobs lost amid COVID-19 won't return
Surprising data from the world's biggest economy on Friday showed U.S. employers added 2.5 million jobs in May – defying market expectations of another major decline after Americans lost more than 22 million jobs in March and April amid the coronavirus pandemic.
But despite the job gains, the unemployment rate is still in the double-digits at 13.3% - meaning 21 million workers don't have jobs and the number of permanent job losses actually increased by 295,000 in May.
Canada also reported job gains, while the unemployment rate in the eurozone rose to 7.3% – according to Eurostat, but that is considered a modest increase as government-subsidized furlough schemes in Europe have helped protect the job market. Still, more than 40 million people are enrolled in furlough schemes across the continent.
How likely do you think it is that jobs lost during the coronavirus pandemic will be recovered once the lockdown restrictions are lifted?
In a recent global survey across 15 major countries conducted last week, more than half of people on average (52%) think most of the jobs lost will not return as soon as the stay in place and lockdown restrictions are lifted.
People in European countries of France (67%) and Spain (64%), where government furlough schemes exist, were most likely to agree with this, followed by those in Japan and South Africa (63%) and South Korea (61%).
When you look at the breakdown of respondents by age, older people – those aged 45 to 74 - are most likely to say the jobs won't return (53%) - the only majority among all the age groups. This compares to 45% for those aged 24 to 34, and 49% for those aged 35 to 44.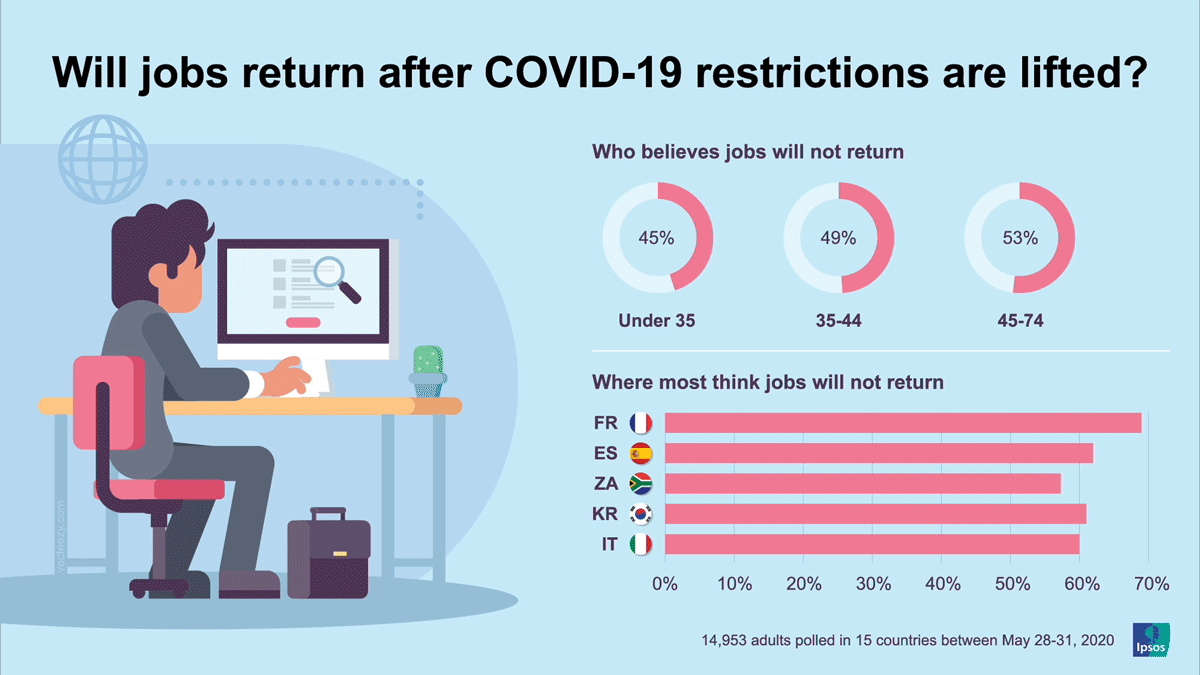 Economists say a combination of the level of jobs that older people occupy, experience with past recessions, and their concerns about COVID-19 could be some factors in why they believe most jobs lost during the pandemic will not return.
Economist Brad Setser, Senior Fellow at the Council on Foreign Relations in Washington D.C., said older workers often find it difficult to find a new job when an old job is lost.
"They are less mobile, generally speaking, and are more likely to drop out of the labour force if there isn't a match for their skills in their region," said Setser.
"Older workers also perhaps remember that the recovery in jobs following both the 2001 dot-com recession and the global financial crisis was slow."
To put this into context, when the global financial crisis was officially declared over in June 2009, it took the unemployment rate until 2017 in the U.S. to return to pre-recession levels.
'Employment will lag' behind broader economy
Douglas Porter, Chief Economist at BMO Financial Group in Toronto, agreed saying recent downturns have seen very long periods before jobs fully recovered.
"The reasoning is straightforward. The very sectors that will remain constrained - travel, entertainment, sports, restaurants - are all very job-intensive," said Porter.
"So, even if the economy mostly recovers, the sectors that lag are job-rich, so employment will lag well behind the broader economy unfortunately."
He also adds that older people could be projecting their own behavior on others – including their more cautious nature and concerns about the virus. Higher income households - which are also most likely to believe jobs will not return – may have also had a "wrenching" experience in March when financial markets were hit hard.
Meanwhile, Krishen Rangasamy, Senior Economist at National Bank of Canada in Montreal, said there is no consensus on the type of recovery we'll see in the job market.
"Optimists are calling for V-shape recovery while others are more cautious in light of permanent scars left by the pandemic. Social distancing measures will continue to weigh on industries such as airlines, restaurants, entertainment business, etc.," said Rangasamy.
"It's too early to say how output and employment will recover considering uncertainties and the absence of crucial information such as the timing of vaccine availability, extent of capacity destruction, and timing of eventual withdrawal of [fiscal and monetary] stimulus."
A V-shaped recovery from a recession is when the economy suffers a sharp but brief period of decline in activity, followed by a strong recovery back to a previous peak – showing a "V shape" in charting.
Setser adds it is unlikely that lifting restrictions alone will be sufficient to bring back all jobs.
"There isn't yet good data for most countries, but the available data from China suggests that many people will remain reluctant to resume their normal dining and shopping habits quickly - and thus a number of service sector jobs won't return quickly," said Setser.
Surveyed unemployment in China was 6% in April, according to Reuters, but many economists say the unemployment number may be far higher. The government plans to create 9 million urban jobs in 2020 – it's lowest target in seven years.
Optimism among younger people
At the same time, younger people - respondents aged from 16-34 - were most likely to believe jobs would return as soon as lockdown restrictions are lifted at 41% - compared to 35% for those 45 and older.
While younger people may be more optimistic about jobs returning, Porter said they could actually have more reason to be concerned.
"I believe that the jobs they (the younger generation) are over-represented in have been hit harder and may have a tougher time rebounding," said Porter.
"The initial stages of recovery could be very fast as re-openings unfold. The trick will be recouping the last 5-10%; the parts of the economy that rely on crowds and close contact."