Taking steps towards sustainable travel
Global Ipsos polling finds many people are open to becoming more sustainable tourists.
The seeds of sustainable travel have been planted, but have yet to fully blossom.
While the wildfires and record-setting heat in Europe has once again put climate change in the spotlight, many people's attention seems to be on one thing these days: vacation.
More than 29 months after a global pandemic was first declared there's clearly "pent-up demand" to travel, noted Pippa Bailey, Head of Climate Change & Sustainability Practice, Ipsos UK.
Alongside enthusiasm to get off the couch and back to travelling, there's also strong signals people are open to becoming more sustainable tourists, according to the 2022 edition of the Holiday Barometer from Europ Assistance and Ipsos.
Thirst to be greener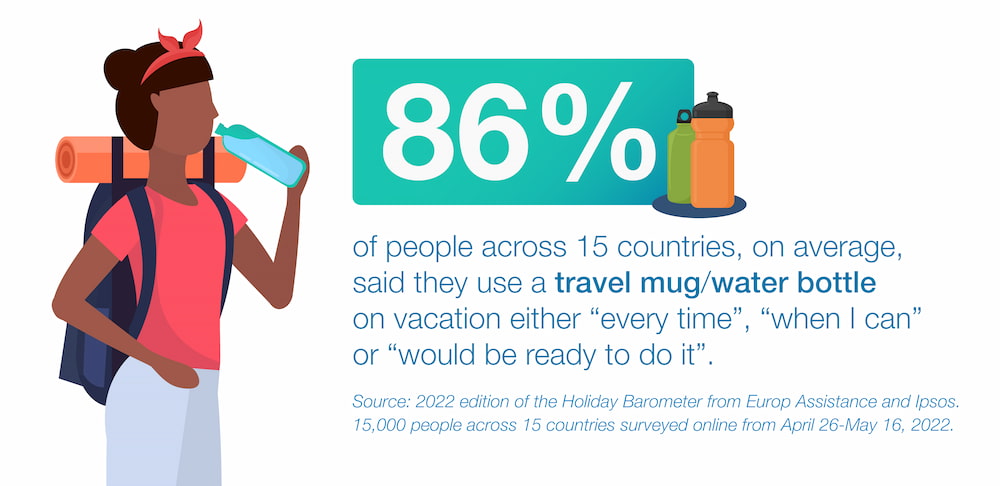 The top sustainable travel action among the 15,000 people surveyed, on average, across 15 countries* said they're either already taking every time, or when they can, is using a travel mug/water bottle on vacation (56%). And almost 1 in 3 (30%) said they would be ready to do it.
The most popular sustainable thing travellers said they'd be open to adopting is picking an accommodation with a green certification (43%), according to online polling done between April 26-May 16 via Ipsos' Global Advisor.
Actions that could cost tourists significant time and/or money were less attractive. The least popular sustainable travel option was volunteering with NGOs to join community tourism projects, which just over half (54%) of respondents said they either "would not want to" do or were "not concerned" with.
Bailey wasn't surprised people are more likely to be already, or open to, taking small "frictionless" steps versus giant leaps to try to be more sustainable travellers (defined in the Holiday Barometer survey as trying to make a positive impact on the environment, society and economy when going on a trip).
Stuart Clark, Director of Public Affairs for Ipsos in Australia, agreed and added "using a reusable water bottle — that's an easy one" for travellers to do or adopt.
Soaring worry
While people are clearly worried about climate change, taking giant leaps has yet to really take off.
A survey of 23,577 people across 30 countries earlier this year found 68%, on average, were concerned about climate change. Yet, only 46% of those people said they'd be likely to not fly, or replace some flights with train or bus journeys, in a bid to cut down their own contribution to climate change.
That pattern played out among Australians, which Clark said is likely due to the "tyranny of distance" where Aussies often "have to travel a long way to get anywhere" Down Under.
It's a similar story in Argentina where distance, plus the lack of strong national bus and rail systems, would make it rather impractical and inconvenient for some travellers to opt of flying, said Carolina Smart, Service Line Director for Ipsos based in Argentina.
Money, money, money
Flying less is the least of many people's concerns around the globe right now.
Ipsos' June What Worries the World survey found issues related to money (inflation, poverty & social inequality and unemployment) were seen as the most concerning problems, on average, facing the 27 countries covered in the survey. With climate change (No. 8) and threats against the environment (No. 14) ranking much lower.
"Young people are actually really worried about how they're going to make ends meet. People are worried about how they're going to feed their families," said Smart of the dire situation facing some lower-income Argentinians.
But, like many other people around the world, upper- and middle-income Argentinians who can afford to travel are going for it during this third pandemic-era summer, said Smart. 
Everything, from vacation inflation to climate change, looks to be on the back burner for tourists right now.
As Bailey noted: "People have put off stuff for over two years [due to the pandemic] and now they're playing catch up. They want to have that blow-out holiday."
A long and winding road
In the short term, not even the brutal heat wave in the U.K. is likely to result in a swell of Brits switching out blow-out holidays for more sustainable options, predicted Bailey.
Longer term? She's hopeful tourists will become more carbon/climate literate and companies will offer greener holiday options "because what we see, particularly with products and goods, is that all things being equal people will make the sustainable choice — as long as they're not having to trade off too much."
---
*The 2022 edition of the Holiday Barometer from Europ Assistance and Ipsos was conducted in 15 countries including the United States, Canada, United Kingdom, Italy, France, Spain, Switzerland, Germany, Austria, Portugal, Belgium, Poland, Czech Republic, Thailand and Australia. In each country, 1,000 consumers aged 18 years and older took part in an online questionnaire.