Vacation inflation: Red-hot prices cooling excitement for travel
But, the pleasure of taking a trip looks to be outweighing the pain of higher prices … for now.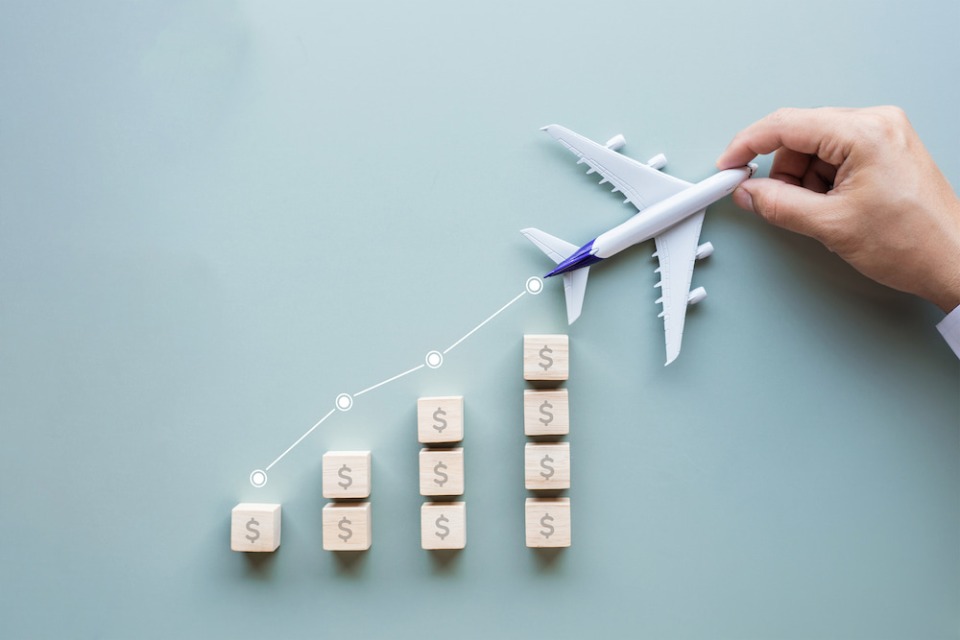 Hitting the gas on travelling this summer? You're far from alone.
Scenes of crowds at airports, beaches and patios have become the norm and not even high prices for gas and, well, pretty much everything else seems to be putting a lid on the pent-up demand these days.
Going from a bubble to a boil
During the first pandemic-era summer in 2020, intention to travel in a pre-vaccine world was low, but anticipation that travel would rebound was high.
By summer 2021, #hotvaxsummer was trending and people were "excited to see and hug their families again and [get] back to simple activities like eating in a restaurant," noted Francine Abgrall, Group Head of Travel at Europ Assistance.
Now, during this third pandemic-era summer, many people seem primed to venture back out into the world for long-anticipated vacations.
The "suppressed demand for holidays" certainly looks like it's now boiling over as airports around the world, including in the U.K., are packed with travellers, said Simon Atkinson, the Chief Knowledge Officer for the Ipsos Knowledge Centre from London.
The 2022 edition of the Holiday Barometer from Europ Assistance and Ipsos finds the majority of the 15,000 people across 15 countries* surveyed online between April 26 – May 16 said they were either "really excited" or "happy" to travel this year.
Sweating escalating prices
The main thing throwing cold water on that excitement? Blazing inflation.
Just over two in three (69%) of those surveyed, on average, said inflation/price increases impacted their enthusiasm and desire to travel this year either "very much" or "somewhat". While just over half (55%) said personal/family reasons had dampened enthusiasm, followed closely by COVID-19 at 53% and the situation in Ukraine at 46%.
Despite these issues, 71% of Europeans, 69% of Thais, 61% of Canadians, 60% of Americans and 52% of Australians said they plan to travel this summer. While excitement and intention is high, Ipsos polling found holiday spending budgets, on average across the 15 countries, remain below pre-pandemic levels.
Feeling the (inflation) heat
For those opting not to travel the No. 1 reason is money (or lack thereof).
Almost half (45%) of Americans who don't plan on travelling in 2022 said they "couldn't afford it", followed by 43% of Australians, 41% of both Canadians and Europeans and 34% of Thais.
Saving money came right behind not being able to afford travel as the No. 2 reason those surveyed said they're opting not taking a trip this year.
Some are clearly already feeling the pinch.
And Ipsos' latest What Worries the World survey finds concern about inflation is now the top worry for the third month, on average, across 27 countries.  
Meanwhile, the newest wave of the monthly survey, conducted between May 27 – June 6, found worry about the COVID-19 pandemic continues to fall as concern about conflict between nations is already softening just a few months into the conflict in Ukraine.
A chill could set in
While worry about conflict between nations is on the decline, the situation in Eastern Europe could very well continue to have a domino effect that ultimately leads to higher prices on everything from flights to food to fuel for the foreseeable future. Not to mention the spectre of yet another surge of COVID-19.
"It still feels quite a fluid situation, doesn't it?," said Atkinson, who changed part of his summer holiday plans due to uncertainty back in January when the Omicron variant loomed large.
There's certainly many darks clouds currently looming over vacationers' beach umbrellas as the world faces down the second half of 2022.
In the U.K., Brits are strapping in for a bumpy ride, said Atkinson, as the Bank of England recently warned inflation there will likely hit 11% by the fall. 
Because of "this particular, let's say dynamic, that we're in at the moment," with wages lagging behind surging inflation for many around the world it's too soon to know how a persistent gap between salary and prices could impact travel plans in 2023, Atkinson added.
For now, the crowds at airports, beaches and patios indicate despite rising costs people aren't slamming the brakes on long-planned vacations just yet.
---
*The 2022 edition of the Holiday Barometer from Europ Assistance and Ipsos was conducted in 15 countries including the United States, Canada, United Kingdom, Italy, France, Spain, Switzerland, Germany, Austria, Portugal, Belgium, Poland, Czech Republic, Thailand and Australia. In each country, 1,000 consumers aged 18 years and older took part in an online questionnaire.