Vietnam's Meat Market: Mind the Gap!
As the world's 14th most populated country, Vietnam and its 94 million people are increasing their livestock consumption as they experience higher income and population growth. Despite the relatively stable growing trend of livestock production over the past few years, meat output has not managed to keep up with the current consumption demand.
Aided by strong growth in both income and population, Vietnam's livestock consumption has risen significantly over the last decade from 3.5 million tonnes in 2013 to 3.6 million tonnes in 2014, and is forecasted to reach 4.5 million tonnes in 2019. Despite the relatively stable trend of meat industry growth over the past few years, meat output has not managed to keep up with the consumption demand. Whilst domestic pork production is relatively sufficient for the domestic consumption demand, there is a significant shortage in the supply of beef and chicken.
The deficiency of livestock in Vietnam is due to geographical limitations, dependence on imported feeds, and fragmented farms and regulations.
President of Animal Husbandry Association of Vietnam – Dr. NGUYEN Dang Vang admitted the limited potential for cattle raising in Vietnam: "Vietnam has limited potential in cattle raising for slaughter due to the small size of its grasslands. Cattle in Vietnam are usually fed with straw, sugarcane, and cassava, which are not an optimal solution; they are best raised by grass".
Furthermore, sub-sectors such as feed production and animal breeding are largely dependent on foreign investment due to the lack of investment by local companies.
Over 85% of Vietnam's livestock is raised on small-scale farms. This arrangement leads to un-scalable production levels and prices, as well as inconsistence in the quality of breeders.
Husbandries are hardly helped by supportive programmes enacted by legislators. For example, whilst the government encouraged the application of biological padding in pig raising, this policy lacked options to control the price of inputs (e.g: rice husk, sawdust). As a consequence, the policy led to higher production costs for husbandries and stagnated the competitive advantages of such producers.
Though pork still remains the main meat consumed in Vietnam, higher consumption growth rate presents a positive outlook for consumption of beef and poultry.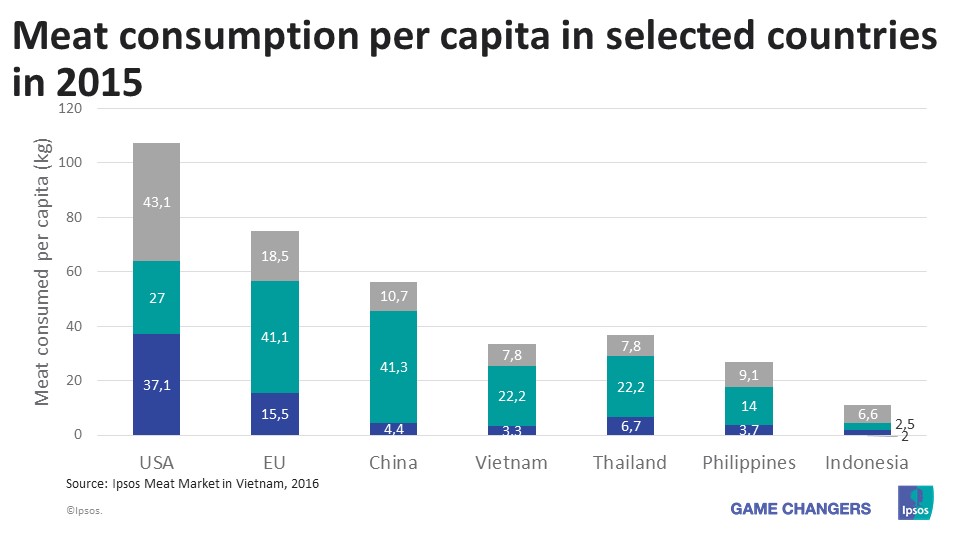 Vietnam's meat industry is still developing and lags far behind the West, but its solid growth rate means that it is on track to stand alongside its peers in Asia. Per capita consumption of meat in Vietnam in 2015 was 33.2kg, which is considered to be relatively low – just one-third of that in the US (107kg) and half of the amount within the EU (76kg). Compar ed with r egional peers, meat consumption per capita in Vietnam was also lower than in China (56.4kg) and on par with that of Thailand. However, beef consumption in Thailand w as twice as high as in Vietnam.
For both practical and historical reasons, pork is the preferred meat in Vietnam – although as we will soon see, this may change in the near future. For example, pigs are part of the household recycling system for small-scale farms (a system which accounts for 86% of swine farms in Vietnam) as they consume inedible waste. This practice therefore reduces production costs while increasing the number of suppliers for this type of meat. In addition, pork has long been the traditionally consumed meat in Vietnam; this cultural endorsement for pork was influenced by the Chinese, who felt that eating meat (especially pork) was a symbol of triumph over hardship. Although pork consumption is expected to grow at a rate of 3% per annum and continues to be the dominant meat consumed in Vietnam, a slightly higher growth rate of 3-5% per annum for beef and poultry creates a positive outlook for the consumption of these varieties of meat in the coming years. A higher growth rate for beef and poultry is a result of a new cultural belief which is a preference towards foreign and/or imported products.
The value of meat imported to Vietnam has doubled in four years. Bovine meat saw the strongest increase and accounted for 45% of total imports.
In 2015, the country's imported meat value is estimated to have reached US$234.7 million, an increase of 143% and 14% compared to 2010 and 2014, respectively. Although the import value of poultry increased by US$34.8 million during 2010-14, its contribution to Vietnam's meat imports decreased from 72% to 51% whereas the share of bovine meat rose sharply during the same period. Bovine meat's import value saw a four-fold increase from US$25 million to US$92.5 million. Whilst there was a significant surge in the total value of imported frozen bovine meat, the fresh/ chilled bovine meat value experienced a slower increase of about 1.2% per annum. In 2014, the import value of frozen meat was eleven times higher than the fresh/chilled category due to lower favour tax (20% for frozen bovine meat in comparison with 30% for chilled one). Trade agreements have facilitated the growth of meat importation in recent years. During the 5-year period from 2010 to 2014, Vietnam welcomed new players (mostly from the EU region) and it created a more competitive market environment for both foreign and local investors.
With support from trade agreements, Vietnam has welcomed various new players, creating a more competitive market environment for the meat sector.
Falling oil prices, a decrease in local cattle head, and ongoing demand help explain Vietnam's sudden surge in bovine imports. The trend is expected to continue with the advantageous climate created by various trade agreements.
In 2014, pork's import value in Vietnam increased to US$8.8 million with EU countries such as Denmark, the Netherlands, Germany and Spain getting a significant market share. However, as domestic production was in surplus, Vietnam was able to generate a total pork export value of US$46.6 million in 2014. Since joining the World Trade Organisation, subsidy programs to support pork exports have been gradually withdrawn; as a consequence, business opportunities are not significant for the export sector, and are instead limited to fulfilling domestic needs.
Bovine meat's import value saw a nearly four-fold increase from US$25 million to US$92.5 million during the 2010-14 period, accounting for 45% of the total meat imported to Vietnam in 2014. The reasons behind this significant increase are considered to be falling oil prices, a decrease in local cattle head from 2017-12, and growing demand for beef. Trade agreements with Australia and New Zealand also facilitated the wave of imported beef in Vietnam. Instead of importing meat from bovine animals (which has a tariff rate of 18%), businesses import live bovine animals (at 2% import duty) and slaughter them in Vietnam. With the Trans-Pacific Partnership (TPP) signed in 2016 (yet currently not in force), competition is anticipated to be more intense, with import tariffs eliminated for TPP members including Australia, the US, Japan, and New Zealand. Nevertheless, from the consumers' end, trade agreements have little impact on the reduction of selling price, as tax is not the only cost component; the largest expense – transportation – still contributes roughly 25-30% of the total cost incurred.
A more open and competitive market, yet full of potential
Vietnam's meat market is growing with the involvement of an increasing number of players. Such changes pose a threat for local manufacturers, as the price of imports become more competitive when compared with locally produced meat. Foreign producers mainly rely on economies of scale and access to cheap feed which enable them to enter the market with low prices; Figure 8 compares the total production cost between locally produced and imported meat types. At the same time, the dominance of small-scale farms hampers productivity gains of local producers, preventing them from competing successfully in the market.
Vietnam's meat market has become more price-competitive, with foreign manufacturers taking advantage of cheap feed and economies of scale.
Production cost comparison between locally produced and imported meat
Meat types
Production cost/kg
Price difference (%)
Domestic
Import
Beef
US$2.53
US$1.77
30
chicken
US$1.42-1.47
US$0.92*
35-37
*Selling price in Vietnamese market
In order to combat the wave of imported meat, some largescale local companies have decided to manage the entire production chain from inputs to production, processing, distribution and selling to be able to achieve competitive prices. Dabaco Group (Dabaco) is a typical example that has successfully applied the "from breeds to table food" approach. Dabaco aims to develop a strong group in the agriculture industry, using modern technology and a closed 3F value chain – farming (breeding and farms), feed (producing livestock feed) and food (meat processing) – in combination with Dabaco's supermarkets and fresh food shops. In 2015, the company reached a total revenue of nearly US$269 million, an increase of 10% compared to 2014. Hoa Phat Group, one of the leading private industrial companies in Vietnam, is another good example who has recently diverted their investment to animal feeds and pigs. The company aims to expand its pigs production capacity to one million tons by 2020.
To regain their competitive advantage, local companies should apply some strategies such as vertical integration or horizontal integration, or consider investing in sub-segments to reduce dependence on imported feed.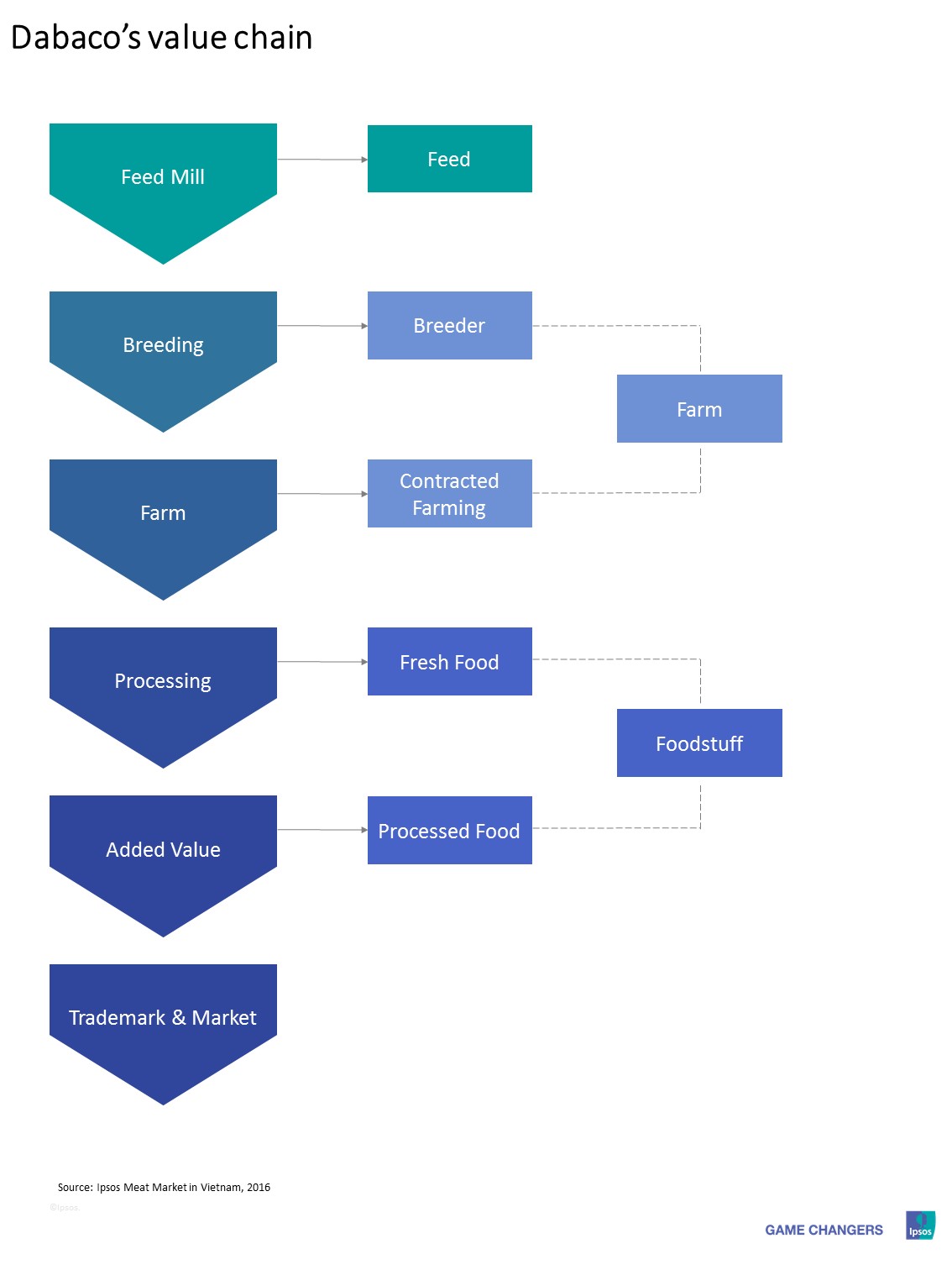 Besides the above-mentioned approach, local companies should consider the following strategies for long-term and sustainable development:
Building up horizontal linkages, which can create large -scale enterprises that attract smaller-scale households and firms as satellites.
Growing feed crops to reduce the degree of dependence on imported feed.
Selecting and raising livestock in accordance with the region's geographical advantages.
For foreign exporters, the opportunities to invest in Vietnam's meat sector are vast considering the shortage of domestic supply and increasing demand. Figure 10 indicates the six distribution models usually adopted by food exporters in Vietnam. The following models, Exporters to food processors (1), Exporters to Local importers/Distributors to Wholesalers to Food Processors (2), and Exporters to Local to Wholesalers/Distributors to Traditional sales channel/Modern sales channel to Small household food processors (6) are the three most common practices in Vietnam, where most food importers are also distributors. These models are preferable for exporting to Vietnam as they involve fewer intermediaries. When entering Vietnam, foreign exporters often choose to work with local importers rather than establishing their own entities in Vietnam, for several reasons:
Imports of meat can only be undertaken by a Vietnamese company that is officially approved as a trader in meat and poultry products.
Local importers continue to play a major role in distributing and promoting imported products in Vietnam. Typically, local importers have their own sales agents and distribution fleet and are in direct contact with supermarkets, wholesalers, and in many cases, also with thousands of small-scale grocery stores.
Import procedures and processes are complex and need careful attention.
Though the opportunities are vast, foreign exporters should be aware of the complicated nature of import procedures in order to select the most suitable distribution channels.
Conclusion
Vietnam's rising population, income levels, changing cultural preferences and new trade agreements have opened up the door to significant growth in the meat industry (which consumption is expected to reach 4.5 million tonnes in 2019). Whilst the supply of pork can fulfil domestic needs, the country relies on imports to fulfil its beef and poultry demand; these sub-segments also exhibit promising investment potential, given their annual growth rates of 3-5%. Trade agreements and the benefit of economies of scale have allowed an increasing number of foreign players to join this lucrative sector in Vietnam. With so many of the right pieces in place, and the country's growing economy set to yield a large reward for any company that efficiently delivers what the public is already demanding, opportunities are ripe for investors with a clear-headed approach to further developing Vietnam's meat industry.
Download