[WEBINAR] The Future of Snacking: Bite-Size Insights
25 June 2019 10:30amPT / 1:30pmET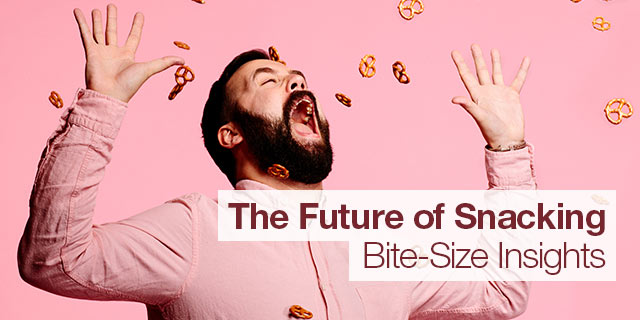 Tremendous growth in snacking has resulted in Canadians' re-shaping how they define their in-between meal eating behaviour. The long-held belief that a snack was solely a treat-oriented, in the moment, indulgence has evolved into a snacking mindset anchored in mindful and healthy eating together with enjoyment and indulgence.
More than two-thirds of all consumption occasions occur outside of and in-between traditional meals, as snacks. As consumers frequently engage in snacking behaviour, there is a growing necessity to understand with increased specificity and by occasion what the individual consumer of today demands from his or her choices, particularly since snacking is such a solo and personal behaviour.
Only FIVE's ongoing daily capture of what Canadians eat and drink across all categories/brands, occasions and venues, both at home and away from home, reveal snacking consumption patterns and attitudinal traits driving behaviour today.
Join us for a complimentary webinar featuring highlights from our Spring 2019 report, with new data exploring:
Snacking Basics
Alternative Protein Snacking
Winners from Premium & Organic Growth
The Away from Home Opportunity
Gen Z Cohorts Coming of Age
Register today. Space is limited: The Future of Snacking: Bite-Size Insights
Speakers :
Kathy Perrotta, Ipsos Marketing, Canada