What Worries Japan
Looking at Ipsos' "What Worries the World?" survey findings, a briefing from the Ipsos Japan team dives into the top concerns reported by the Japanese population.
A great deal is made of Japan's ageing population, but this isn't the only thing giving the country grey hairs. The results of Ipsos' Global Advisor "What Worries the World?" survey highlight two clear themes around what is troubling today's Japanese:
 After decades of economic contraction, society has morphed into one of winners and losers.
A conservative government is, unusually, pursuing a progressive agenda. These are reflected in the top worries for the Japanese (see chart below).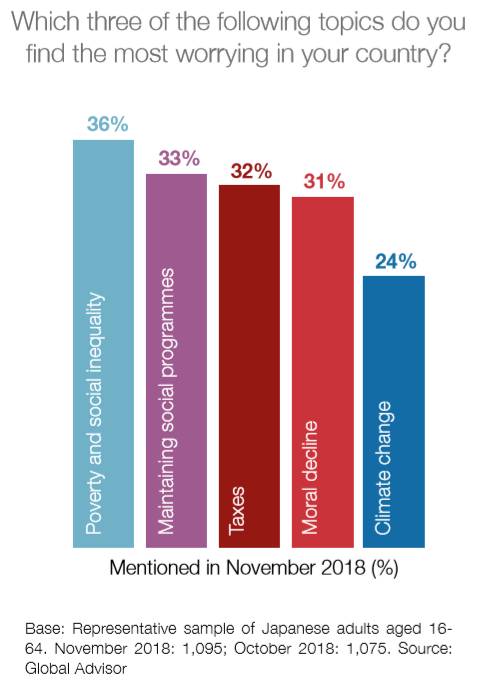 Relative poverty rates and income inequality have continuously grown over the past three decades, such that 1 in 6 Japanese now lives below the poverty line.
Japan's workforce has shrunk by about 2 million just as more than a fifth of its population are now aged over 70. Partly due to this imbalance, Japan is now the most indebted industrialized nation with public debt at 250% of GDP.
While the older generation benefited from the financial stability that of the traditional employment-for-life system of corporate Japan, in post-bubble Japan, many of today's younger Japanese do not expect the same level of material wealth as their parents' generation.
Just like the older generations of any country, Ipsos survey results show Japan's older people are fretting over 'Moral Decline'. Reported by 31% of those surveyed (compared to the global average of 15%), this is a significantly larger concern in Japan.
In September 2018, on the heels of a particularly cruel summer of natural disasters including record-breaking heat, typhoons, torrential rains and mudslides - not to mention earthquakes - it was no surprise that Japanese ranked 'Climate Change' (24%) higher as a concern than all other countries surveyed.
Taxes are always a worry, but as seen in the 32% of Japanese who reported this as a concern, the long-awaited consumption tax hike scheduled to come into effect in October 2019 sharpens the point. As issues arising from demographic imbalance, huge public debt, economic slow growth and wage stagnation, growing inequality and climate change continue to accelerate, those in Japan waiting for the torch to be passed are, perhaps, rightly worried.
Download