Britons becoming increasingly comfortable returning to normality, but around 4 in 10 still unhappy with hugs, handshakes and holidays abroad
As we get closer to "Freedom Day", Britons appear to be increasingly comfortable with the idea of returning to "normal", however more parents feel uncomfortable sending their children to school
New polling by Ipsos MORI shows more Britons are feeling comfortable* doing many activities in the same way as before the coronavirus outbreak.  There have been significant increases in those happy to take holidays abroad (+10ppt), going to bars and restaurants (+5ppt) and going to indoor theatres and cinemas (+5ppt), since last polled in May. However, with the Delta variant working its way through schools, it may come as no surprise that the number of parents who feel comfortable sending their children to school has fallen (-7ppt). 
Thinking about how things will be once restrictions are lifted, three-quarters (76%) say they will feel comfortable taking holidays in the UK in the same way as they did before the pandemic, up 3ppt since May. In comparison, less than half feel comfortable taking holidays abroad, 44% say they are comfortable or already back to normal. However, this has seen the biggest increase since the question was asked in May, when 34% were comfortable or back to normal.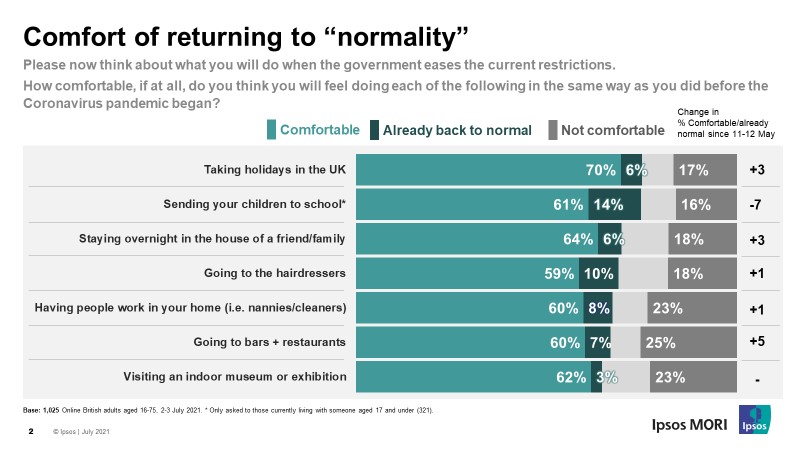 Three-quarters of parents are happy to send their children to school (75%), however, this has fallen by 7ppt since May. Mothers are significantly more comfortable, 82% say they are happy to send their children to school or are already doing it as normal, only 67% of fathers say the same. 
Seven in ten would be comfortable staying overnight in the house of a friend/family member in the same way as they did before the pandemic, while a similar proportion (68%) feel happy to let people come into their own home to work (i.e. nannies/cleaners). 
Around two-thirds say they are comfortable going to bars and restaurants (67%), an increase of 5ppt since May. Similarly, 65% would be happy to visit an indoor museum or exhibition. A majority of people feel comfortable going to indoor cinemas or theatres (56%), up from 51% two months ago.
While more become comfortable with the idea, many remain cautious of visiting indoor pools, gyms and leisure centres, less than half would be happy visiting these (46%), while a third (33%) say they would not. Large public gatherings also appear to remain a cause for concern, 42% would be happy to attend or are already doing so as normal, while the same proportion would be unhappy doing so.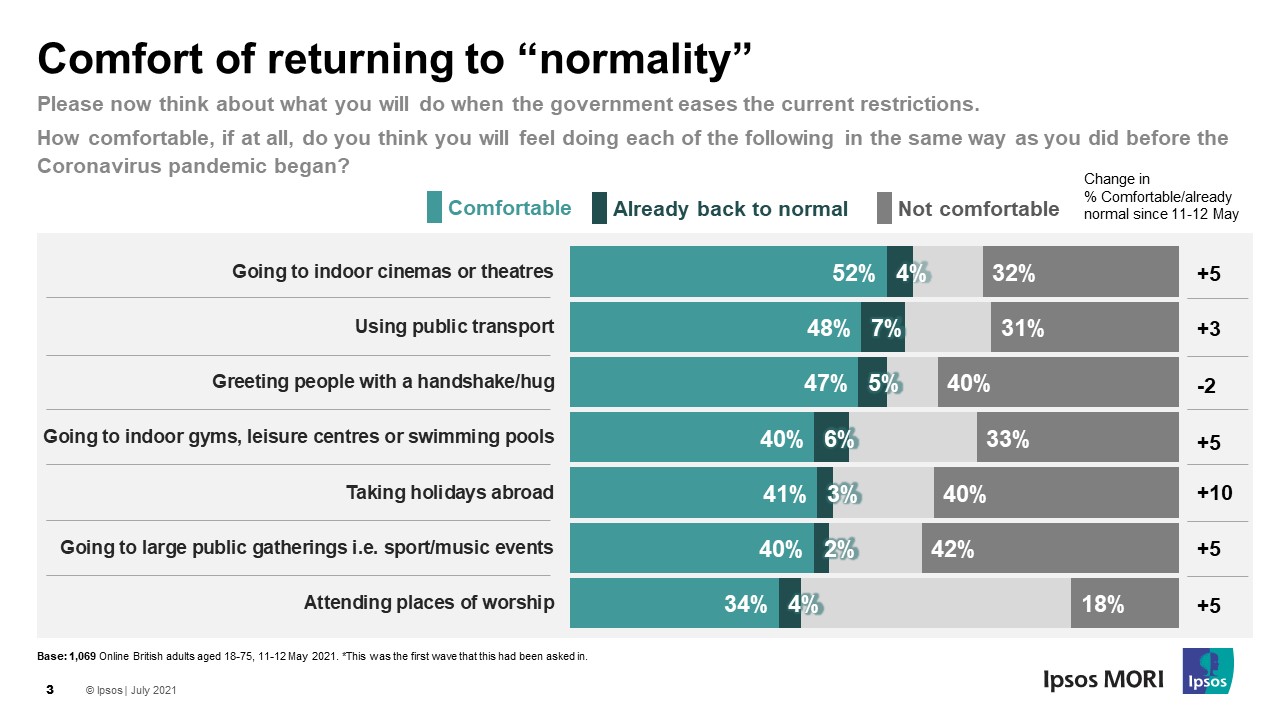 Just over half are comfortable using public transport as they did before the pandemic began (55%) while around a third (31%) remain cautious of doing so. 
Opinion is largely split concerning greeting people with hugs or handshakes. Just under half (47%) say they are comfortable doing this in the same way as before the outbreak of COVID-19 with a further 7% doing so already. However, 4 in 10 (40%) are uncomfortable doing this as normal, increasing to 48% of those aged 55-75.
Notes to Editor
The proportion referred to as comfortable in this release refers to those comfortable with the activity and/or already doing it.
Technical note:
Ipsos MORI interviewed a representative sample of 1,025 British adults aged 16-75. Interviews were conducted online from 2-3 July 2021. Data are weighted to match the profile of the population. All polls are subject to a wide range of potential sources of error.