Ipsos MORI Research Highlights - 10 September 2021
In our latest Ipsos MORI Research Highlights we explore parents' worries as children return to school, concern about climate change and attitudes towards Government spending.
Public concern about climate change and pollution doubles to a near-record level
COVID-19 is still the biggest issue in Britain, but concern has dropped again this month with just 40% mentioning it as the biggest issue. With media coverage of floods and fires globally this summer, there has been a surge in concern about climate change up from 16% in July to 32% now. A third of both Labour and Conservative voters mention climate change as the most important issue. With COP26 around the corner, 73% say they can personally see its impacts in the UK.  
7 in 10 parents worried about their children catching COVID-19 when they return to school
As children return to school this month, the majority parents' are concerned about their children catching COVID-19 and 71% think cases will rise as children return. Over 7 in 10 predict that COVID-19 cases will rise in the coming year as children return to school and only 8% disagree. Almost two-thirds (65%) think most school staff will take lateral-flow tests twice a week, but just 51% think secondary school pupils are likely to so the same.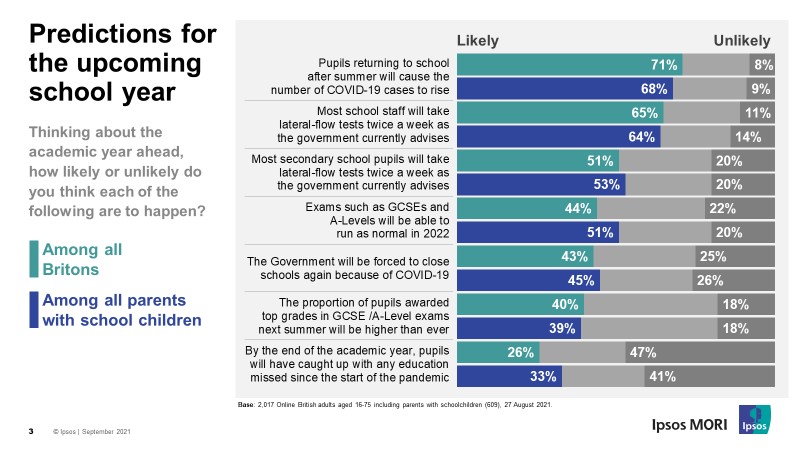 4 in 10 Britons think country heading in wrong direction but Johnson much more popular than Starmer among their own voters
Boris Johnson's ratings have recovered slightly since last month but 44% of Britons think things are heading in the wrong direction and 29% think the opposite. Keir Starmer's ratings continue to decline with his unfavorability (44%) double his favourability. Even among Labour voters, only 39% are favourable, compared to two thirds of Conservative voters who are favourable towards Boris Johnson and Chancellor Rishi Sunak. In terms of public attitudes to the two largest political parties, over 40% of Britons are unfavourable towards both the Labour and the Conservative party.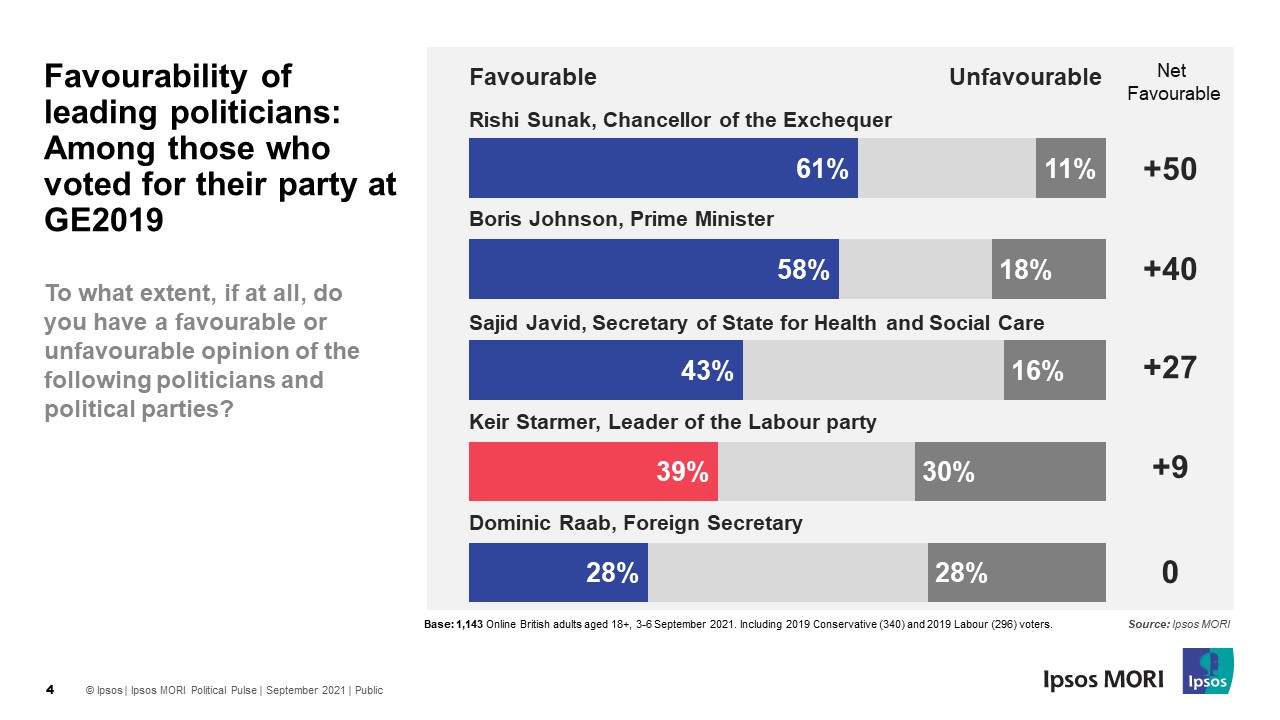 Less than a quarter think Boris Johnson and the UK Government have handled the situation in Afghanistan well, but they've done a better job than Biden
Following the withdrawal from Afghanistan, Britons are unimpressed. More than 4 in 10 say Boris Johnson (41%), the Government (44%), have done a bad job handling the situation and 33% think Keir Starmer has done a bad job. However, there is a quarter (23%) of Britons think that the Prime Minister has done a good job. President Joe Biden is the worst rated in Britain with 59% saying he has done a bad job and only 12% saying he's done a good job.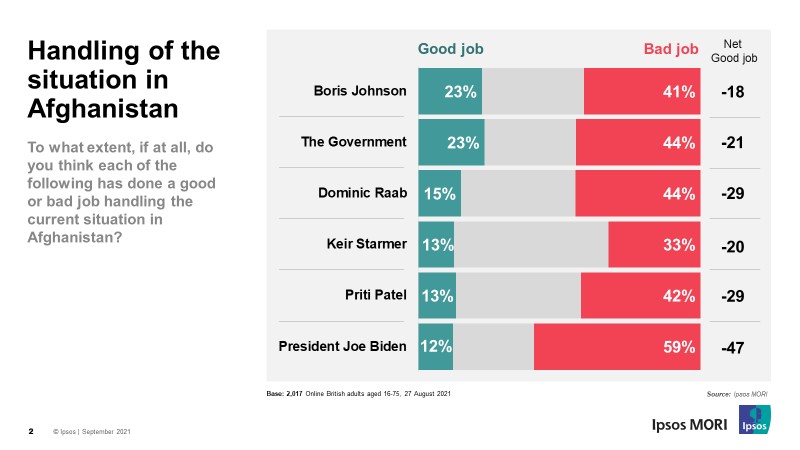 In other news
We've looked at how the COVID-19 pandemic has impacted the UK payments market and prompted customers to alter their behaviours.
Our new white-paper explores the role and portrayal of women in advertising can influence attitudes towards the evaluation of an ad and there a benefit from shifting the portrayal of women in advertising for brands in terms of creative effects?
Join us on Wednesday 29 September at 1pm where we will debut the premiere of our short documentary Obesity: an empathy blind spot and be joined by experts to discuss the impact and prevalence of weight stigma both in and out of healthcare settings. 
As ever, please do let us know what you think, and I hope you find something to interest you.
Ben Page
Chief Executive, Ipsos MORI
[email protected]