Public concern about climate change and pollution doubles to a near-record level
Ipsos's Issues Index for August 2021 shows public concern about the environment has jumped sixteen percentage points over last month's Index.
A third of the British public see the environment and climate change as a big issue for the country, making it the second-biggest issue
COVID-19 remains the biggest concern but the level of worry drops further
Public concern about the economy, NHS and education also dips from levels recorded in July
The August 2021 Ipsos issues Index reveals spontaneous public concern about the environment has jumped sixteen percentage points since July. Thirty-two per cent mention climate change and pollution as a major issue for Britain, making it the second-biggest concern for the country. Fieldwork was conducted between 6 and 13 August, covering the launch of the Sixth Assessment Report of the International Panel on Climate Change.
This is the second highest-level of concern recorded about the environment since it was added as an option to the survey in 1988: in July 1989, when the highest temperature since 1976 was recorded at Heathrow, 35% mentioned environmental issues as a worry.
COVID-19 remains the biggest issue for Britain, however just 40% mention it as a big issue this month – down eight points from July and 35 percentage points below the highest score this year (75% in January).
The level of concern about three other issues has also fallen this month: worry about the economy has dropped by eight percentage points (36% to 28%) and there has been a seven percentage-point fall in the proportion who see the NHS and education as big issues (28% to 21% and 21% to 14% respectively).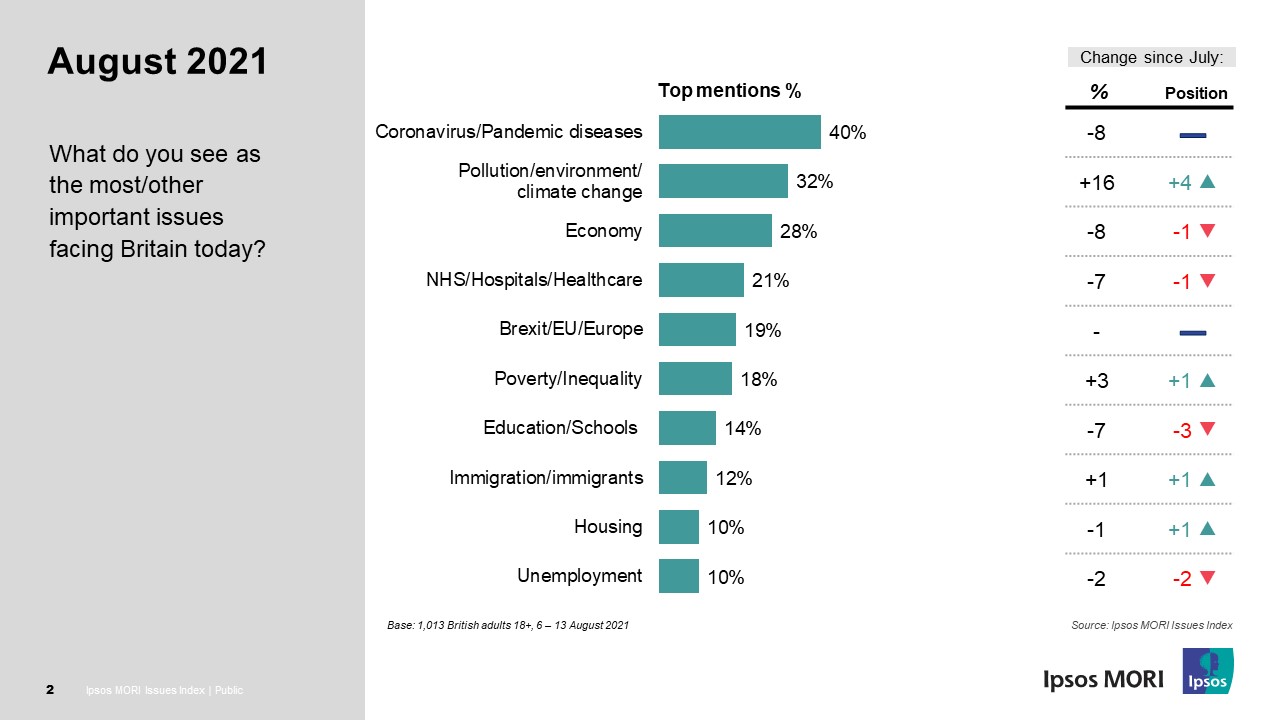 While environmental concern has risen generally, there remain differences between different groups of the population:
This month older people are more likely than average to mention the environment as a concern: 38% of the over 55s (and 42% of those aged 55-64) say it is a big issue, compared with 24% of 18-34s.
There remains a split by social grade with those in social grades ABC1 more likely to be worried about climate change than those in grades C2DE (37% compared with 28%)
By contrast there is no party-political split with supporters of the Conservative and Labour parties – as well as those who support no political party – all similarly likely to mention is as a concern (30%, 33% and 28% respectively)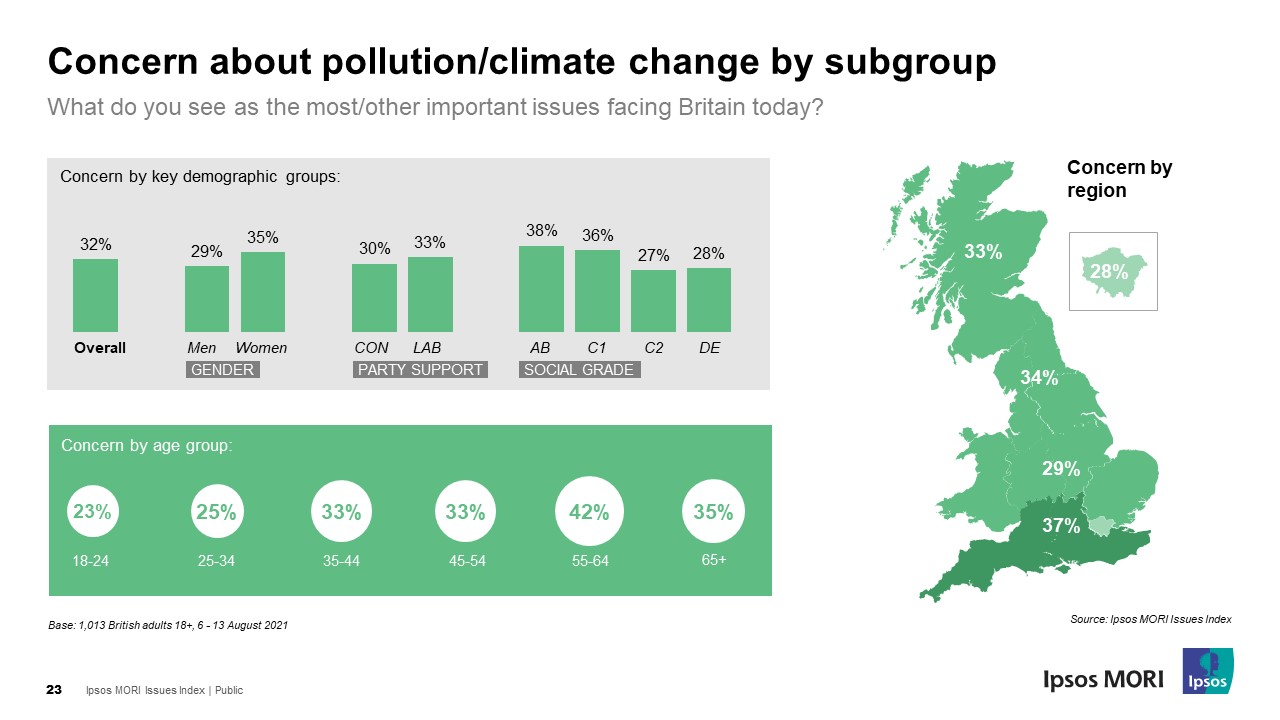 Mike Clemence, a researcher at Ipsos, said:
Public concern about the environment has reached an historically high level this month, with publication of the new IPCC report and reports of fires and flooding around the world. But this jump in concern is built on a steady rise in the level of worry on this topic which has been building since around 2015.
We also see public worry about COVID-19 dropping again to the lowest level since the start of the pandemic – but still it remains seen as the No. 1 issue facing Britain for the public.
Technical note
Ipsos's Issues Index is conducted monthly and provides an overview of the key issues concerning the country. Ipsos interviewed a representative sample of 1,013 adults aged 18+ across Great Britain. The answers are spontaneous responses, and participants are not prompted with any answers.
Ipsos's telephone omnibus was used for this survey. Interviews were conducted between 6 and 13 August 2021 across Great Britain. Data are weighted to match the profile of the population.