Ipsos MORI Research Highlights - August 2019
This month's Ipsos MORI research highlights includes first views of Boris Johnson who begins his term as Prime Minister as satisfaction with the government hits a historic low. Elsewhere, we explore public attitudes to a no deal Brexit; and there is continued concern about the NHS.
Public see Johnson as 'most capable PM' vs Corbyn - Ipsos MORI Political Monitor July 2019
Good news for Boris Johnson's personal poll ratings have improved, especially among his own supporters. The Conservatives take a 10-point lead over Labour in our headline voting intention figures. Boris Johnson leads Jeremy Corbyn by 52% to 27% on 'who would make the most capable Prime Minister'. However Mr Johnson should still cautious as his satisfaction ratings are worse than other Prime Ministers taking office mid-parliament.
The public remain pessimistic about getting a good deal on Brexit and 74% think it is unlikely that the 'UK and the EU will have agreed the terms of the UK's departure from the European Union in time for the UK to leave by October 31st'. If a deal between the UK and EU cannot be reached:
38% support leaving the European Union without a deal, whereas 50% oppose. 50% support delaying the UK leaving until an agreement can be reached.
Ipsos MORI Issues Index July 2019: Brexit, the NHS and crime are Britons' three biggest issues
Brexit continuing as the public's biggest concern, with 60 per cent mentioning it as one of the biggest issues and almost half (47%) seeing it as the single biggest worry. While the level of public concern about Brexit has lessened somewhat in recent months it remains at historically high levels. The NHS continues as the second-biggest issue for the public on 39%, and crime is now considered the third-biggest worry.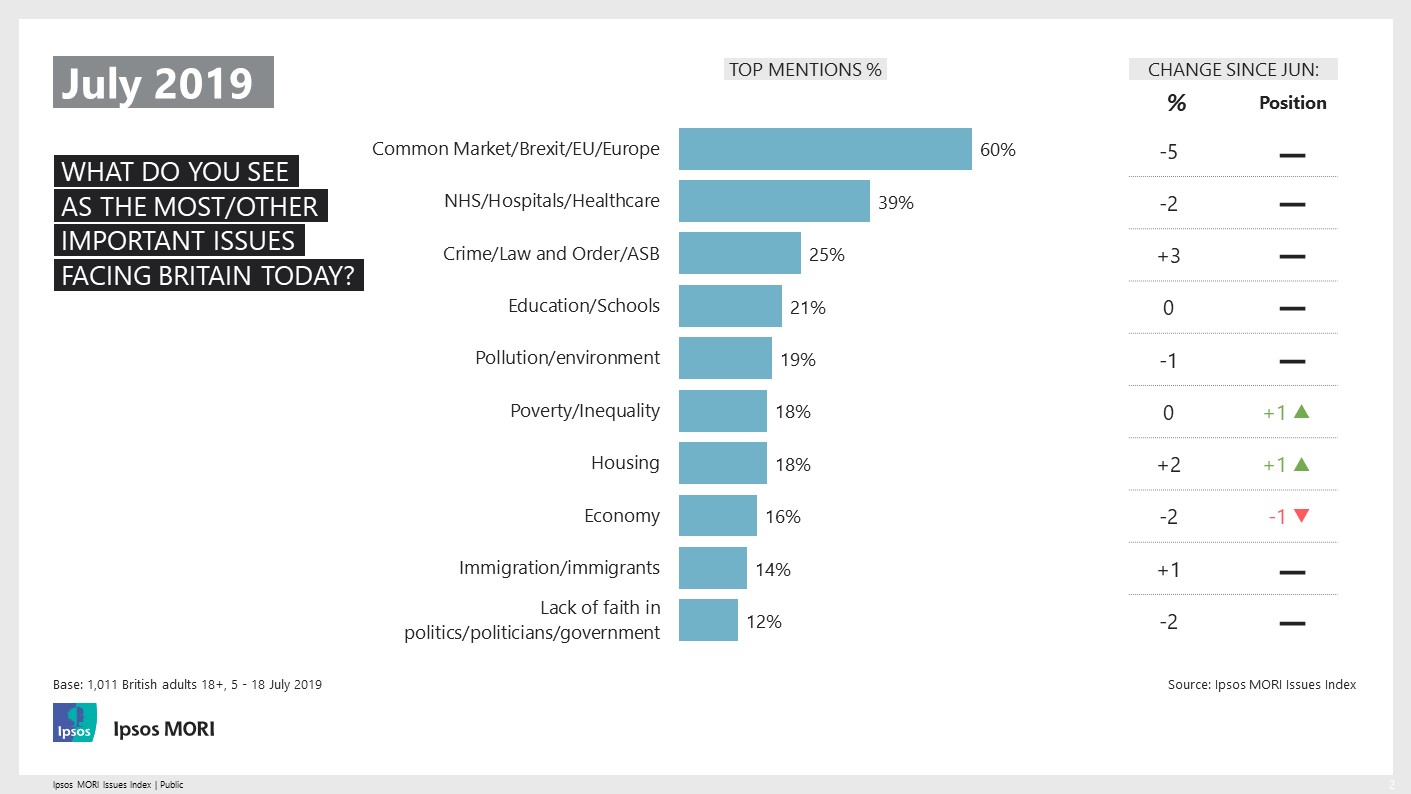 45% of people think that taking time off to care for a child has a negative impact on a person's job
There is little difference between men and women while older generations are significantly more likely to agree than younger people with over half (52%) of 55-75-year olds agreeing while only 37% of 18-24-year olds feel the same. Among parents, almost 3 in 10 women (29%) that have taken maternity leave agree that it had a negative impact on their career, while less than half the proportion of men (13%) notice the same impact following paternity leave. 
Understanding Society: A Woman's World
In our latest edition of Ipsos MORI's Understanding Society newsletter, A Woman's World, we bring together a collection of articles, based on our research with a diverse range of women all around the world. With contributions from trailblazing women: Julia Gillard, Australia's first woman Prime Minister and now Chair of the Global Institute for Women's Leadership, and Megha Mohan, the BBC's first ever Gender and Identity Correspondent. 
In other news
Ben Page, Chief Executive discusses how the new PM has to work quickly to capitalise on the 'Boris bounce' for the Times Red Box.
Around 1 in 20 secondary school girls and 3 in 20 female college students have been unable to access sanitary products (e.g. tampons, towels) at least once over the past 12 months because of their cost in a survey for the Department of Education. Just 46% of secondary school girls and 22% of female college students are aware that their school provides free sanitary products at their school/college.
Alex Baverstock explains how video can get us closer to real, consumer-led insights while significantly reducing the 'time to insight'.
Mark McGeoghegan explores reputation resilience in the age of 'fake news' and what businesses can do to mitigate the risk fake news.
As ever, please do let us know what you think and I hope you find something to interest you.
Ben Page
Chief Executive, Ipsos MORI
[email protected]