Ipsos MORI Research Highlights - February 2019
Welcome to our review of 2019 so far. It's been a tough start for Theresa May as confidence to get a good Brexit deal continues to fall. Meanwhile as Labour rebels leave the party, we have record levels of public dissatisfaction with Jeremy Corbyn.
Confidence in Theresa May to get a good Brexit deal falls
 Only one in five (21%) say they are confident she will get a good deal for Britain in the negotiations, while three in four have little confidence or none at all (77%, up from 69% in December). The bad news continues as trust in the Prime Minister to make the right decisions for Britain on Brexit has also fallen since July. A third say they trust Theresa May (34%, down from 41% last year) while nearly two-thirds do not trust her very much or at all (64%, up from 58%). However despite her tough start to 2019 the Prime Minister's leadership satisfaction ratings have seen little change from December. A third (33%) are satisfied with the way she is doing her job (down 2 points) and 58% are dissatisfied (up 1 point) leaving her a net satisfaction index score of -25.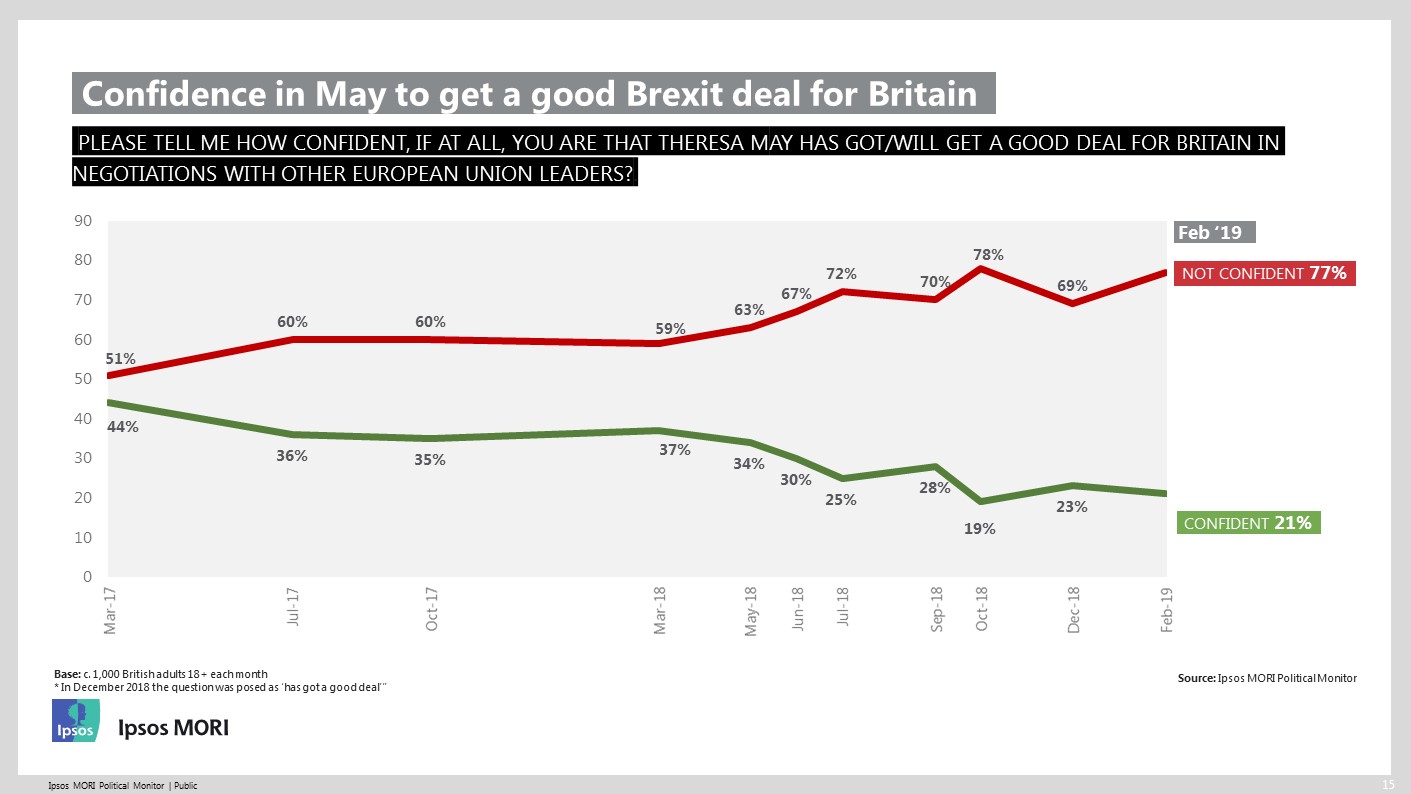 Jeremy Corbyn's satisfaction ratings fall to historic low
Fewer than one in five (17%) say that they are satisfied with the way Jeremy Corbyn is doing his job as Leader of the Opposition (down from 27% in December), which is the lowest recorded for a Labour leader since Michael Foot, who dropped to 13% in August 1982. Only one in six (16%) think that he has displayed strong leadership when handling Britain's exit from the European Union, which is half of those saying the same about Theresa May (35%).
It is worth noting that despite both party leaders experiencing leadership difficulties our voting intention scores show little change from December with both the Conservative and Labour parties level at 38%.

Worry about Brexit and EU has fallen however remains Britain's number one worry
The January Issues Index confirms that Brexit remains the biggest issue facing Britain for a majority of the public with sixty-three per cent naming it as a worry. The number of people who cite the NHS as the Britain's biggest issue remains at 44%, as recorded in December. Concern about education has risen four percentage points to 21%, becoming the third biggest worry in Britain and is strongly centred across certain parts of the population with people from social grades AB especially likely to mention it as a worry (36%), alongside public sector workers (33%), Labour party supporters (30%).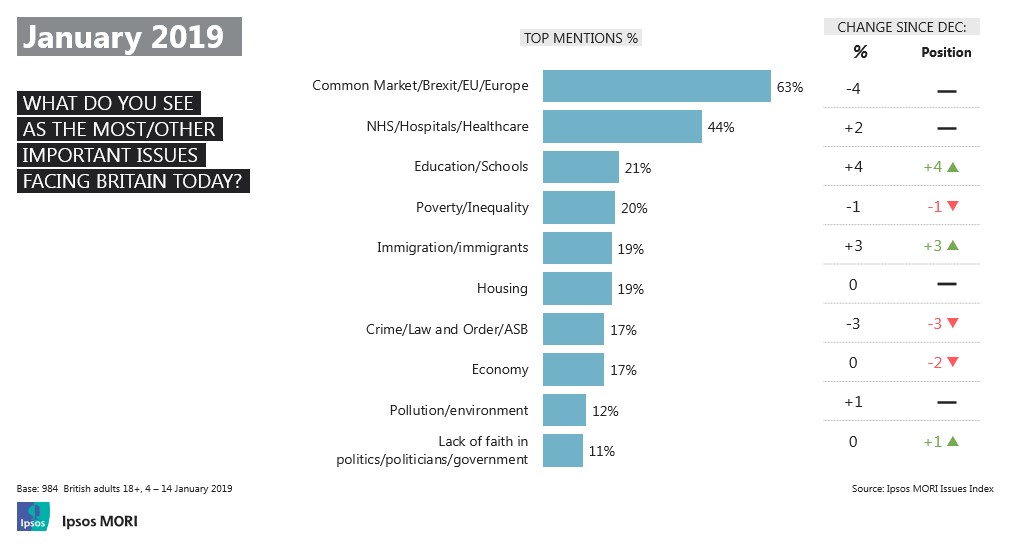 The Perennials: the future of ageing
In our latest report we turn our attention to understanding what it means to be old today. In Britain we are overwhelmingly negative about old age with only three in ten (30%) people saying that they are looking forward to it. However with rising life expectancy and birth rates falling, Perennials are set to become an even larger force in the future.  They're not all slowing down, but taking on new challenges, roles and responsibilities. They've got money to spend, and they're smart about spending it. They're not withdrawing from life, but demanding more, from life, marketers and policy makers. They're not wilting in the autumnal years of their life. They're perennials and our attitudes to the over 65s need to change. 
The power of Blue Planet II and how it's changed attitudes and behaviour
In a survey for the charity Keep Britain Tidy more than two-thirds (67%) also say they try to purchase less single-use plastic than they used to, and eight out of ten people say they think people who litter-pick are vital to protecting the environment. On analysis of those who had seen or were aware of Blue Planet II, the figures suggest the programme has changed attitudes towards our environment with eight out of ten say they view tackling litter as more of a priority than they used to, compared to five out of ten who haven't seen or heard about it.
In other news
Business leaders anxious about the year ahead according to our latest survey of Britain's Captains of Industry on their attitudes towards Brexit. Three quarters (74%) of business leaders expect the general economic condition of the country will decline over the next 12 months, up from 66% this time last year. Just 8% expect it to improve.
Findings from a survey with the World Economic Forum suggest that only one in three adults globally have a good idea of how much personal data companies hold about them (35%) or what they do with it (32%). Motivation is vital as trust about organisations' usage of personal data varies widely across sectors, with Britons' trust is lowest for foreign governments (17%)  but two-thirds (66%) of Brits would trust doctors and hospitals to handle personal data in the right way. 
Only 34% of people believe it's possible to reduce the risk of dementia in a survey for Charity Alzheimer's Research UK looking at national dementia perceptions and more than 1 in 5 (22%) incorrectly believes it's an inevitable part of getting older.
Our latest report for Youth Music reveals that music is essential to the wellbeing of young people and is their favourite pastime, equal to gaming and ahead of sport, drama, dancing, and arts and crafts. 64% of young people think they are musical, up from 48% in 2006 and name Ed Sheeran, Little Mix and Stormzy as their favourite acts.
As ever please do let us know what you think and I hope you find something to interest you.
Ben Page
Chief Executive, Ipsos MORI
ben.page@ipsos.com