Patients' perception and adherence regarding Methotrexate Autoinjectors for Rheumatoid Arthritis
Ipsos has conducted a survey with Nordic Pharma to assess patient perceptions and preferences in 4 countries regarding their Methotrexate autoinjectors for moderate to severe cases.
Rheumatoid arthritis is a chronic, inflammatory joint disease. In developed countries, it affects 0.5% to 1% of the adult population, with a two to three times higher frequency in women compared to men, regardless of age. Currently, no cure exists, however, treatments that are available worldwide can reduce progression of joint damage in up to 90% of patients.
Methotrexate remains the anchor drug in the treatment of Rheumatoid arthritis despite the introduction and increased availability of many new drugs. Methotrexate has demonstrated tangible clinical benefits, leading to remission or low disease activity in 25% to 50% of treated patients, particularly in early rheumatoid arthritis.
Adherence to treatment is crucial in patients with rheumatoid arthritis. The device used by the patients for self-injections may influence adherence to Methotrexate treatment. A survey was conducted in order to measure patients' perceptions and preferences regarding their Methotrexate autoinjectors in moderate to severe rheumatoid arthritis.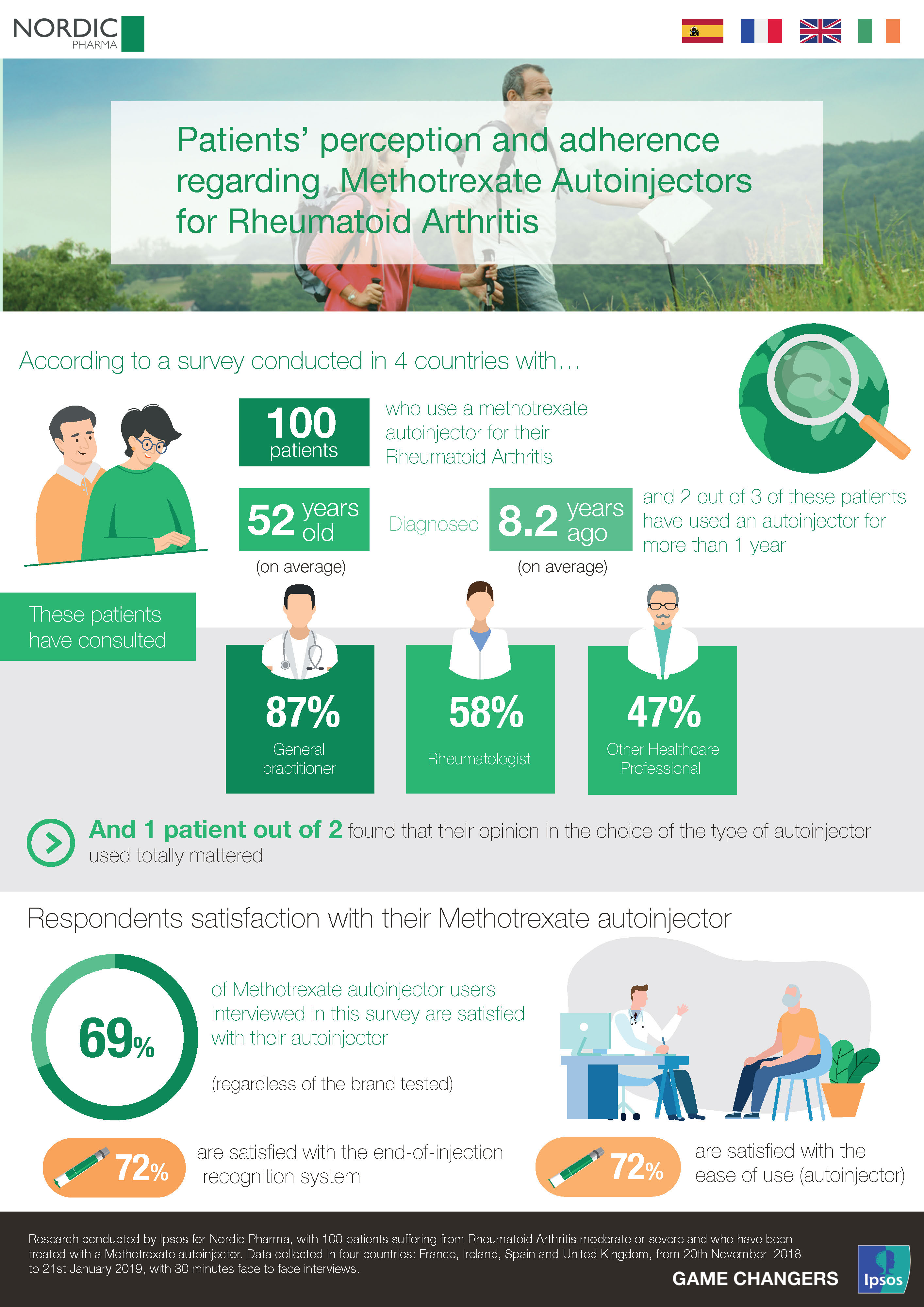 Patients and Methods: A total of 100 patients with moderate to severe Rheumatoid arthritis using Methotrexate-autoinjectors were interviewed face-to-face by Ipsos. Interviews were performed using a computer-assisted personal interview system. Data collection was performed from the 20th of November 2018 to the 21st of January 2019 in France, Ireland, Spain and the UK.
Download