Public views on NHS funding announcement: welcome news or a drop in the ocean?
The Prime Minister's recent announcement of funding for NHS capital infrastructure projects attracted a great deal of attention. There was also much debate about whether it really was new money, whether it was sufficient and how the lucky recipient projects had been chosen.
But what's the public's response? There's no doubt that the public are likely to react well to the idea of more money for the NHS. We know that the NHS is one of the areas they think should be protected from cuts, while our polling to mark the NHS 70th anniversary last year showed that almost eight in ten people agreed that the NHS was underfunded. So how has this latest announcement gone down with the public?
It's clear that the public think something is needed – just 2% say the NHS doesn't need any more money. But overall, the response has been relatively lukewarm. The public are looking for more reassurance about the Government's commitment to the NHS. Just over half say the money is welcome but more is needed, while a further third reject it as simply not enough.
Just 7% believe it signals that the NHS is going to get everything it needs, so this announcement doesn't seem to have convinced them that this is the first step to providing adequate funding for the NHS.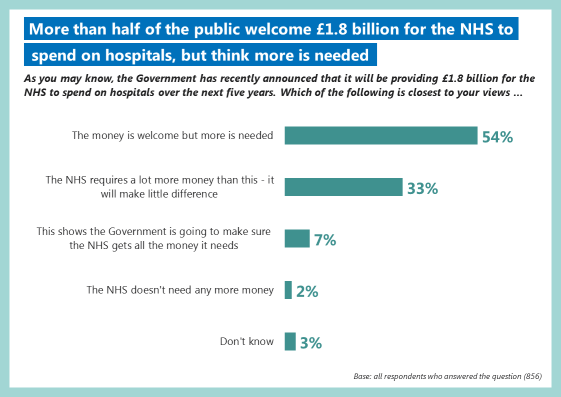 And views are relatively consistent across different demographic groups. Younger people (aged 18-24) are slightly more positive towards it than other age groups (74% say the money's welcome but more is needed, while 15% say the NHS requires a lot more). The toughest audience for the Government to crack are those in higher social grades (AB) – just 3% think the announcement shows that the NHS will get all the money it needs.
The general picture painted by these results fits with much of our other work with the public on NHS funding. For example, last June we asked about public views on the announcement of an extra £20 billion by 2023. Again about a half welcomed the investment while indicating that more was needed – 49% said that it was enough simply to maintain services, rather than improve them, and a further third said it was not enough and services would get worse.
The public have a long-held perception about the NHS – they are perpetually worried about what is going to happen to the institution they love. For over ten years, the majority of the public have agreed that the NHS will face a severe funding problem in the future (from 72% in 2008 it has risen steadily to 88% in 2016). Against this backdrop, it's not surprising that they welcome any additional funding for the NHS, but some scepticism remains about whether it will ever be enough.
Download