Starmer's ratings fall with just one in five Britons favourable towards the Labour leader
While Starmer's ratings continue to fall, more Britons think the country is heading in the right direction.
New polling from Ipsos MORI's Political Pulse series shows Keir Starmer's favourability ratings continue to fall. After a difficult set of elections and a weekend of internal Labour Party rows, just one in five (21%) Britons are now favourable towards the Labour party leader, down from 26% in March. More than four in ten (43%) now view him unfavourably, which has risen from 37% in March. This gives him a net rating of -22, compared to -11 in March and -1 in January. Almost a quarter (24%) of 2019 Labour voters now view Starmer negatively, whilst two in five (43%) still remain positive.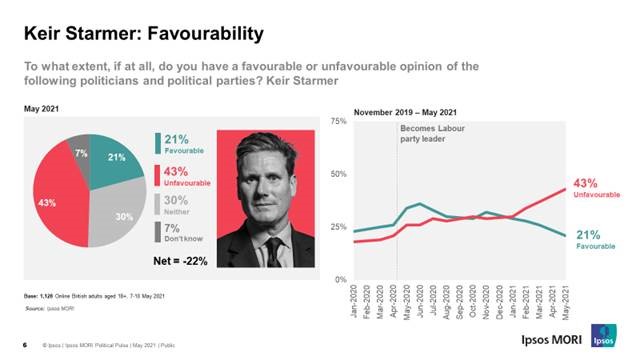 Only one in five (22%) think Starmer will change the Labour Party for the better, falling from 30% when asked in March and 43% when he was first elected as leader in April 2020. Another fifth (18%) think he will change the party for the worse, while 43% expect him to make no difference. Reflecting on his progress so far, nearly half (47%) of Britons say he has made no difference to the Labour party since taking over from Jeremy Corbyn. 
There is little movement in ratings for other politicians:
Opinion remains split on Boris Johnson. While 40% view him favourably (+2 since March), the same proportion (40%, unchanged) see him negatively. This gives him a net satisfaction of zero (+2).
Rishi Sunak remains the most popular politician on our list with a net satisfaction score of +16. 41% (-3) are favourable while 25% (unchanged) are not. 
Matt Hancock receives an overall rating of -5. Three in ten (31%) (unchanged) favourable and 36% (-3) unfavourable. 
For the first time, Nicola Sturgeon was also included on this tracker which gathers the opinion of all Britons, not just those in Scotland.
Across Britain, two in five (42%) have an unfavourable opinion to Sturgeon, whilst only a quarter (25%) see her in a positive light, giving her a net rating of -17. 
Direction of the country
The proportion of Britons who say things in Great Britain are heading in the right direction continues to grow. Now, almost half (47%) of Britons believe things are going well, up from 41% in March and 24% in January, while 34% say they are heading in the wrong direction.
This net score of +13 is the best score recorded since the series started in January 2020.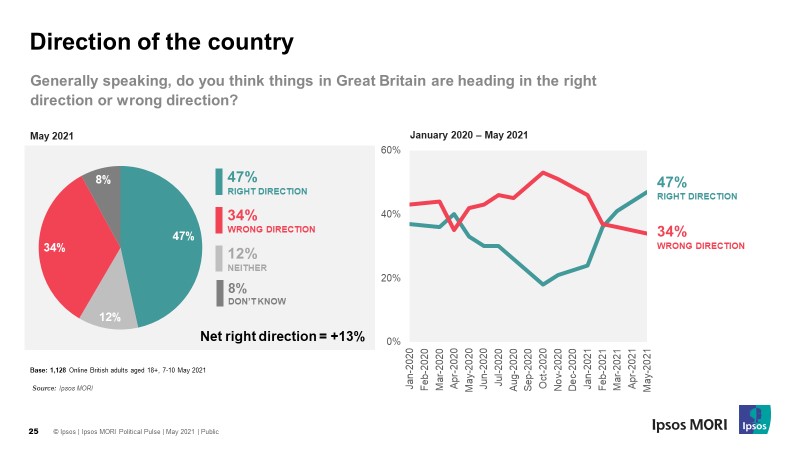 Impact of Brexit
Four in ten (41%) now say the UK's decision to leave the EU has had a negative impact on the country, up from 38% in March. More than a third (36%) say Brexit has had a positive effect on the UK, a fall of 3 points since March.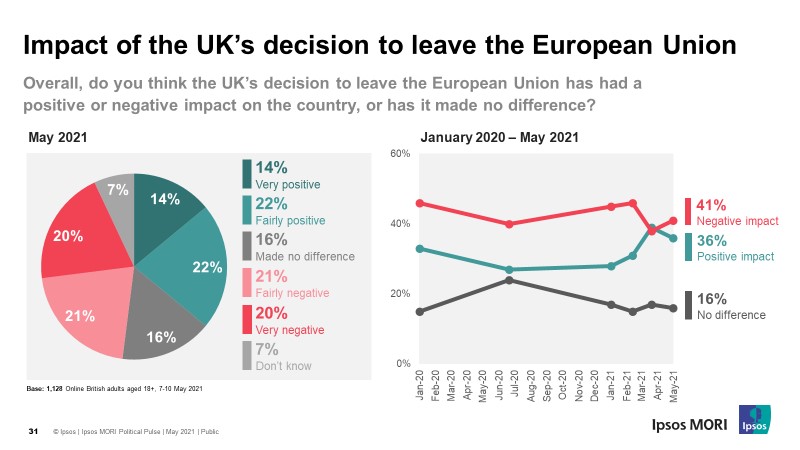 Keiran Pedley, Director of Politics at Ipsos MORI, said:
These numbers clearly show that 2021 has been a difficult year for Keir Starmer. In January his net favourability score was -1 whereas it now stands at -22 after a sharp fall following last week's elections and internal Labour Party rows over the weekend. On the other hand, Boris Johnson's favourability ratings have gone the other way. In January, Johnson's net favourability rating was -18 whereas now it is zero. Clearly the Prime Minister has benefitted from positive news around the vaccine and relaxing of COVID restrictions, demonstrated by the fact that almost half of the public think things are heading in the right direction.  
Technical note:
Ipsos MORI interviewed a representative sample of 1,128 British adults aged 18+. Interviews were conducted online from 7-10 May 2021. Data are weighted to match the profile of the population. All polls are subject to a wide range of potential sources of error.