6 in 10 now have an unfavourable opinion of Boris Johnson, a fall of 5 points over the past week
The latest Ipsos Political Pulse sees a drop in Boris Johnson's favourability while Rishi Sunak gains favour
Boris Johnson's favourability score falls again since more stories about Downing Street parties
Almost 6 in 10 now believe Johnson is a bad Prime Minister, up 6 percentage points since last week, but half still think it unlikely that Keir Starmer will become PM
Rishi Sunak has the only net positive score of politicians asked about with a net score of +7
Ipsos's latest Political Pulse, completed over the weekend of 14-18 January 2022, the weekend after more stories about parties in Downing Street, shows Boris Johnson's favourability continues to fall further. Now, 6 in 10 Britons (61%, up 5 percentage points from last week) have an unfavourable opinion of the Prime Minister compared to only 22% who view him positively (up 2), giving him a net score of -39.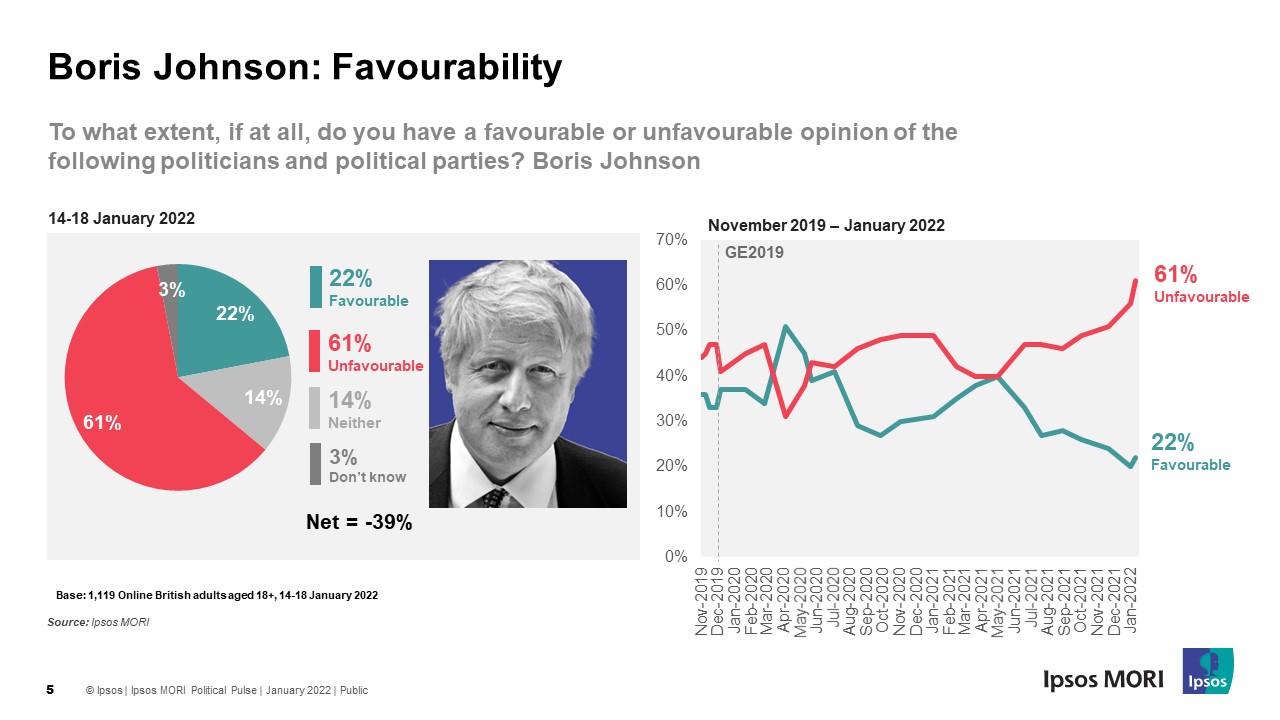 When considering other leading politicians in our poll:
Rishi Sunak has recovered from a dip to a net negative rating last month to a score back in line with his ratings in November (although still below his 2020 scores).  Just under 4 in 10 (37%) now say they have a favourable opinion of the Chancellor and 30% unfavourable
There is little change for other leading Conservatives this week.  Over a quarter (27%) are favourable towards Sajid Javid,  35% are unfavourable.
Half (51%) are unfavourable towards Priti Patel, the Home Secretary while only 19% have positive opinions of her.
34% are unfavourable towards Liz Truss, the Foreign Secretary, while 18% are favourable.  Almost half are neutral or don't know.
43% see Keir Starmer, Leader of the Labour Party, unfavourably (+3), but there has been an increase in those favourable to 29% see (+7).
There is less change in views towards the Conservative Party, 52% are unfavourable, +2 from last week, while 26% are favourable, +3. However, the last two weeks have seen the Party's worst rating since the 2019 election, and has been on a downward trend since the spring.
The Labour Party is viewed unfavourably by 42% of the public, no change from last week, while 30% are favourable, up 4.
We also asked the public whether Boris Johnson is a good or bad Prime Minister, whether Keir Starmer would make a good or bad Prime Minister and how likely it is that the Labour leader will become Prime Minister.
Now, 22% believe Boris Johnson is a very or fairly good Prime Minister, +1 from last week, while 57% disagree, +6.
Keir Starmer sees a small increase in those who think he would make a good Prime Minister, now 30% compared with 25% last week, however the proportion of those who think he would be bad premier holds steady at 36%. There has been no change in the 50% who think it unlikely he will become PM.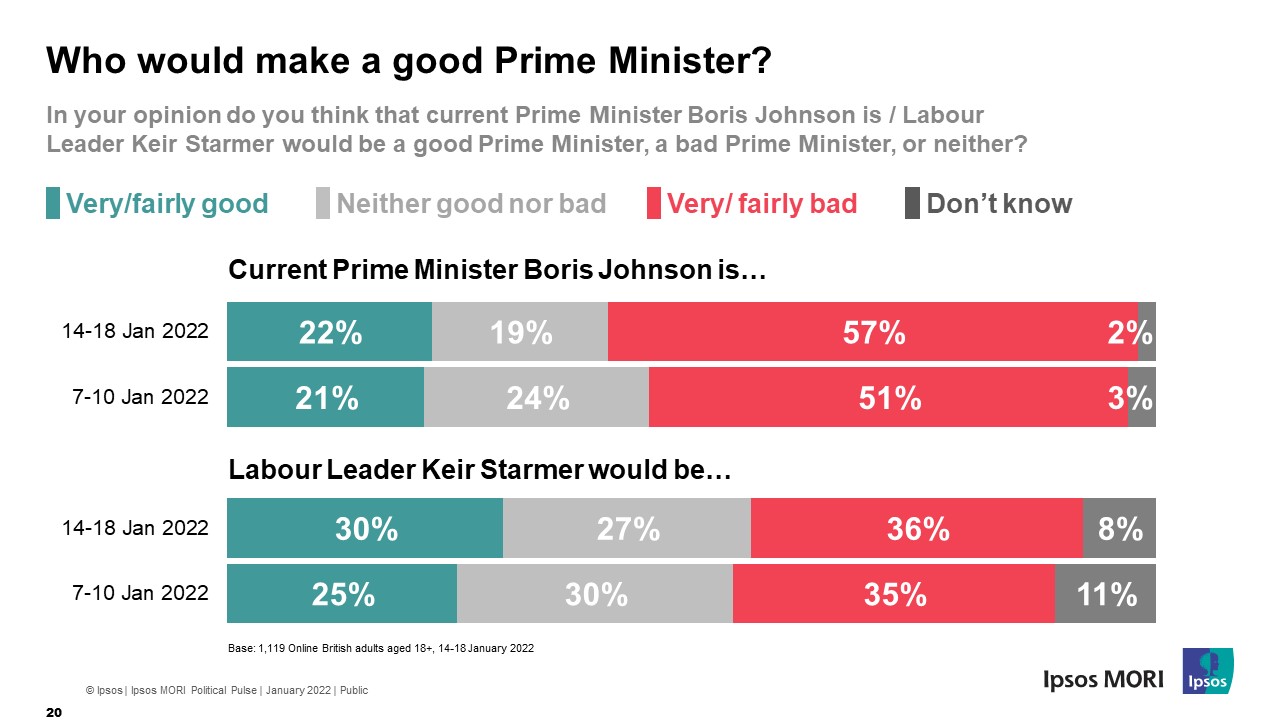 Gideon Skinner, Head of Political Research at Ipsos, said:
Boris Johnson's favourability rating – already at its lowest since the 2019 election – has taken another fall this week with 6 in 10 holding unfavourable views.  This is comparable to Jeremy Corbyn's low point during the last campaign.  Ratings of the Conservative party itself are not quite as negative but are also on a slow but steady downward trend since last spring, which should be another concern for the Government and its MPs.  Among other leading politicians, Rishi Sunak has fallen from his honeymoon period but still receives the best scores among the public at large as well as from his party's own voters, while Keir Starmer also sees some improvement but still has some way to go to convince the public he is a genuine Prime Minister in waiting.
Technical note:
Ipsos interviewed a representative sample of 1,119 British adults aged 18+. Interviews were conducted online between 14-18 January 2022. Data are weighted to match the profile of the population. All polls are subject to a wide range of potential sources of error.
 
Download