The British are becoming more positive about the UK's economy
The Ipsos Global Advisor Economic Pulse for May 2018 shows that the public have become more positive about the economy over the last year
The UK's economy is now growing at the slowest rate in over 5 years and expert commentators are talking about 'uninspiring growth' and 'a stalling economy'.  However, the latest monthly Ipsos Global Advisor Economic Pulse shows that the public have become more positive about the economy over the last year. Over half (51%) of UK respondents rated the UK's national economic situation in May as good (+6 percentage points up on April, and +12 points since July after the election). This is the highest rating we have recorded since Autumn 2016.  Compared with other countries, Britons are more confident than the French (28% think their economy is good), Italians (18%) and Spanish (22%), but lag behind Germany (83%), the US (63%) and Sweden (65%).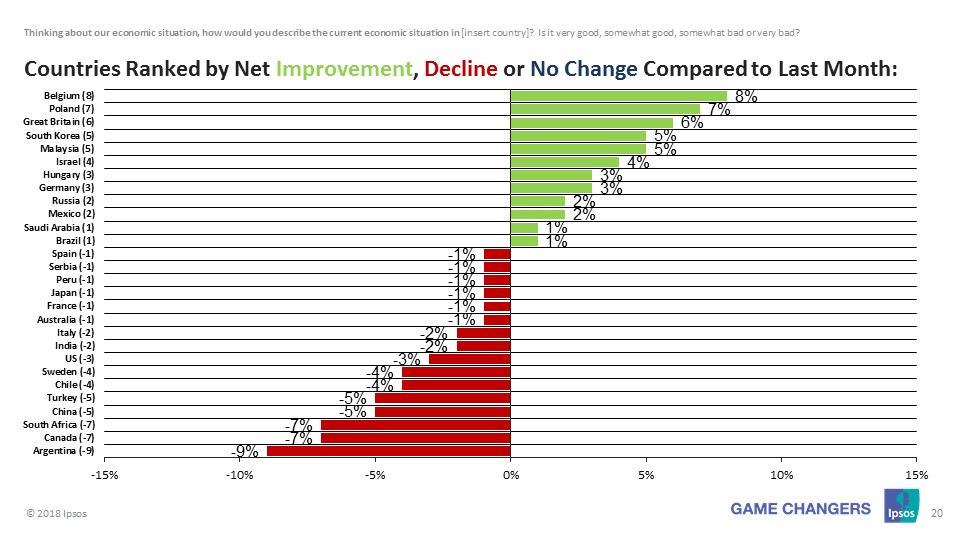 When people think about their own area, only 35% think their local economy is strong - much lower than in the US and Germany (both 58%), but better than the 24% in France, 18% in Spain and 15% in Italy.  Local economic confidence in the UK is the highest since May 2017.
When it comes to the future, people are more circumspect as Brexit looms.  But while only 19% believe that their local economy will grow stronger in the next 6 months this is better than both France (11%), and Italy (10%). Local economic optimism is 7 percentage points higher for the UK than at the same time last month (April 2018) and the highest rating for this metric since September 2015.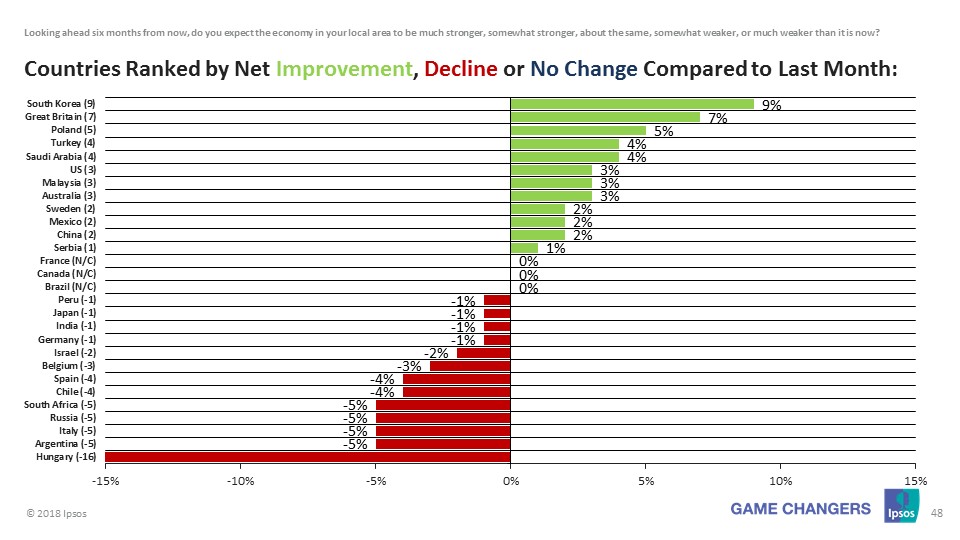 Kelly Beaver, Managing Director Ipsos Public Affairs said:
There are signs of stagnating investment, slumped mortgage approvals, and a drop in car output, but as the economy continues to grow (albeit the slowest in the G7) the public are slowly becoming more confident about the economy since the General Election and much more so than the years after the 2009 economic downturn/crisis.  Ipsos tracks consumer confidence monthly and it will be interesting to see if this improvement is sustained over coming months, or if expert warnings about the economy start to have an impact.
Technical note
These are the findings of the latest Ipsos Global Advisor, an Ipsos survey conducted between April 20th and May 3rd, 2018.
The survey instrument is conducted monthly in 28 countries around the world via the Ipsos Online Panel system. The countries reporting herein are Argentina, Australia, Belgium, Brazil, Canada, China, Chile, France, Great Britain, Germany, Hungary, India, Israel, Italy, Japan, Malaysia, Mexico, Peru, Poland, Russia, Saudi Arabia, Serbia, South Africa, South Korea, Spain, Sweden, Turkey and the United States of America.
For the results of the survey presented herein, an international sample of 21,268 adults aged 18-64 in the US, Israel and Canada, and age 16-64 in all other countries, were interviewed. Approximately 1000+ individuals participated on a country by country basis via the Ipsos Online Panel with the exception of Argentina, Belgium, Chile, Hungary, Israel, Malaysia, Mexico, Peru, Poland, Russia, Saudi Arabia, Serbia, South Africa, South Korea, Sweden and Turkey, where each have a sample approximately 500+. The precision of Ipsos online polls are calculated using a credibility interval with a poll of 1,000 accurate to +/- 3.1 percentage points and of 500 accurate to +/- 4.5 percentage points. For more information on the Ipsos use of credibility intervals, please visit the Ipsos website.
15 of the 28 countries surveyed online generate nationally representative samples in their countries (Argentina, Australia, Belgium, Canada, France, Germany, Great Britain, Hungary, Italy, Japan, Poland, South Korea, Spain, Sweden, and United States).
Brazil, China, Chile, India, Israel, Malaysia, Mexico, Peru, Russia, Saudi Arabia, Serbia, South Africa and Turkey produce a national sample that is more urban & educated, and with higher incomes than their fellow citizens. We refer to these respondents as "Upper Deck Consumer Citizens". They are not nationally representative of their country.
Expert commentators cited in paragraph 1 were EY Item Club economists and Larry Elliott, the Guardian's economics editor.