Conservatives seen as more divided and less fit to govern than a year ago
The public also lack confidence in the government's long-term economic policies as economic optimism drops. Despite this, Philip Hammond is still preferred over John McDonnell as most capable chancellor
A majority do not think the government's policies will improve the economy in the long-term, according to the latest Ipsos Political Monitor. One week after the budget announcement the new poll reveals that 54% disagree that the current government's policies will improve Britain's economy in the long run – two in five (41%) agree. These are the worst ratings for any government since when Alistair Darling was Chancellor in 2009. Two-thirds also disagree that the government's policies will improve public services (30% agree).
People are split as to whether last week's budget proposals are good or bad for them and for the country. One third (35%) say the budget is good for them personally (36% say bad) and 41% think it is good for the country (38% bad).
More than a third (36%) say they are satisfied with the way Philip Hammond is doing his job as Chancellor while 45% are dissatisfied – little change from his ratings in March.  Philip Hammond is also still seen as being the most capable chancellor when compared to John McDonnell – two in five (41%) pick Mr Hammond with a third (32%) opting for Mr McDonnell.  The gap has closed from November of last year (when it was 46% for Hammond and 28% for McDonnell), though these new figures are still similar to March 2015 when it was between George Osborne and Ed Balls. Philip Hammond also beats fellow Conservative Michael Gove as a more capable Chancellor by a margin of 49% to 19%. This figure rises to 61% for Mr Hammond and 20% for Mr Gove amongst Conservative supporters.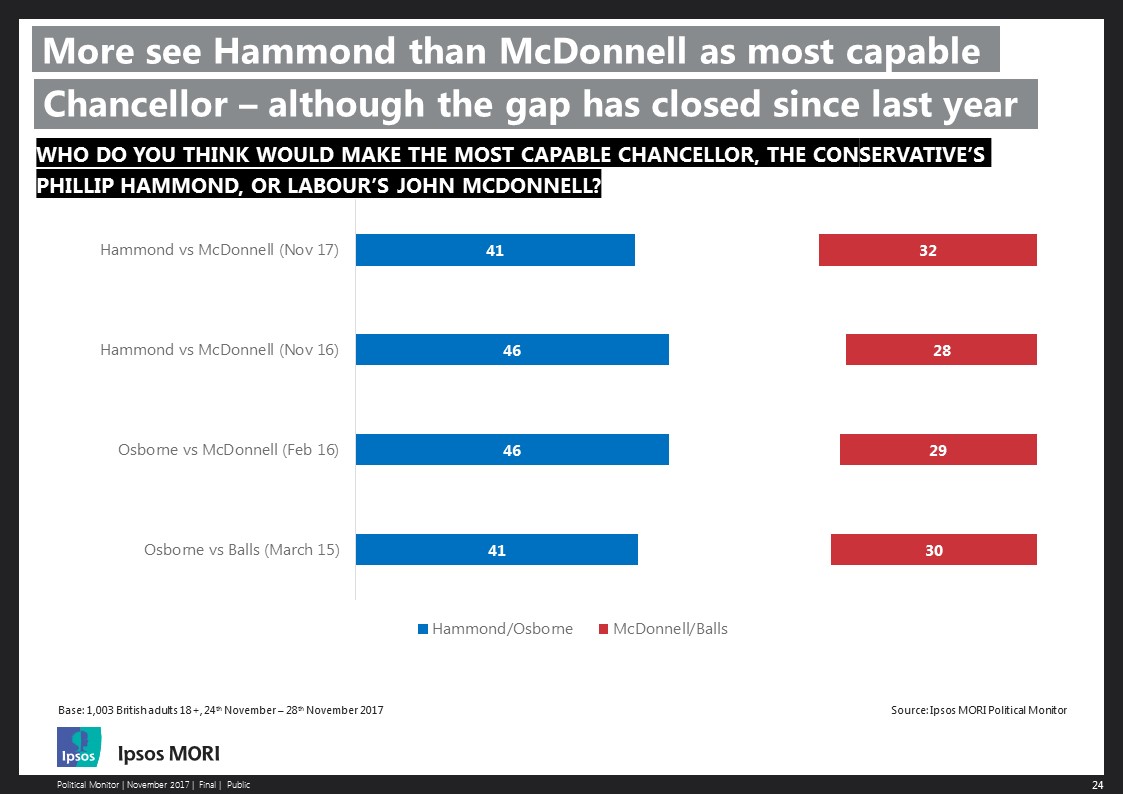 The government's new budget however has done little to ease the public's mind on the state of the economy. The new poll shows 58% now believe the economy will get worse over the next 12 months (up 7 points from last month) while 15% think it will get better (down 4 points) – leaving an Ipsos Economic Optimism Index score of -43 (down 11) the worst score since 2011.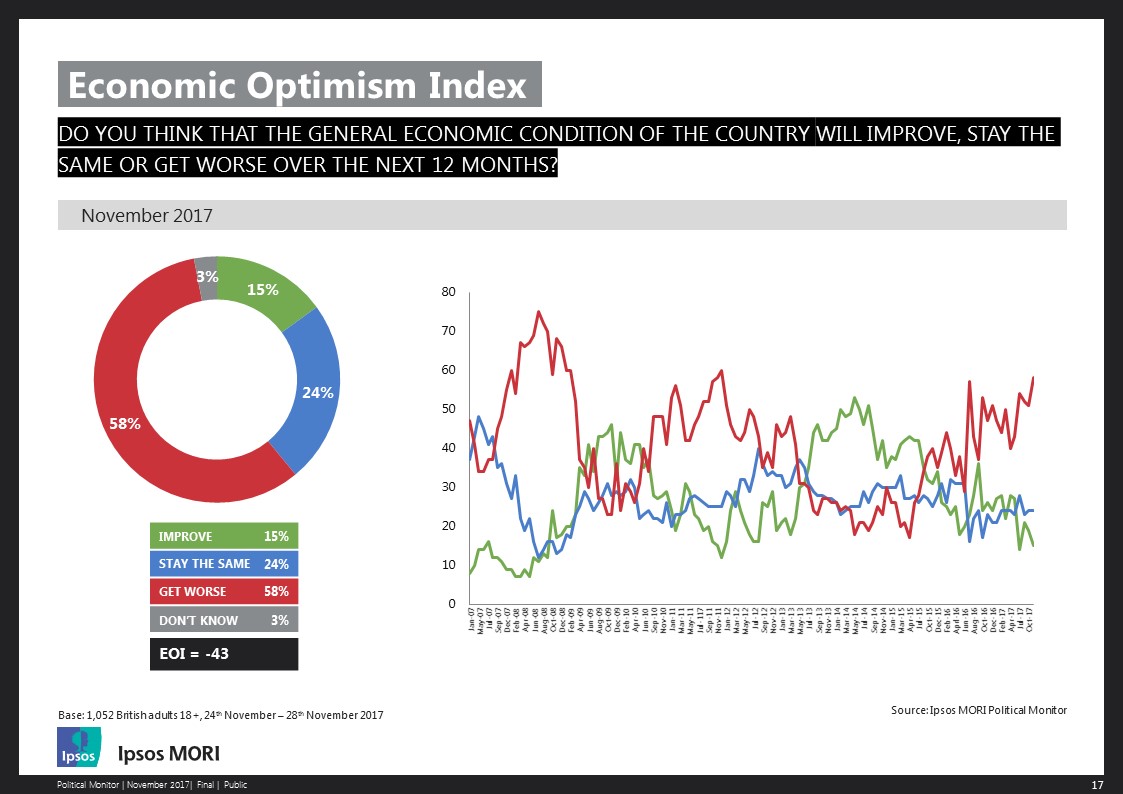 The new Political Monitor also asks the public about the image of both the Conservative and Labour parties. Nearly three-quarters (73% - up 21 points since last year) see the Conservatives as 'divided', which compares with the party's worst score when David Cameron was Prime Minister of 68% in 2013. Twenty-seven percent also say the Conservatives have a "good team of leaders", down 20 points and again lower than David Cameron's worst score in 2012 at 36%, and 43% say they are "fit to govern", down 10 points.
When it comes to Labour they have generally overall improved their positive images over the last year however their ratings are mostly either shy of or not much better than they were under Ed Miliband's leadership. Three in ten (31%) say Labour has a "good team of leaders", up 10 points and the highest rating yet under Jeremy Corbyn (it was last at this level in September 2014). Two in five (38%) say Labour are "fit to govern" – 12 points higher than last September but still no better than Labour under Ed Miliband in April 2015. Forty-five percent say they "look after the interests of people like me" (up 13 points to a similar level reached in 2015). Three in five (62%) however say Labour are "divided" –down from 82% last year and the lowest seen since Jeremy Corbyn became party leader.
Overall, Labour is ahead of the Conservatives on being seen as understanding the problems facing Britain (by 54% to 40%), looking after the interests of people like you (by 45% to 32%), different to other parties (by 64% to 55%), concerned about people in real need (by 66% to 28%), and less divided (by 62% to 73%) and less out of date (by 47% to 58%).  The Conservatives are seen by more people as fit to govern (by 43% to 38%), and are less likely than Labour to be viewed as extreme (by 28% to 37%).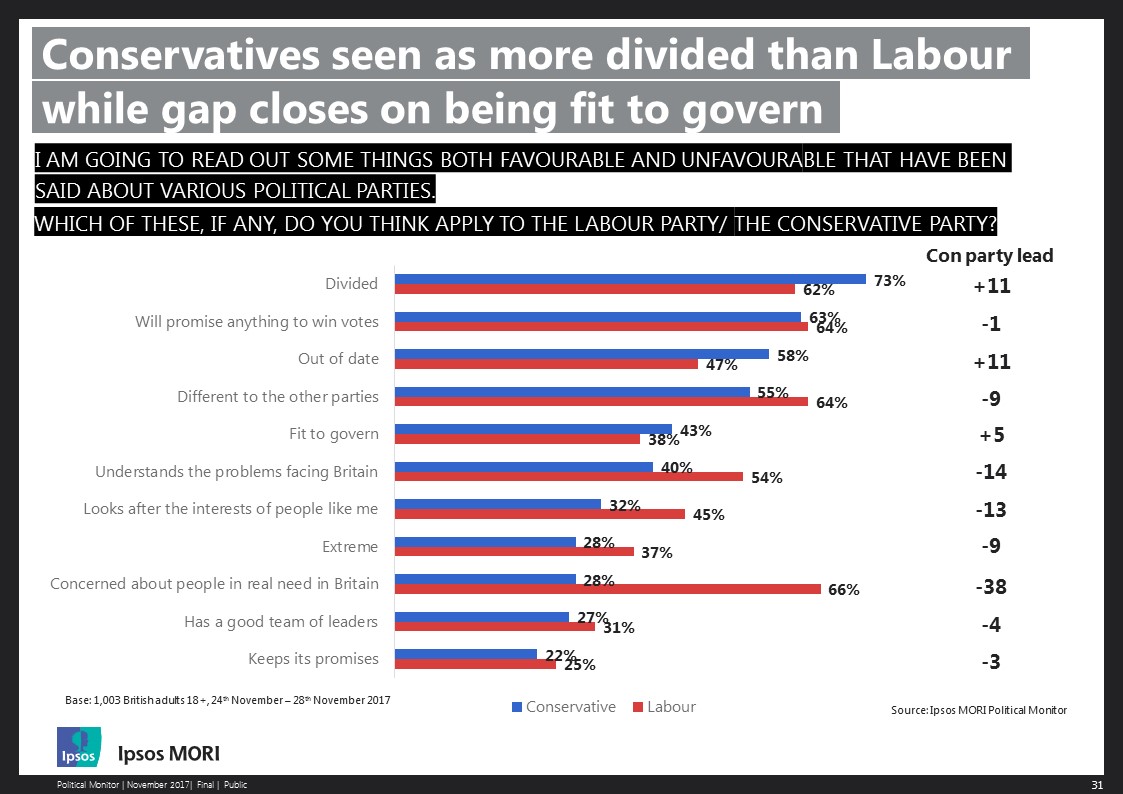 The poll also reveals Theresa May's lowest leadership satisfaction ratings to date since she's become Prime Minister. One third (32%) say they are satisfied (down 5 points) in her performance as PM while three in five (59%) are dissatisfied (up 6) – leaving her a net satisfaction score of -27 (down 11). Supporters of her own party have also become more pessimistic about her performance with 59% satisfied in her (down 13 points) and 32% dissatisfied (up 9). Despite Theresa's May's poor month Jeremy Corbyn's ratings have also slightly dropped. The poll shows 42% satisfied in him doing his job as Labour leader (no change) and 49% dissatisfied (up 4) leaving him a net satisfaction score of -7 (down 4). Amongst Labour supporters 72% say they are satisfied in Mr Corbyn (down 1) and 21% are dissatisfied (no change). A quarter (27%) say they are satisfied with Vince Cable as leader of the Liberal Democrats while two in five (39%) are dissatisfied leaving him a net satisfaction score of -12 (35% opted for 'don't know').
Our ongoing voting intention figures show Labour at 39% (-1 points), Conservatives at 37% (-1 points), and the Liberal Democrats at 9% (nc).
Gideon Skinner, Head of Political Research at Ipsos, said:
Last year, the Conservatives were ahead on most of our party image measures, but the public's opinion of the party has fallen since then, especially on perceptions of unity and competence.  Labour is moving in a more positive direction, but has still some way to go to open up a clear lead on being seen as ready for government.

Meanwhile, with public reaction to the Budget neither very good nor very bad, Philip Hammond retains his lead over his rivals as most capable Chancellor in the eyes of the public.  However, with economic optimism falling, so does public confidence in the government's long-term economic plan.
Technical note:
Ipsos interviewed a representative sample of 1,003 adults aged 18+ across Great Britain. Interviews were conducted by telephone 24th- 28th November 2017.  Data are weighted to the profile of the population.