Constructing your data house: From Foundations to Frameworks
From foundations to frameworks - Building a data strategy for public and private sector organisations, a new thought piece from Ipsos Data Advisory practice in the UK.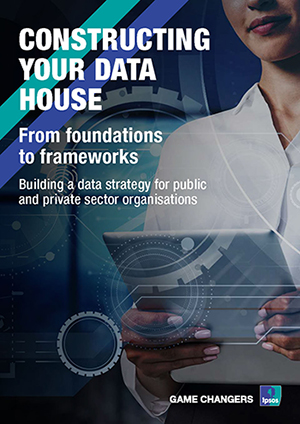 Most organisations today, public or private, tiny or titan, have a lot of data. Held across multifarious systems, subject to complex regulations and serving sometimes esoteric purposes, there will be no shortage of the stuff. Despite having a lot of data, many organisations do not have a Data Strategy leaving them unable to capitalise on data assets and vulnerable to breaches, leakages and the tedium of data duplication, confusion and wasted effort.
A Data Strategy is not merely protection from litigation – it is a foundation upon which an organisation can reap the financial and non-financial rewards of its data as well as manage and safeguard it. Our experience in helping our clients build Data Strategies has shown us that they are, above all, about trust. Trust in the systems data inhabits, trust in the people who use it. In this paper, we outline how an enterprise should approach building a Data Strategy that is as beneficial to corporations as it is to governments, as trusted by consumers as it is by citizens.
The Ipsos Data Strategy Framework, created and used by our Data Advisory Team, is a best-in-class methodology for organisations to 'get their arms around' the complexity, velocity, dispersion and crucially, potential of their data and derive value from it. The strategy and the principles underpinning it, are agnostic of organisation size, sector and data maturity.
The Data Era: A reality for all organisations today
Despite having a lot of data, many organisations do not have a Data Strategy leaving them unable to capitalise on data assets and vulnerable to duplication, confusion and wasted effort