Economist/Ipsos December 2013 Issues Index
This is the smallest gap between the top and second issues facing Britain, and the lowest concern about the economy since 2008.
The Economy remains the top issue facing Britain but only just - as concern  about race/immigration continues to close the gap
The December Economist/Ipsos Issues Index shows that, though the economy remains the most important issue facing Britain, mentioned by 39%, concern about this issue is now at the lowest point for over 5 years. As in previous months, concern about the economy is higher amongst men (43%), those living in the South  East excluding London (50%), and those in social grades ABC1 (47%).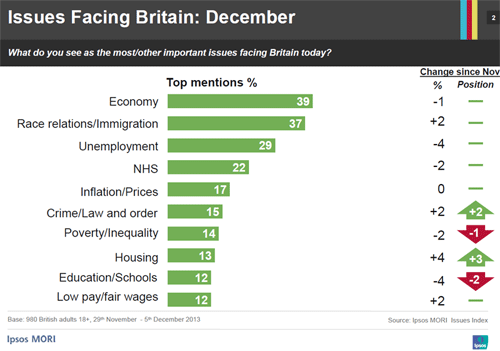 Race relations/immigration now stands at 37%, just two percentage points behind the economy. Concern about race/immigration is driven by higher concern amongst those aged 55 and above (47%), Conservative voters (57%), and those living in the South East of England – excluding London – (59%).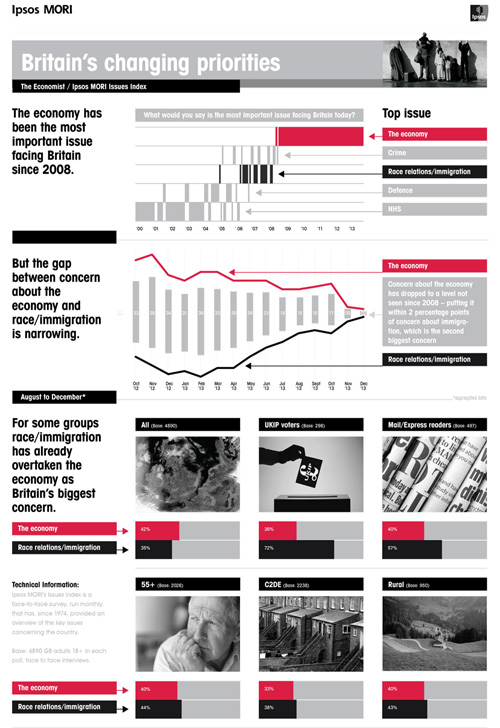 (Click to Enlarge)
Concern about unemployment (29%) has fallen slightly since November, though three in ten (29%) remained concerned. A fifth (22%) are concerned about the NHS, with 17% concerned about inflation/prices, and these top five issues remained unchanged since last month.
Concern about housing has re-entered the top ten issues this month, rising four percentage points to 13 per cent. Concern is higher amongst those living in the South East and London (20%) and full time workers (18%). Concern about low pay/fair wages has increased to 12%, the highest point ever, as it was last month.
As concern about the economy drops further, issues surrounding personal finance are coming more to the fore. This month, the aggregated total of concern about personal finance issues (all those who mentioned inflation, poverty/inequality, low pay/fair wages, or petrol prices) stands at 37%; just two per cent behind concern with the wider economy. Amongst those of social grade C2DE, concern with personal finance issues (41%) is far greater than concern about the broader economy (30%), as it is for Labour voters (51% vs. 42%)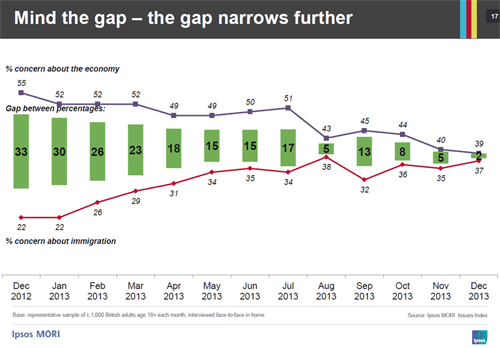 This month we have recorded the smallest gap between the top and second issues facing Britain since 2008. Since this time last year, concern with the economy has dropped by 16 percentage points. This has been met with a rise in concern about immigration of 15 percentage points over the same period, and it will be interesting to see whether or not this trend continues into 2014.
Technical note
Ipsos's Issues Index is conducted monthly and provides an overview of the key issues concerning the country. Ipsos interviewed a representative quota sample of 980 adults aged 18+ across Great Britain. The questions are spontaneous - i.e. respondents are not prompted with any answers.  Ipsos's Capibus vehicle was used for this survey. Interviews were conducted face-to-face in-home between 29th Nov - 5th Dec in 190 sampling points across Great Britain. Data are weighted to match the profile of the population.