Economy, immigration and healthcare are Britons' top three issues deciding general election vote
September's Ipsos Political Monitor shows three policies joint top as most important in deciding their general election vote.
The Conservatives have increased their lead on managing the economy over Labour, new polling from Ipsos shows. More than four in ten (45%) think the Conservatives have the best policies on managing the economy, compared with 20% for Labour, giving the Tories a 25 percentage point lead. This is up from a 13 point lead just six months ago, when 35% backed the Conservatives on this issue, against 22% for Labour.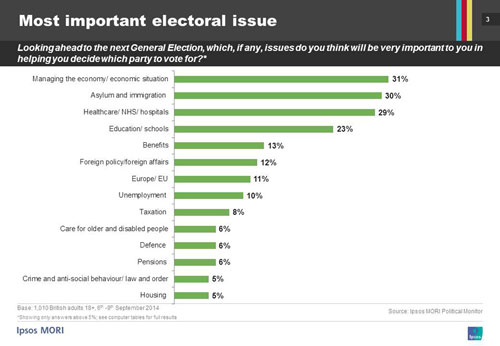 Managing the economy is again seen as the most important issue in deciding which party the public will vote for, with 31% mentioning it among their top issues, though is now effectively level pegging with asylum and immigration (30%) and healthcare (29%). This compares with March 2010, when the economy had a clear lead over other issues going into that election. Other main vote-deciding issues are education (23%), benefits (13%), foreign policy (12%), Europe/EU (11%) and unemployment (10%).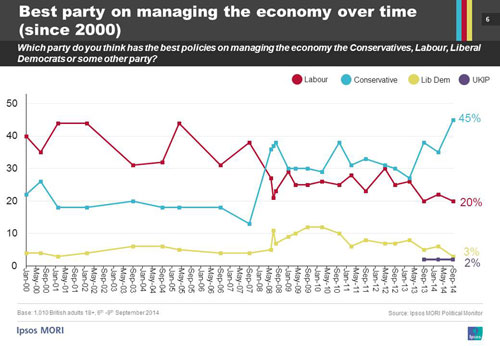 Asylum and immigration has leapt up as a top issue for voters over this parliament, from 14% in March 2010, before the last general election, up to 30% this month. This comes as UKIP have risen sharply as the best party on the issue. Two in ten (20%) now name UKIP as the party with the best policies on immigration, narrowly above the Conservatives (19%) and Labour (18%). This is up from 11% for UKIP last September.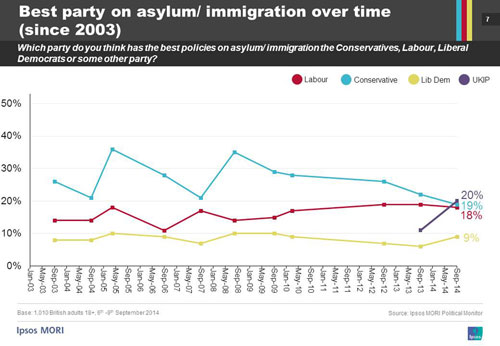 UKIP also lead on European policy
, on 24% above Labour's 21%, the Conservatives' 20% and the Liberal Democrats' 11% - another policy to have risen up the rankings since 2010, mentioned by 11% as a vote-decider up from 2% prior to the last general election.
Labour, meanwhile, keep their strong lead on healthcare
, rated as best by 39%, compared with 21% for the Conservatives, 4% for the Liberal Democrats and 1% for UKIP. They also lead on housing (34% to the Conservatives' 18%) and narrowly on education (30% to 27%). As well as managing the economy, the Conservatives lead on crime and anti-social behaviour (32% to Labour's 19%), defence (30% to 16%) and narrowly on taxation (31% to 27%), while the two parties are effectively tied on unemployment (Labour 30% vs Conservatives 29%) and benefits (Labour 32% vs Conservatives 31%).

Gideon Skinner

, Head of Political Research at Ipsos said:
"We're in the extraordinary situation of having three issues tied at the top as most important to the public, and a different party making the running on each of them – the Conservatives on the economy, UKIP on immigration, and Labour on healthcare.  So all the parties have their signal issue, but it means going into party conferences season there is still all to play for."
Downloads
Technical note: Ipsos interviewed a representative sample of 1,010 adults aged 18+ across Great Britain. Interviews were conducted by telephone 6th – 9th September 2014.  Data are weighted to match the profile of the population.