Government advice could change Britons' attitudes to wearing facemasks
Only two in five think they will be wearing a facemask in public in the near future but three-quarters say they would if the government advised it.
In a new survey by Ipsos, only one in three Britons (34%) think it is likely that they will wear a facemask in public in the near future.  However, the results suggest that if the Government formally recommends wearing masks to slow the spread of the coronavirus, this could change significantly.  In that situation, three-quarters of the British public (74%) say they would follow that advice, which includes 42% who say they would be very likely to do so. The public though are split on whether they think the Government will actually make this recommendation.  Just under half, 46%, are expecting this advice to be given, while 40% think it is unlikely.  In a global survey, UK residents are the least likely to wear a facemask; only 16% say they have already taken the precaution. We are also among the nations most likely to doubt the effectiveness of the masks, 41% say they do not see the value in wearing one if they aren't sick.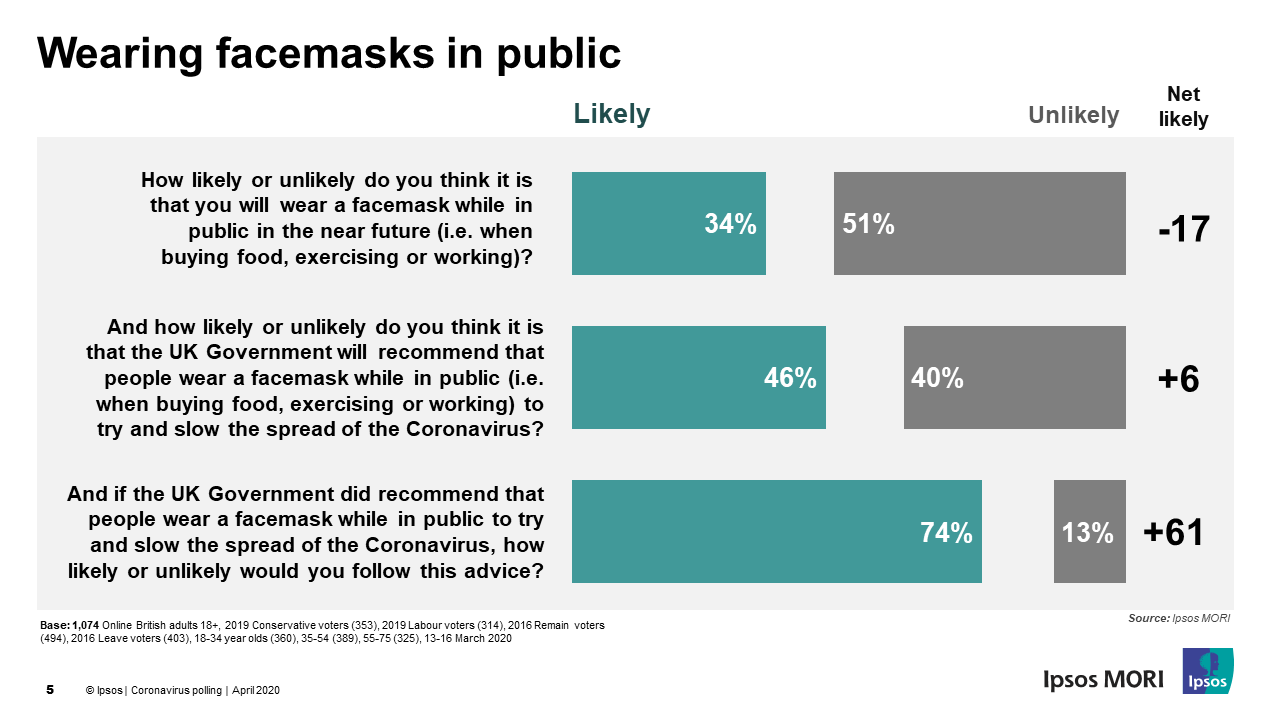 The importance of official advice on people's views is shown in the reasons why people say it is unlikely they will wear a facemask regardless of the Government's recommendation.  Of those who think it is unlikely that they will wear a facemask in public in the near future, almost 6 in 10 (57%) say this is because they would only do so if the government advised people to wear them. Around half of this group say it is unlikely they will wear a facemask as they do not believe they slow the spread of the virus (49%), while over a third (35%) expect buying one will be difficult.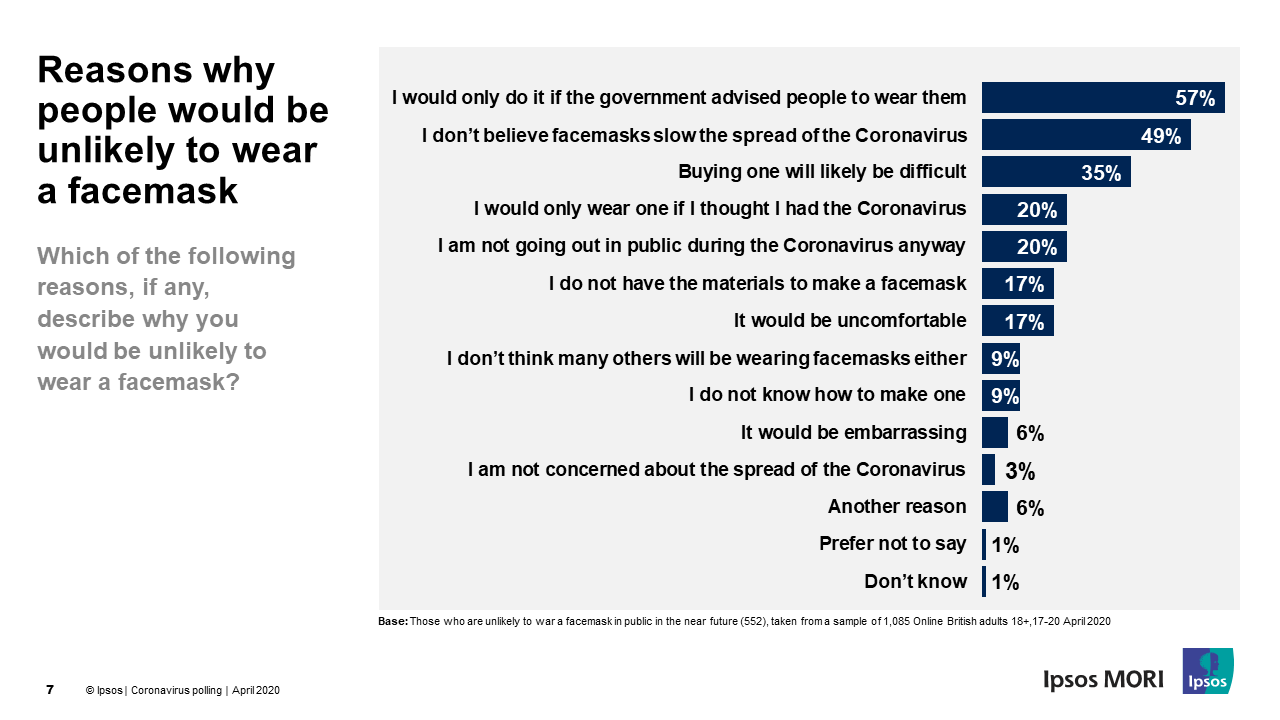 Other reasons included that people would only wear one if they thought they had contracted Covid-19 (20%), not going out in public anyway (20%) and not owning the materials to make a facemask (17%). 
Some appear to be more concerned about how they look/ feel than the virus. Two in 10 (17%) say they would be unlikely to wear a facemask as it would be uncomfortable, while 6% think it would be embarrassing. 
Kelly Beaver, Head of Public Affairs, said:
These results show the sensitivity of public views and behaviours to official advice.  While currently Britons feel rather sceptical towards facemasks, this could, like so much else during this pandemic, change rapidly if the Government formally recommended that they should be worn.
Technical Note:
Ipsos interviewed a representative sample of 1,085 British adults aged 18-75. Interviews were conducted online: 17th-20th April 2020.  Data are weighted to match the profile of the population. All polls are subject to a wide range of potential sources of error.