Half of UK shoppers worried about household grocery bills rising as inflation hits 30 year high
7 in 10 are already seeing an increase to their typical household grocery bill according to a new Ipsos poll.
Around 4 in 10 (39%) shoppers are finding it difficult to afford the increase in their grocery bills in 2022 compared to 2021.
More than 8 in 10 (85%) UK shoppers are changing how they shop to reduce grocery bills in 2022.
18% of shoppers have changed their regular supermarket to cover the increase of their grocery shop as ALDI becomes the most popular destination for those looking to cut costs.
New research by Ipsos reveals three in four (76%) UK supermarket shoppers are expecting a rise in their grocery bills over the next three months, as a similar proportion (73%) are already seeing an increase to their typical household grocery bill in 2022 compared to last year.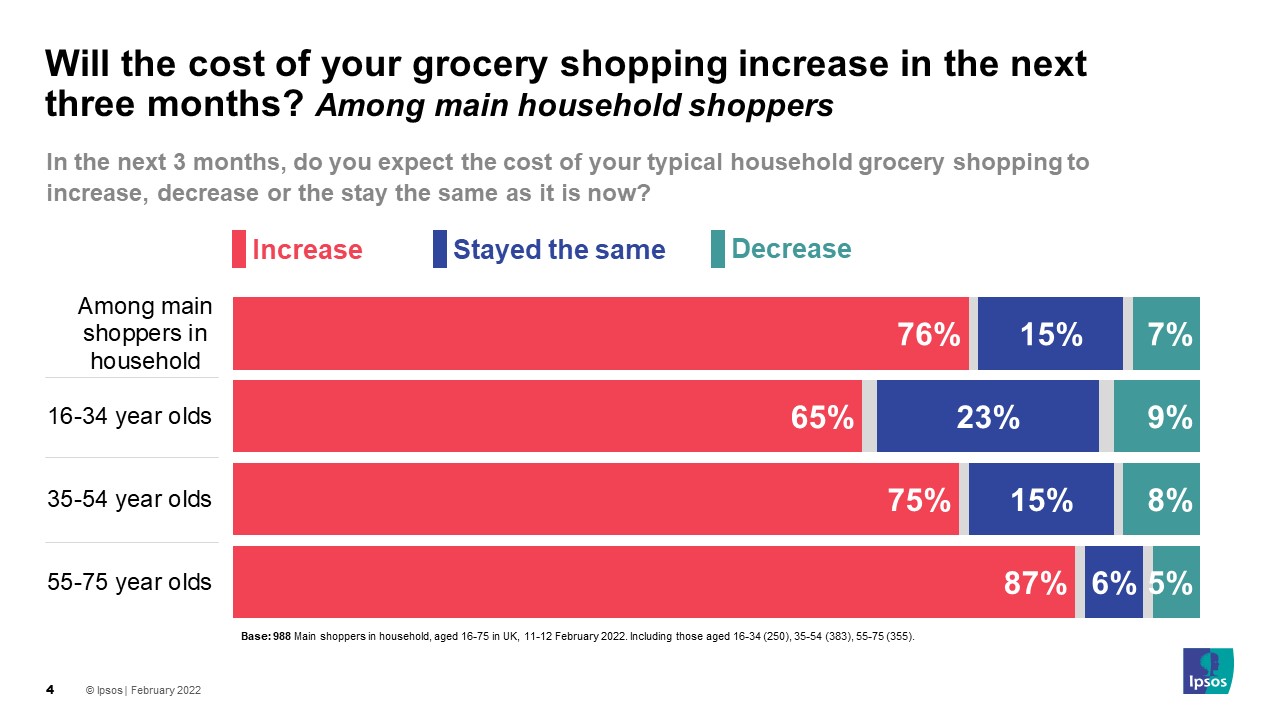 Among shoppers who have seen an increase in the costs of their groceries, 4 in 10 (39%) have found this difficult.   As prices continue to soar, so do the worries of shoppers with half of those expecting an increase (46%) saying they will find it difficult to afford.
With surging supermarket prices, shoppers are being pushed to change where and how they buy groceries as 37% move to cheaper brands, 1 in 3 (34%) have stopped buying non-essential groceries and 32% are buying 'yellow sticker' discounted items approaching their use-by date to save money.
Where are cash-strapped Britons doing their weekly shops now?
With almost a fifth (18%) changing where they shop, research by Ipsos shows that 30% currently do their main grocery shop at Tesco and 15% at ALDI. Of those planning to switch, almost one in four (23%) say they plan to switch to ALDI for most of their grocery shopping, with one in five (19%) plumping for Lidl and one in ten (10%) favouring Asda.
Are shoppers getting more savvy?
Smarter shopping appears to be one way forward as 28% wait to buy items until they are on promotion, 28% shop at several supermarkets to find better deals, whilst 26% of bargain hunters bulk buy to manage the price increase. However, sacrifices are still being made with 18% revealing they have cut other household expenses to afford their weekly shop and 10% forgo getting their online grocery deliveries.
Kelly Beaver, CEO of Ipsos, UK commented:
Within a turbulent climate affecting government, oil prices and employment, basic amenities like food and household goods are being hit heavily by inflation in the UK. Our data shows three in four UK shoppers expect prices of cornerstone items that families need on a weekly basis to increase over the next three months. We're seeing a year-on-year increase in the cost of living that's resulting in shopper sacrifices with 18% confessing to forgoing non-essential items as well as changing where they shop. As disposable income comes under growing pressure, we expect to see shoppers becoming savvier and shopping cheaper, so households can afford the price increase in their weekly shop.
Technical note
Ipsos interviewed a representative sample of 988 main shoppers in household, aged 16-75 in UK. Interviews were conducted online between 11-12 February 2022. Data are weighted to match the profile of the population. All polls are subject to a wide range of potential sources of error.
Download