Ipsos Issues Index: Concern about COVID-19 remains at record levels, despite falling infections
Concern about Covid-19 remains at record levels - despite falling infections - and now worry about unemployment rising too
Seventy-five per cent of the British public see coronavirus as one of the biggest issues facing Britain, close to concern in June (72%)
The economy remains the second biggest issue, ahead of Brexit and the NHS
Sixteen per cent cite unemployment as a concern, the highest level in over three years
The July 2020 Ipsos Issues Index shows public concern about the Covid-19 pandemic has been sustained since the easing of the national lockdowns. Three quarters of the public mentioned coronavirus as a big concern (75%), matching the level of worry registered in June prior to the easing of lockdown (72%). This score remains one of the highest levels of concern recorded in almost 50 years – it is higher than the levels of concern recorded about the economy after the 2008 recession or about Brexit in 2019.
Economic worries have fallen somewhat since June, down six percentage points to 36 per cent – but the national economy remains the second-biggest concern for Britons. Matching scores from last month, three in ten mentioned Brexit as a major worry and one in five cited the NHS.
There has been a significant increase in the proportion of Britons who see unemployment as a major worry – sixteen per cent mention joblessness this month, the highest level of concern on this topic in three years.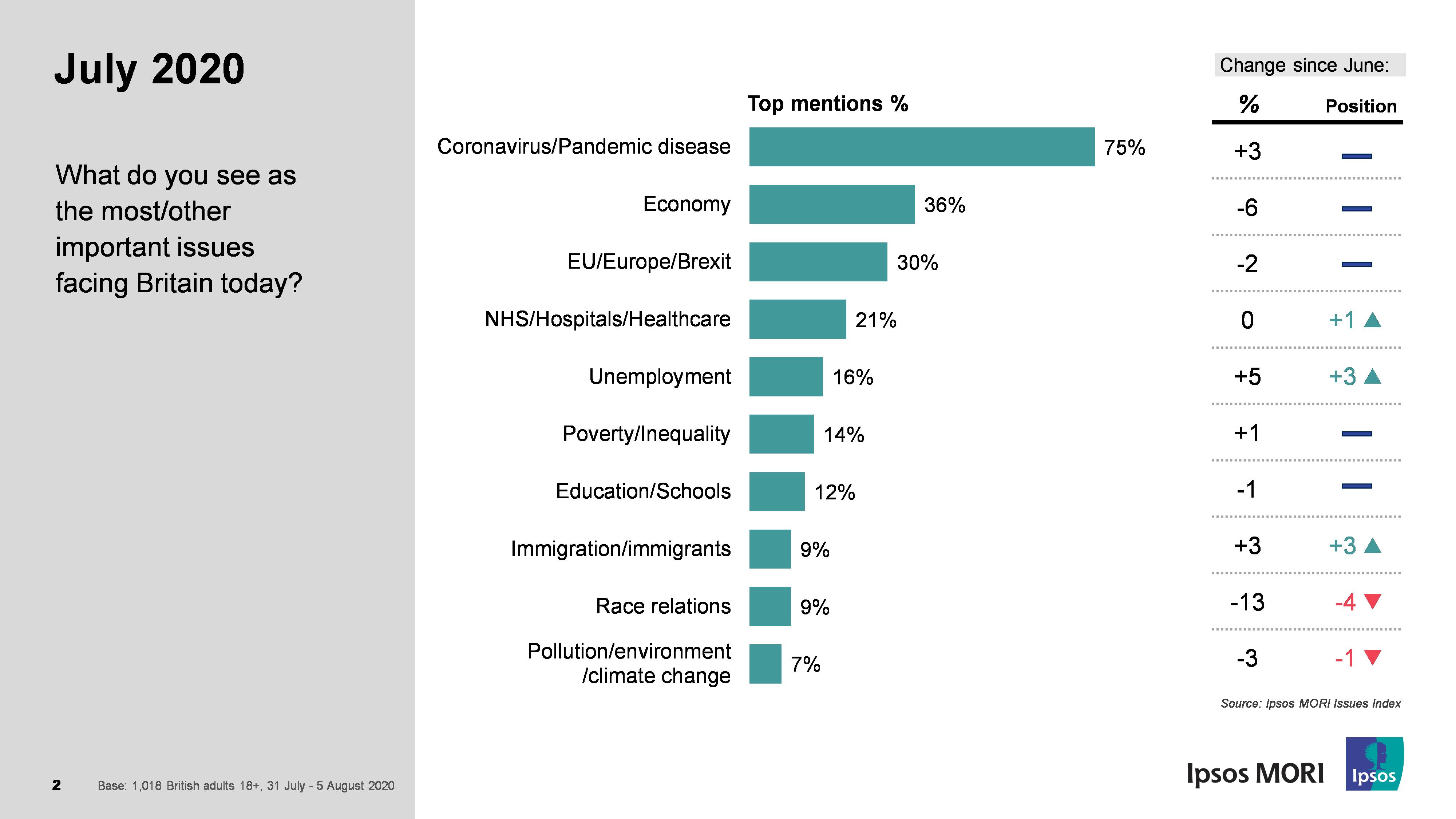 While worry about unemployment scores relatively low overall, this concern is strongly concentrated among some people. Those aged 35-54 in social grades C2DE stand out as being particularly worried, with three in ten of this group mentioning job losses: this makes it their third-largest worry.
Conservative party supporters are also significantly more likely to cite unemployment as a concern: 21 per cent mentioned joblessness, compared with 16 per cent overall and 14 per cent of Labour supporters.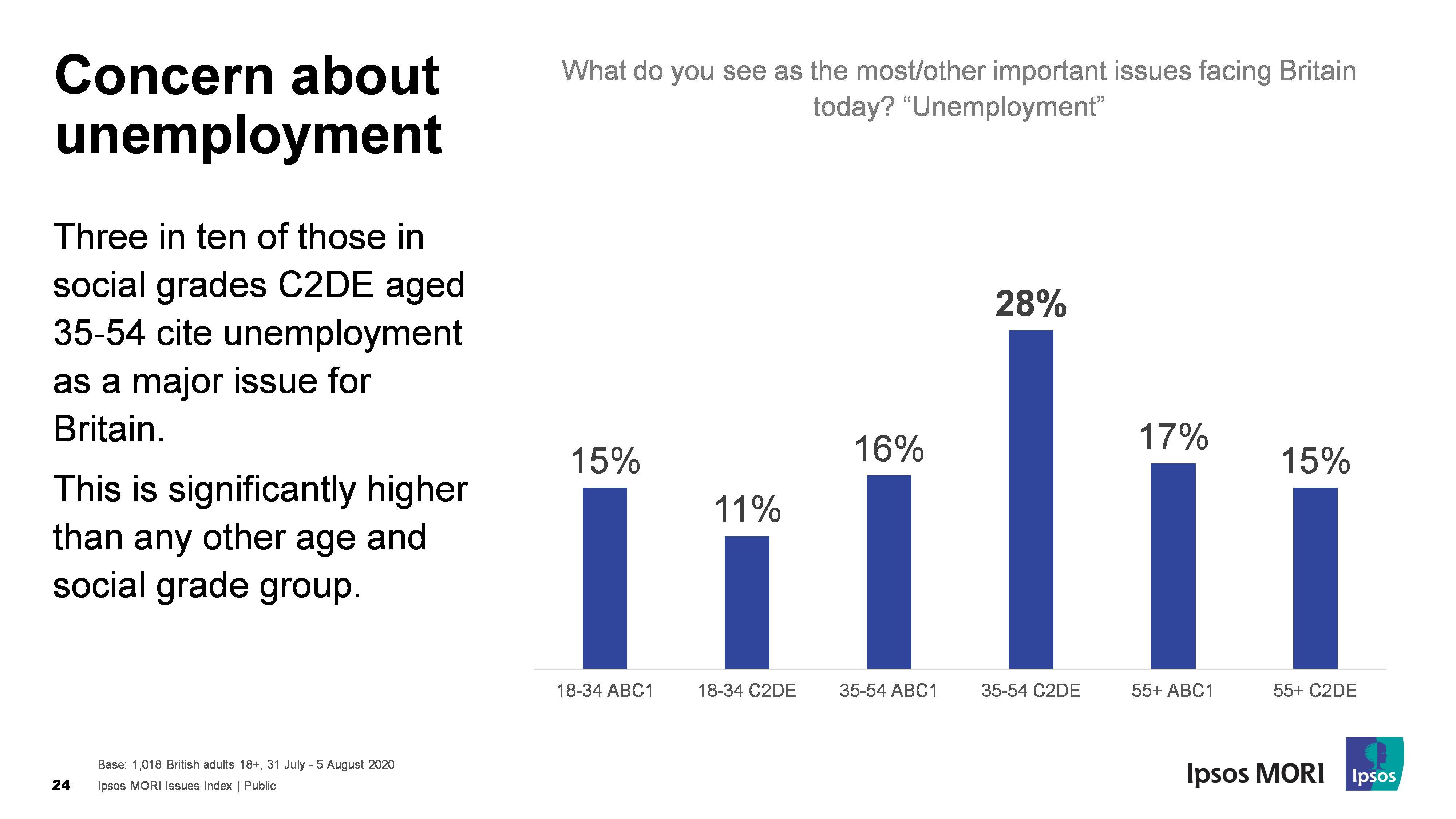 Mike Clemence, researcher at Ipsos, said:
This month's Index shows a stabilisation of public opinion after a few months of volatile shifts. Coronavirus continues as Britons' pre-eminent concern, with three quarters mentioning it as a big issue for the country.
This is the same level we recorded in the June wave, during the lockdown. This suggests that the impact of loosening restrictions on public concern about the virus appears to be small – although it must be remembered that a score of 75 per cent remains among the highest scores we've recorded for any issue in 46 years.
We also see the start of a rise in worry about unemployment. This is currently concentrated strongly among those aged 35 to 54 in more manual professions but this level of concern might be expected to rise as the UK Government furlough scheme reaches its end later this year.
Technical note
Since May 2020 the Issues Index has been conducted over the phone; lockdown conditions mean face-to-face fieldwork is currently not an option for public opinion polling. Mode effects should be kept in mind when comparing the new data points with previous months.
Ipsos's Issues Index is conducted monthly and provides an overview of the key issues concerning the country. Ipsos interviewed a representative sample of 1,018 adults aged 18+ across Great Britain. The answers are spontaneous responses, and participants are not prompted with any answers. 
Ipsos's telephone omnibus was used for this survey. Interviews were conducted between 31 July and 5 August across Great Britain. Data are weighted to match the profile of the population.