Ipsos Issues Index: June 2020
Concern about the economy and race related issues rise, while COVID still seen as most important issue facing the country
Seventy-two per cent of the British public see coronavirus as one of the biggest issues facing Britain, down from 85% in April
Four in ten mention economic issues as a big concern for the country
One quarter talk about race relations issues, ten times the proportion in April
The June 2020 Ipsos Issues Index shows record levels of concern about Covid-19 continuing against a backdrop of rising economic worry and a sudden spike in concerns about race relations. Three quarters of the public mention coronavirus as a big concern, down from 85 per cent in April, but this month's score of 72 per cent is still historically high: it is equal to the highest ever recorded level of concern about Brexit, in April last year.
Public concern about the economy has risen by seven percentage points, from 35% in April to 42% this month. This is the highest level of economic worry since late 2013. There has also been a six-point increase in the proportion mentioning Brexit as a big issue since April (now 32%).
Concern about race relations stands at 24 per cent, an increase of 22 percentage points since last month and the first time this issue has registered in double figures since it was separated from immigration in 2014. Fieldwork occurred between the 5 and 10 June, a period covering the funeral of George Floyd, the first Black Lives Matter protests in London and the toppling of the Edward Colston statue in Bristol. 
Elsewhere in the British public's top ten concerns, the level of worry about the NHS (outside concern related to coronavirus) has fallen further to 21 per cent, the lowest score since February 2013. There has also been a four percentage-point increase in concern about education (now 13%).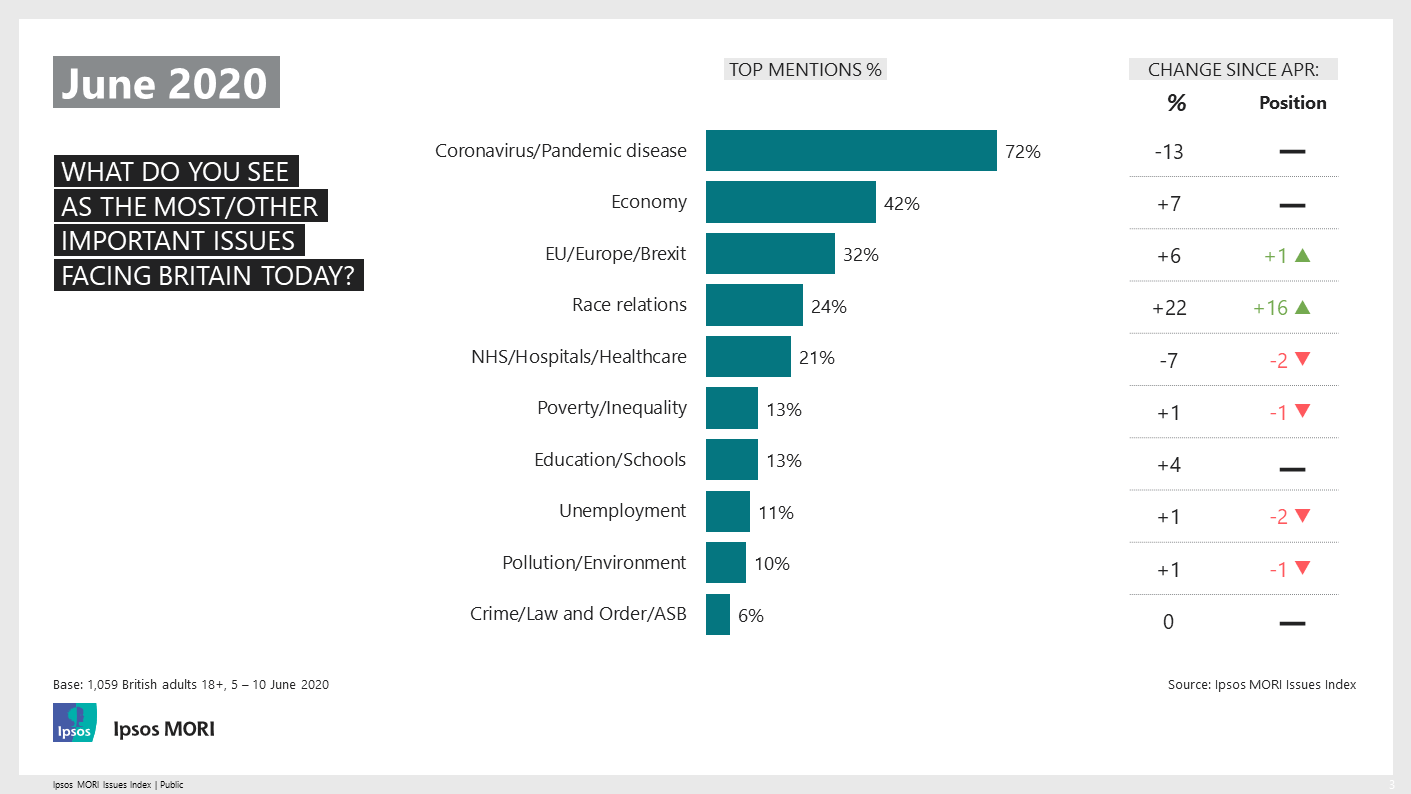 Concern about race relations is the second biggest issue for those from black and minority ethnic backgrounds with 38 per cent mentioning it as a concern, up from nine per cent in April – although a small base size for this sample (128 participants) means this figure should be interpreted cautiously. One in five Britons from White backgrounds cited concerns related to race relations this month (21%), up from just one per cent in April. 
There are also divides between political parties, genders and age: 
A third of Labour supporters see race relations as a big issue, compared with one in five Conservatives
Between three in ten and a third of 18-34 year olds are concerned, compared with 17 per cent of over 65s
Women are more likely than men to mention race relations as an issue, by 27 per cent to 21 per cent
However, there are no significant differences between social grades and geography is a minor factor – those in London are not significantly more likely to be concerned about race relation than the country overall.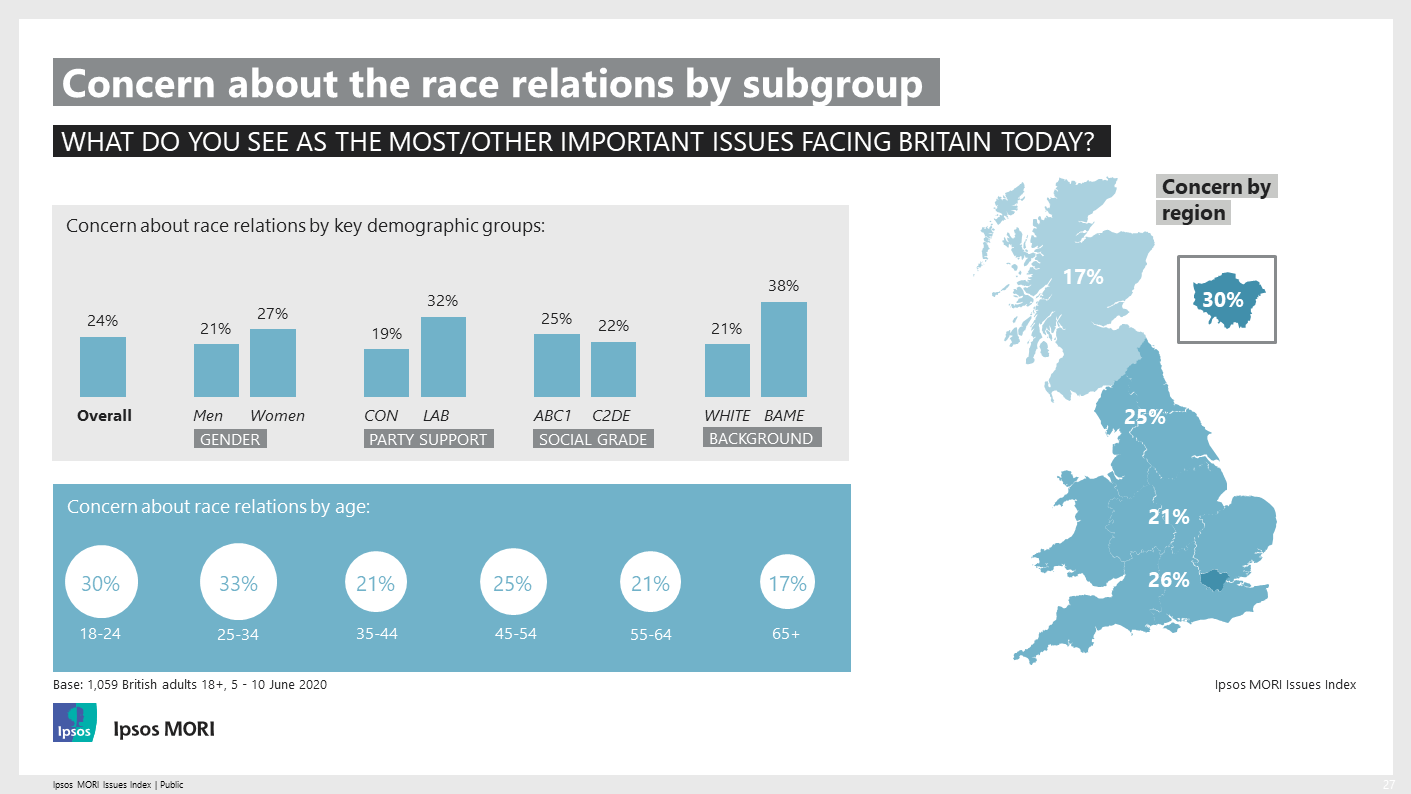 Mike Clemence, researcher at Ipsos, said:
Coronavirus remains a huge concern for the British public, with three quarters saying it is one of the biggest issues for Britain. Despite a fall from April this is still among the highest levels of worry we've recorded in the near fifty years of this poll.

However, we can start to see other issues emerging. The economy is already a worry for four in ten and levels of public concern about Brexit and education are starting to rise.

The impact of the Black Lives Matter protests in London and around the world can also be seen in this month's poll, with a quarter of the public talking about problems of race relations in Britain. This is a huge increase in awareness for an issue which was mentioned by just one per cent of White Britons in April."
Technical note:
This month's Issues Index is the second in the poll's 46-year history to be conducted over the phone; lockdown conditions mean face-to-face fieldwork is currently not an option for public opinion polling. Mode effects should be kept in mind when comparing the new data points with previous months.
Ipsos's Issues Index is conducted monthly and provides an overview of the key issues concerning the country. Ipsos interviewed a representative sample of 1,059 adults aged 18+ across Great Britain. The answers are spontaneous responses, and participants are not prompted with any answers. 
Ipsos's telephone omnibus was used for this survey. Interviews were conducted between 5 and 10 June 2020 across Great Britain. Data are weighted to match the profile of the population.