Ipsos Political Monitor – attitudes to Labour leadership candidates
As Labour begin their search for a new party leader Ipsos's first Political Monitor of 2020 reveals what the wider British public thinks about each of the four contenders.
Many still to make up their minds about the Labour leadership candidates, but Keir Starmer seen as most Prime Ministerial while Rebecca Long-Bailey has more to do
All candidates though face a challenge in persuading more people to vote Labour as the Conservatives maintain solid 17-point lead over Labour in latest voting intentions
The new Ipsos poll asks if each if each of the candidates 'has what it takes to be a good Prime Minister' and if they would make it more likely for them to vote Labour in the next election. It shows:
As seen in our previous research, many people (between four and five in ten) say they don't know or give a neutral opinion when asked to rate whether the candidates have what it takes to be a good Prime Minister.
Sir Keir Starmer though has the most positive public profile at the moment.  A third (32%) agree that he has what it takes to make a good PM – including 45% of Labour supporters. A quarter (25%) say he doesn't not have what it takes with just 13% of Labour supporters thinking the same.
Sir Keir is followed by Lisa Nandy with 23% saying she has what it takes to be a good PM (26% disagree), including a third (33%) of Labour voters (16% disagree)
One in five (19%) think Emily Thornberry has what it takes (40%) disagree with 28% of Labour voters agreeing (28% disagree), while 14% say Rebecca Long-Bailey has what it takes (42% disagree) with 27% of Labour supporters agreeing (27% disagree).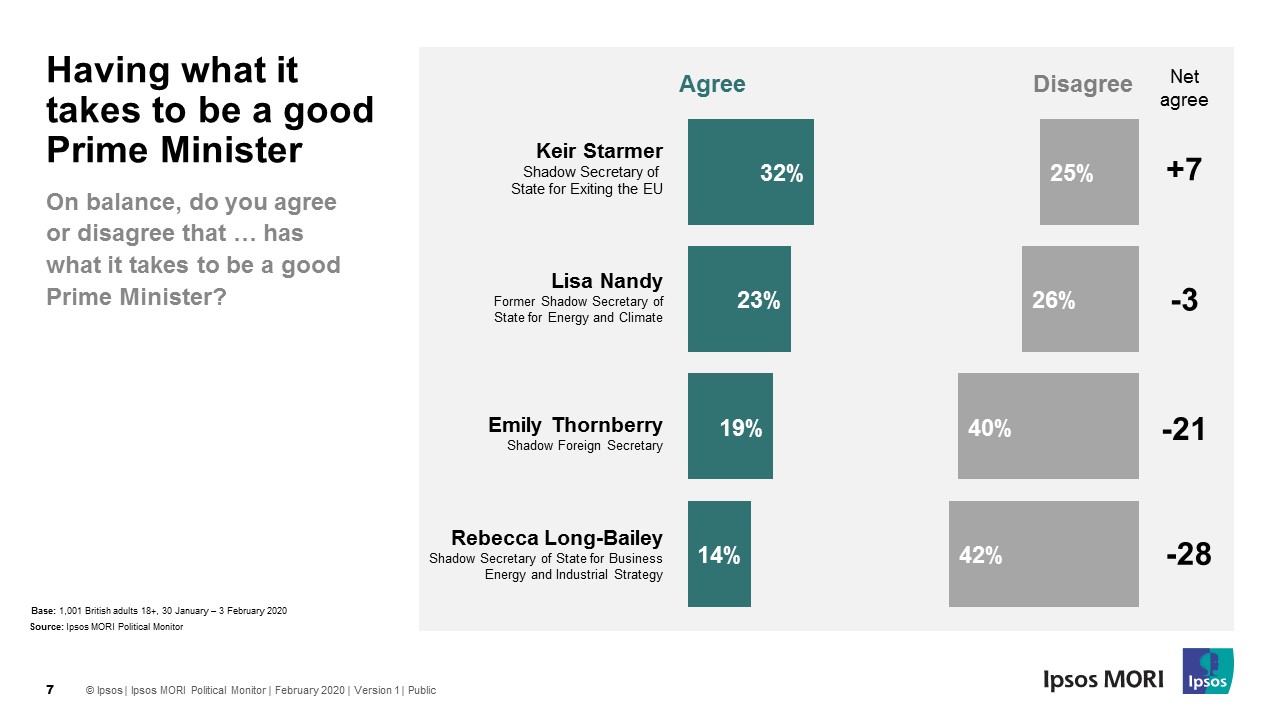 Compared to when we asked this question in July 2015 about Andy Burnham, Yvette Cooper, Liz Kendall and Jeremy Corbyn during that Labour leadership contest, Keir Starmer gets better scores among the public now than any of the candidates, while Rebecca Long-Bailey and Emily Thornberry's negative figures are worse. 
When it comes to attracting voters in the next election however there is less separation between the candidates.  Thirty five percent of the public say it is likely they would consider voting Labour if Sir Keir was leader (52% say unlikely), 33% if Ms Thornberry was leader (56% say unlikely), 32% if Ms Nandy was leader (53% say unlikely) and 28% if Ms Long-Bailey was leader (56% say unlikely).
When it comes to attracting non-Labour voters all of the candidates struggle, although Keir Starmer has more potential among Liberal Democrat supporters.  One in five (20%) non-Labour supporters say they would be likely to vote Labour if he were leader (71% say unlikely), compared with 17% who say the same if either Ms Thornberry or Ms Nandy were leader (76% and 71% respectively say it would be unlikely) while 12% say they would likely vote Labour if Rebecca Long-Bailey were leader (79% say unlikely).  Among Liberal Democrat supporters (although a small base size), 57% say they would consider voting Labour if Keir Starmer was leader, 34% if Emily Thornberry was leader, 29% if Lisa Nandy, and 22% if Rebecca Long-Bailey.  Very few Conservative supporters would consider voting Labour under any of the candidates. 
The latest Ipsos vote intention figures show the Conservative Party maintaining a comfortable lead over their rivals with the Conservatives on 47, Labour on 30, and the Liberal Democrats on 11.
Gideon Skinner, Head of Politics at Ipsos, said:
Awareness of all the Labour leadership candidates is low, so there is time for them to build a better public profile.  But while Keir Starmer starts in a stronger position (and also is more palatable to Liberal Democrat supporters), Rebecca Long-Bailey has more of a challenge to turn negative perceptions around.  None of them, though, face an easy task persuading more voters to vote Labour
Technical note
Ipsos interviewed a representative sample of 1,001 adults aged 18+ across Great Britain. Interviews were conducted by telephone 31st January – 3rd February 2020.  Data are weighted to the profile of the population. All polls are subject to a wide range of potential sources of error. On the basis of the historical record of the polls at recent general elections, there is a 9 in 10 chance that the true value of a party's support lies within 4 points of the estimates provided by this poll, and a 2 in 3 chance that they lie within 2 points.