Ipsos poll finds having a nanny or cleaner come to work from a different household is seen as unacceptable behaviour under lockdown
In a poll conducted before Boris Johnson's lockdown-easing announcement, three-quarters said having a nanny or a cleaner from a different household was unacceptable behaviour
A survey by Ipsos, conducted in the days leading up to Boris Johnson's announcement that lockdown would start to be eased, found there is little public support for those who use the services of nannies and cleaners from different households to do so during lockdown. Only 9% say it is acceptable to allow a nanny to come from a different household to look after children while 12% feel the same way about cleaners. Around three quarters find both unacceptable (76% and 73% respectively). 
Those with friends/ family available for childcare are seen as slightly more acceptable, as long as they are under 70, 22% see this is fair under lockdown, however this decreases to 12% when that family member/ friend is over 70. 
When considering people seeing their boyfriends/ girlfriends (when from a different household), only 15% believe this to be acceptable while 7 in 10 (71%) believe it is not.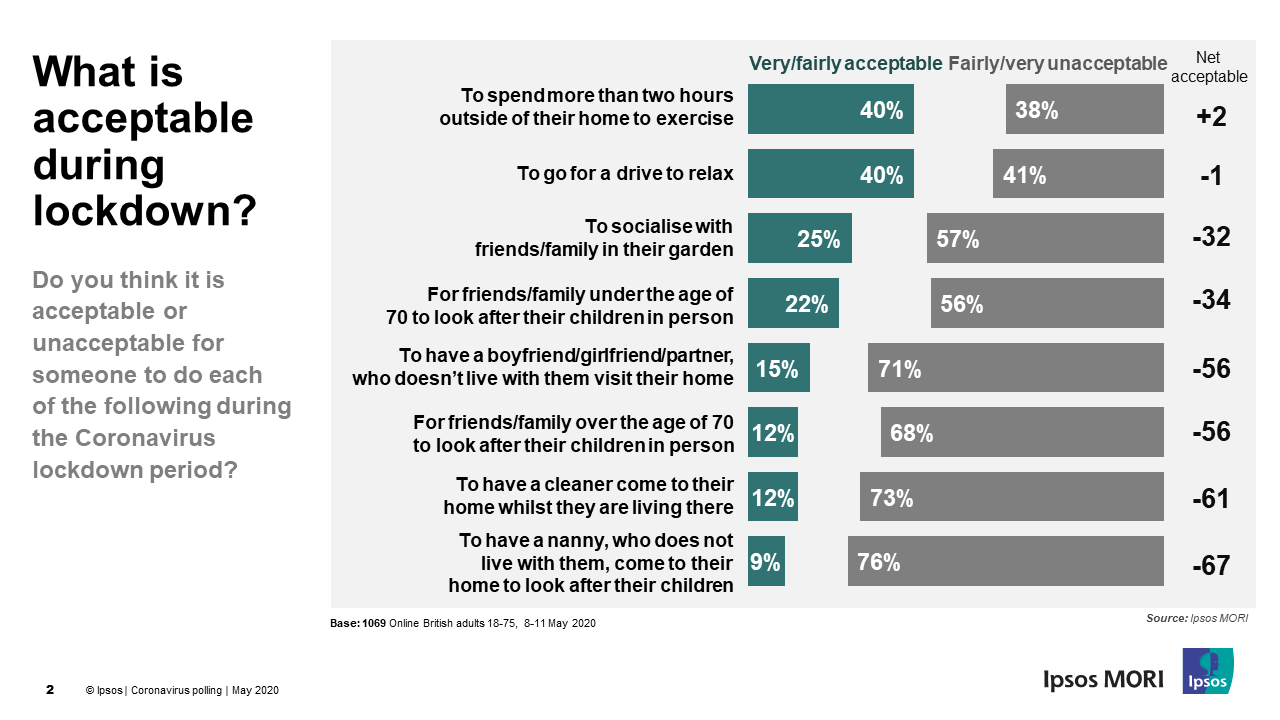 However, this increases among young and single people. Among 18-34-year olds, a quarter (24%) believe it is acceptable for those in a relationship to see each other, even when coming from different households, compared to only 9% of 55-75s. One in five (21%) singletons believe it to be acceptable, decreasing to 13% of those married, living as married, separated, divorced or widowed. 
Fifty-seven per cent of Britons say that it is unacceptable for people to socialise with their friends and family in gardens during the lockdown coronavirus period. Only a quarter (25%) believe doing this would be acceptable.
Opinions are split when it comes to exercising outside for more than two hours and going for a drive. Two in 5 (40%) believe people should be able to exercise outdoors for longer than two hours while 38% disagree. Similarly, 40% believe going for a drive in order to take a break or relax is acceptable, compared to 41% who do not. 
Research Director, Keiran Pedley said
As lockdown restrictions are gradually eased, there is some evidence that public opinion needs to play catch-up. From this week, nannies and cleaners will be allowed to return to work but our survey over the past weekend shows that few think having people in their homes to do these jobs is acceptable in the current climate. Of course, this may change as new rules are better understood but given public caution at easing lockdown restrictions, we should not expect things to return to normal overnight.
Techincal note:
Ipsos interviewed a representative sample of 1,069 British adults aged 18-75 online between 8th-11th May 2020.  Data are weighted to the profile of the population