An Ipsos study shows confidence in the vaccine remains high
Intentions to have a second dose are high according to a new Ipsos KnowledgePanel poll.
Just 1% of people who have had one dose of the vaccine for COVID-19 say they do not intend to have a second dose. The survey of over 8,000 adults in the UK, 3,738 of whom have had the first dose, shows that 95% say they definitely will have it, and a further 4% say they probably will have it.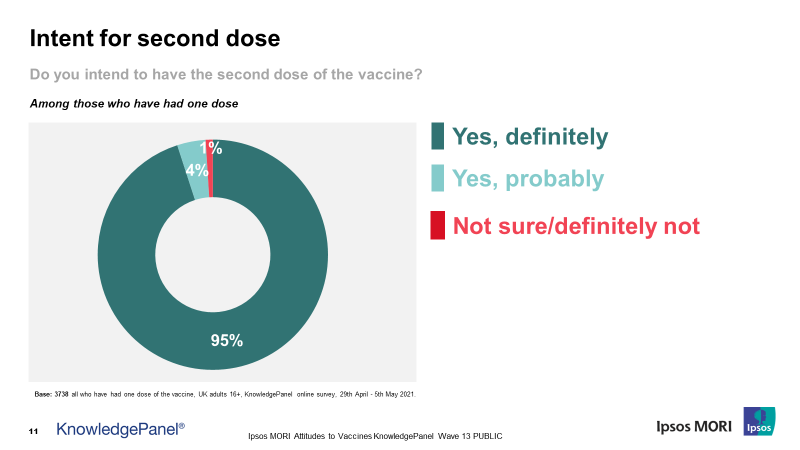 Confidence is high regardless of the vaccine being used. However, the proportion saying they will definitely have their second dose of the Oxford/Astra Zeneca vaccine is slightly lower, at 94%, compared with 98% who say they will have their second dose of the Pfizer vaccine.  
Amongst the small group (n=47) who express some doubts about having the second dose, reasons given include a concern about the possible link with blood clots, feeling ill after the first dose, and thinking they don't need it. 
Overall confidence remains strong 
These results demonstrate the continued high levels of confidence in the vaccine. In addition to the 68% who report having at least one dose of the vaccine, a further 26% say they would now either definitely or probably take the vaccine when offered (94% in total).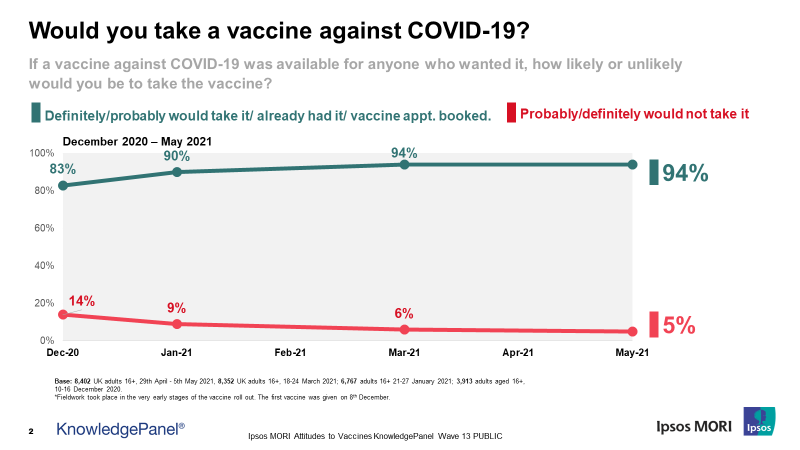 Where is there hesitancy? 
While confidence in the vaccine is high, there remain some pockets of hesitancy. For example, ethnic minority Britons are less likely to have had the vaccine or say they will have it. This means that while 95% of white Britons have already had the vaccine or intend to have it, the corresponding figure for ethnic minority Britons is 88%. In fact the gap between these two groups has widened since March 2021 when the figures were 94% and 92% respectively.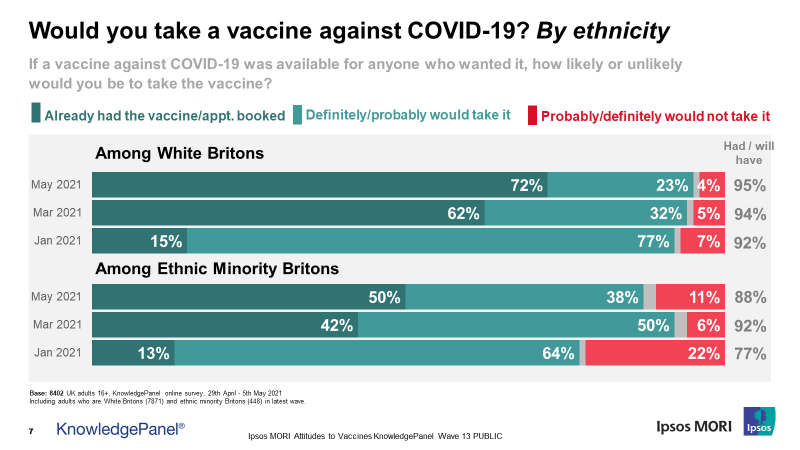 Hesitancy also remains higher amongst younger age groups. For example, 88% of 16-24 year olds say they have had the vaccine or will have it when it is available to them.  
Kelly Beaver, Managing Director of Public Affairs at Ipsos said:  
Ipsos's latest findings show that vaccine confidence remains remarkably strong across the UK. As we increasingly see more and more second doses being given to people, it's also incredibly encouraging to see the very high percentage of people who say they will definitely get their second dose, which you need to achieve the full effectiveness of the vaccine. The few remaining pockets of the vaccine hesitant require further community engagement and encouragement.
Technical Note
This data has been collected by Ipsos's UK KnowledgePanel, a random probability panel which provides gold standard insights into the UK population, by providing bigger samples sizes via the most rigorous research methods.
Ipsos interviewed a representative sample of 8,402 people over 16 in the UK. Interviews were conducted online from 29 April to 5 May 2021.  
Data are weighted to match the profile of the population. All polls are subject to a wide range of potential sources of error.
Download