Let's party like it's 1945: a sharp post-pandemic drop in hedonism
Research by Ipsos for the Nationwide Building Society Consumer Insights Panel.
Despite rising optimism for the country as a whole and an historic surge in economic optimism, new polling by Ipsos on behalf of Nationwide Building Society's UK Consumer Insight Panel shows that half (51%) of people in the UK who have saved during the pandemic intend to hang onto these savings.
This poses a challenge to the view that 2021 will witness a sudden release of pent-up consumer demand, and comes despite the fact that economic analysis shows that, with record-low interest rates, there has never been less of an incentive to save.
After a year of economic shocks and insecurity, caution prevails:
Half (51%) of the UK public define financial wellbeing as about having a good safety net, with a huge +31ppts difference towards a saving vs. a spending mentality;
Nine-in-ten (89%) people agree it is important to be careful and always have savings to cope with unexpected events;
Eight-in-ten (79%) say they want to save enough money so they don't need to worry about losing their job.
This attitude has been strongly shaped by the experience of COVID-19, with three quarters (74%) saying that they want to save more than they have done in the past, as the pandemic has shown the world is full of risk and uncertainty.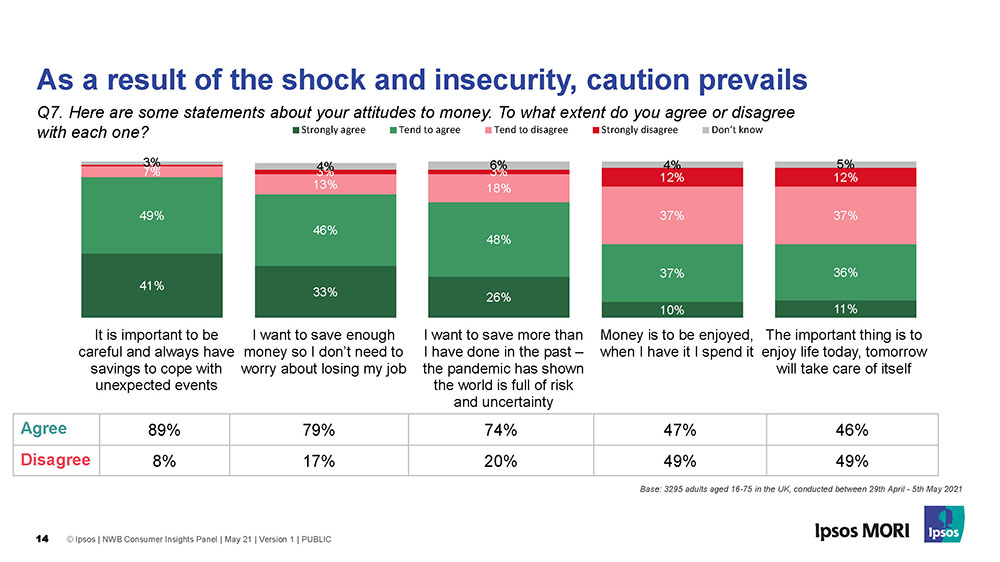 Looking at public values, the data also shows hedonistic sentiment among the UK public has fallen to its lowest level for 22 years. Between 1999 and 2019, an increasingly large proportion of UK residents agreed with the idea that "The important thing is to enjoy life today, tomorrow will take care of itself".
Yet in two years this progression has been reversed, with less than half (46%) of the public agreeing. For the first time since 1999, more disagree than agree with this statement.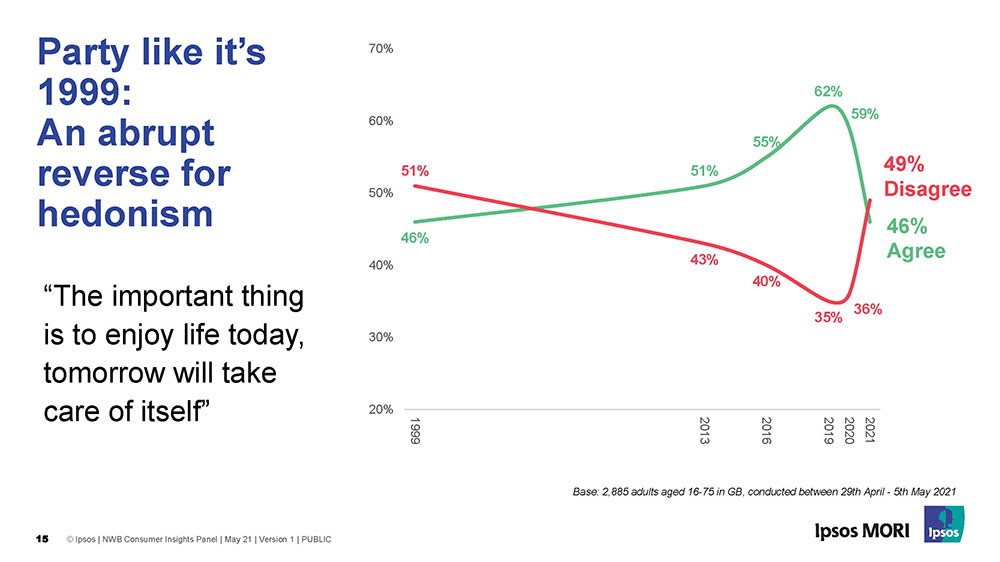 At this stage in the recovery, the data suggests that 'The Great Unlock' could be less like the roaring twenties, and more like the 1950s – with the nation adopting a type of post-war austerity.
Ben Page, CEO of Ipsos said:
The public are not yet ready for a Roaring Twenties moment: prudence on saving and spending prevails and hedonist tendencies are at a 20-year low.
Technical note
Ipsos interviewed a representative sample of 3,295 adults aged 16-74 living in the United Kingdom using its online access panel. Interviews were carried out between 29 April and 5 May 2021. Data has been weighted to the known offline population proportions for age, working status and social grade within gender, government office region and education. All polls are subject to a wide range of potential sources of error.