Liberal Democrats at lowest level of support since 1990
The latest Ipsos Political Monitor shows support for the Liberal Democrats at its lowest level in 25 years.
UKIP also down as main two parties rise
CON 34 (+1); LAB 36 (+2); LIB DEM 6 (-2); UKIP 9 (-2); GREEN 7 (-1)
The latest Ipsos Political Monitor shows support for the Liberal Democrats at its lowest level in 25 years. Just six percent of Britons say they would vote Liberal Democrat in an immediate general election, giving them their lowest level of support since 1990.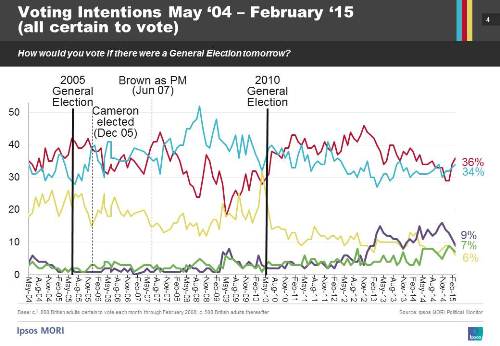 Support for UKIP has also fallen - Nigel Farage's party are now on 9% of the vote, their lowest share since November 2013. Satisfaction with Mr Farage himself has also declined as the general election approaches; net satisfaction in his performance as UKIP leader (% satisfied minus % dissatisfied) is now at -23, down from -4 back in October. Three in ten (30%) are satisfied with Mr Farage, while 53% are dissatisfied, giving him approval ratings well below those of the Prime Minister (though still higher than for Ed Miliband and Nick Clegg).
Net satisfaction with Messrs Cameron (-14; 39% satisfied, 53% dissatisfied), Clegg (-41; 23% satisfied, 64% dissatisfied) and Miliband (-35; 26% satisfied, 61% dissatisfied) shows no significant change. Satisfaction with the government is also unchanged (net satisfaction at -24, with 34% satisfied and 58% dissatisfied).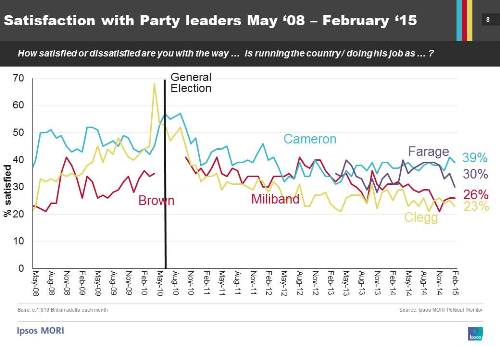 There is better news for the two biggest parties, with Labour and the Conservatives both rising for a second consecutive month. Labour are on 36%, up from 29% in December, while the Conservatives are at 34%, up from 32% in December.
More now think Ed Miliband and the Labour Party are ready for government than in November, when there were rumours of a leadership challenge, though the majority still do not think they're ready. One in three (33%) think Labour is ready to form the next government and 21% think Ed Miliband is ready to be Prime Minister, up from 23% and 13% respectively. More than half each still disagree that Mr Miliband (63%) and his party (52%) are ready for government, however.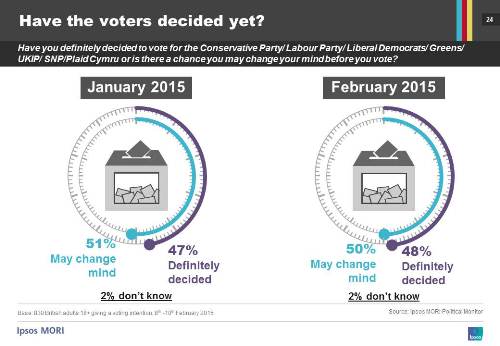 There remains everything to play for before the general election, however, with half (50%) saying they may still change their mind about their vote. Current Liberal Democrats are least sure about their decision, with 62% saying they may change their mind, compared with 51% each for Labour and UKIP and 42% of Conservatives.
Economic Optimism remains steady, with 37% thinking the country's economic condition will improve over the next year, 30% thinking it will stay the same and 26% thinking it will get worse, giving an overall Economic Optimism Index score (% improve minus % get worse) of +11.
Gideon Skinner, Head of Political Research at Ipsos, said:
"After their troubles in 2014, it seems that the big two parties may be reasserting themselves, as the battle between them dominates the agenda (although the Liberal Democrats still struggle, and slip further behind). But with half saying they may change their mind, there is still time for further twists if the campaign spotlight shifts."
Downloads
Technical note:
Ipsos interviewed a representative sample of 1,010 adults aged 18+ across Great Britain. Interviews were conducted by telephone 8-10 February 2015.  Data are weighted to match the profile of the population.