Majority of Britons think Trump's election has worsened America's standing in the world
Ipsos's October 2017 Political Monitor shows that the majority of Britons think Trump's election has worsened America's standing in the world.
It has been one year since Donald Trump was elected President of the United States and Ipsos's new poll shows that his election has done little to help America's image in the eyes of the British public. When asked what effect Mr Trump's election has had on America's standing in the world, four in five (78%) say it has made it worse (49% say 'a lot worse), while just 6% say it has improved.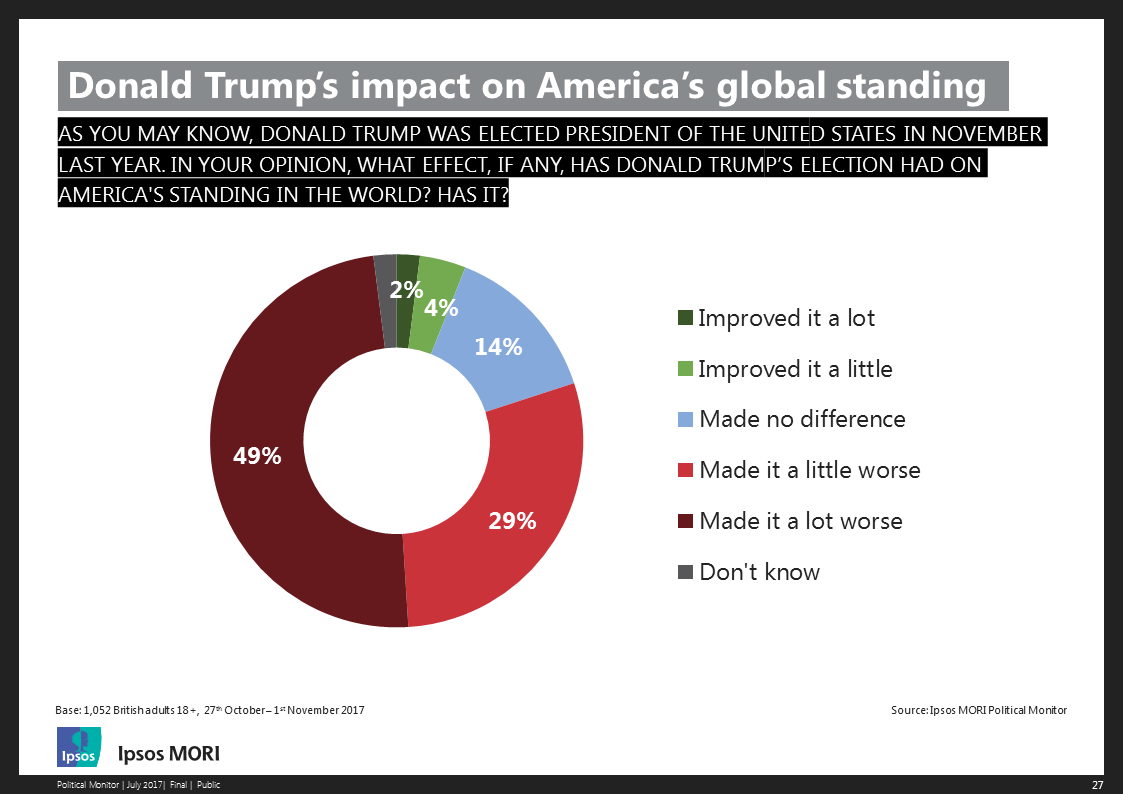 This view is shared across demographics, but there are some differences in intensity by gender and educational attainment. Eighty-two percent of women say Trump has made America's global standing worse compared with three-quarters (73%) of men. Nine in ten (89%) of those with a degree say things have gotten worse compared with seven in ten (71%) without a qualification.
There is also some difference between political party support. Liberal Democrats are most likely to believe Mr Trump's election has tainted America's global standing with 93% saying it has gotten worse, as do 86% of Labour supporters and three-quarters (74%) of Conservative supporters.  
Gideon Skinner, Head of Political Research at Ipsos, said:
Britons' expectations of Donald Trump were low even before his inauguration – and since becoming President don't seem to have become much better.  After becoming more positive during Barack Obama's term, President Trump is in danger of making America's external image grate, in the eyes of Britons at least.
Technical note:
Ipsos interviewed a representative sample of 1,052 adults aged 18+ across Great Britain. Interviews were conducted by telephone 27th October – 1st November 2017.  Data are weighted to the profile of the population.