Majority of Brits can't identify plastics in multiple household items
Many household items contain hidden plastics, but some are more obvious than others.
A new Omnibus survey by Ipsos shows that a majority of Britons struggle to identify household items that contain plastics. In the survey, respondents were asked to identify which of 14 products contained plastic, all products given contain 'hidden plastics'. 
The presence of plastic in cardboard and paper food packaging caused most surprise with less than a quarter of Britons (24%) choosing it. Lightbulbs followed closely with 26% and cigarette butts and envelopes were identified by 28% of the public.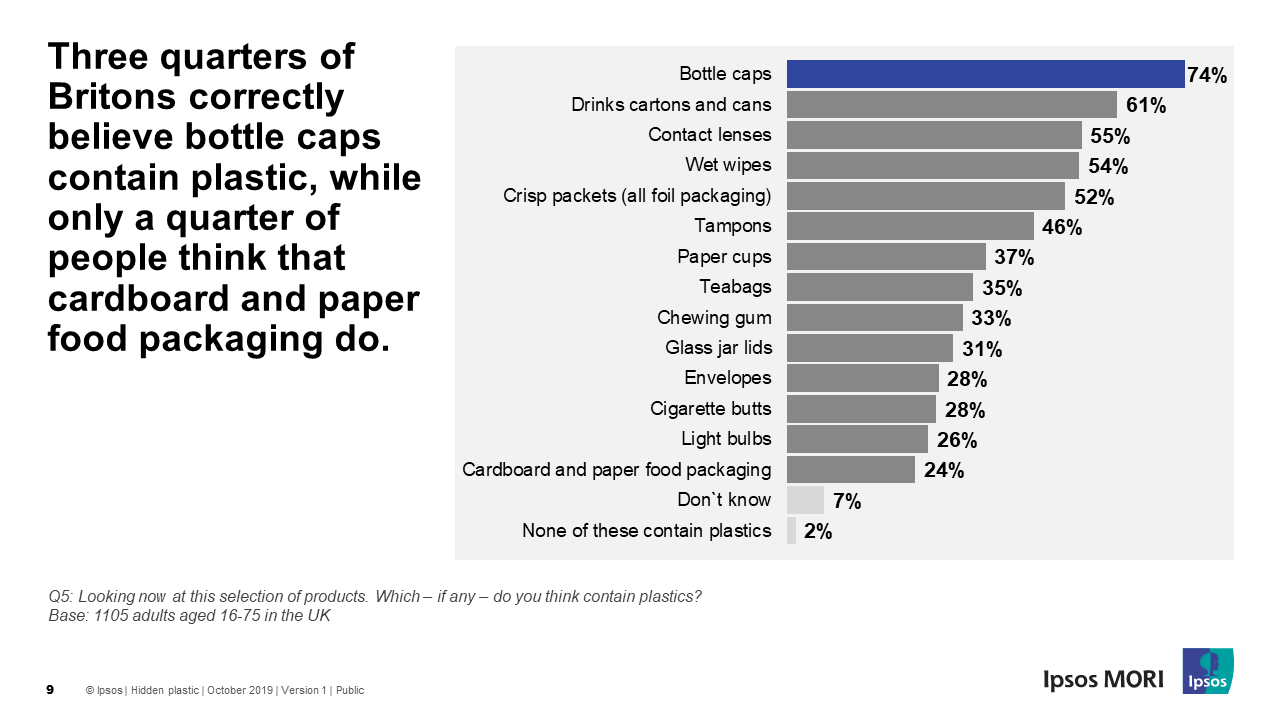 Plastic in bottle caps is the least surprising, with almost three-quarters (74%) correctly believing they contain plastic. Drinks cartons and cans were the second most identified product with over three in five (61%) selecting them, followed by contact lenses with 55%. The only other products correctly identified by a majority were crisp packets and wet wipes (52% and 54% respectively). 
Overall, almost eight in ten (79%) are worried about the use of plastics in packaging and the majority attempt to personally reduce the problems caused by unnecessary use of plastic. Only 8% do nothing while two-thirds (65%) re-use disposable items. 58% buy products made from recycled materials and 43% have started going to shops that have packaging free options/ sections. 
Over half (51%) of respondents have increased how often they re-use disposable items and 36% have bought more products made from recycled materials than they did 12 months ago. Only 20% have made no effort to decrease their plastic usage in the past year. 
Food and beverage sectors are seen to have done the most to reduce their plastic and non-recyclable packaging use – especially those selling fresh fruit and vegetables. Despite making the most effort to reduce their plastic use, food and beverage companies are also seen by 77% of respondents as the worst offenders for using plastic and non-recyclable packaging (compared to half (49%) of home and personal care sectors. 
Global findings 
A new global Ipsos survey also finds 84% of Britons saying that manufacturers should be obliged to help with the recycling and reuse of the packaging that they produce.  The British public claim to be ready for change. An overwhelming majority - 81% - want to buy products with as little packaging as possible.
The global study also finds 75% of Britons now believe that single use plastic products should be banned as soon as possible and we are the most aware of the limits of recycling, with only a quarter (24%) believing that all plastics can be recycled, compared to an international average of 55%.
Almost two-thirds (63%) of Brits are positive about the recycling service provided for household waste in the area they live (12 percentage points above the global average), while 60% say their local recycling rules are clear (8 points ahead of the global score). 
Alex Baverstock, UK Product Testing Lead at Ipsos said:
Given the prominence of plastics in discussions around waste and sustainability, it is interesting to see just how many products contain plastics but are not widely known to do so.  While a single-use plastic straw, plastic bag or water bottle is an obvious target for reduction in our plastic consumption, it is seemingly forgotten how much plastic is introduced to our recycling and landfill waste systems.
Reducing the complexity of our packaging is one of the challenges we know manufacturers and retailers are wrestling with, to make the contents of their products and packaging clearer to consumers, so that they know better how to deal with it when it comes to disposal, and perhaps to make a decision not to buy that product in the first place.
Technical Note
The research was conducted on i:omnibus, Ipsos's online Omnibus.
Online interviews were carried out amongst adults aged 16-75 in the UK.
Our respondents base includes 1,105 adults who completed the survey between 3rd and 4th October 2019. 
The sample obtained is representative of the population with quotas on: 
The data has been weighted to the known population profile by age, gender, region and working status to be nationally representative and reflect the adult population of the UK.