NHS continues to be top issue for British voters
Ipsos's April Political Monitor looks at which issues voters will influence their decision and which party they think has the best policies on each one.
Labour best party on the NHS while Conservatives best on the economy
Ipsos's April Political Monitor shows that for the fourth consecutive month the NHS leads as the top issue for the British public when considering who they'll vote for. Followed by the NHS are managing the economy, education, asylum and immigration, taxation and benefits.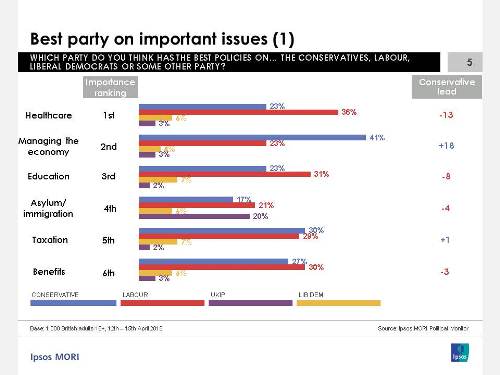 Nearly half of all Britons surveyed (47%) say the NHS and healthcare is their top concern when deciding how they'll vote. This is a slight boost from March's Political Monitor's figures when 38% mentioned the NHS (although it reflects similar levels to and February after the A&E crisis). Managing the economy has seen a boost of 4 points from March figures (up to 35%) while education remains at a similar level of importance at 24% (down one point from 25% in March).
One in five Britons (19%) mention asylum and immigration as an issue helping them determine who they'll vote for, down six points from March (25%). Following last month's budget announcement taxation appears to be more of a concern with 16% mentioning this issue (up six points from 10% in March). Benefits rounds off the top six voting priority issues with one in nine Britons (11%) saying this will be very important.
Labour is rated as the party with the best policies for two of the top three voting issues. Labour is mentioned by 36% of the public to best manage the NHS compared to 23% saying the Conservatives. When it comes to education three in 10 (31%) say Labour is the party with the best policies (compared to 23% saying Conservatives). Labour also lead the Conservatives on benefits by 3 points (30% vs. 27%) and housing by 11 points (31% vs. 20%).  
While Labour holds a slight lead over the Conservatives on asylum and immigration (21% compared to 17%) UKIP only trail by one point where one in five Britons (20%) say they have the best policies on the issue.  
David Cameron's Conservatives however maintain a commanding lead over the economy.  Four in 10 (41%) Britons say the Conservatives are best able to manage the economy (compared to 23% saying Labour). They also hold a small two point lead on unemployment (32% vs. 30%) but are neck and neck with Labour when it comes to taxation (30% vs. 29%). The Conservatives also lead Labour when it comes to crime (28% vs. 21%), defence (28% vs. 17%) and pensions (28% vs. 23%).
Gideon Skinner, Head of Political Research at Ipsos said:
"

Of the key issues to voters, the Conservatives only have a strong lead on one – but it is an important one, the economy.  Just as striking is that Conservative and Labour supporters both feel strongly that their party is the best on both healthcare and the economy – another sign that switching between the big two may be overshadowed by other stories this election.

"
Downloads
Technical note
Ipsos interviewed a representative sample of 1,000 adults aged 18+ across Great Britain.
Interviews were conducted by telephone 12-15 April 2015.
Data is weighted to match the profile of the population.