The public's expectations for levelling up
At the end of July, we asked the UK general public whether the levelling up agenda will have a significant impact on their local area and only 14% agreed. With such a low baseline surely the only direction for levelling up is, err, up?
Expectations are higher in the Northern regions, hopes rising to 30% in the North East and 21% in both the North West and Yorkshire & Humber.
But are expectations low because nobody knows what it is? – possibly.
Our latest polling suggests that 43% of the general public know nothing or have not heard of levelling up and 61% do not know what it means in practice for their local area; but that doesn't mean to say people don't know what their local areas need.
We asked a small group of people from across the UK to show us around their local area using our mobile software Applife. We asked them what a successfully levelled up area would look like and how it could be measured.
So, what does a good area look like? It didn't matter whether our participants lived in a hamlet, village, town or city they all wanted to show us the green space they valued – be it a heathland, municipal park or canal toll path. The benefits of stepping into nature were voiced by all.
We also saw videos of high streets, a range of shops, places where you could sit out, where the market is on a Saturday. Accessible services on your doorstep….so far, so simple.
But then we asked how you measure the success of levelling up, this is not so simple. Fewer homeless people, , increased life expectancy, local employment opportunities, increased Universal Credit, no empty shops, and if you live in a rural area then you can add faster internet speed and regular public transport to the list.
To help make sense of it all we have tried to quantify the 'to-do list' by providing the general public with a list of the Government's main priorities for levelling up and asking them which should be prioritised for their local area. Education and skills take three of the top four spots and prioritising the green economy fits nicely into that space. So, is that the answer? It certainly seems like a sound basis from which everything else will flow.
Although the challenge here is that this will not happen overnight, and will the public need to see some quick-wins to be convinced that the Government is making progress?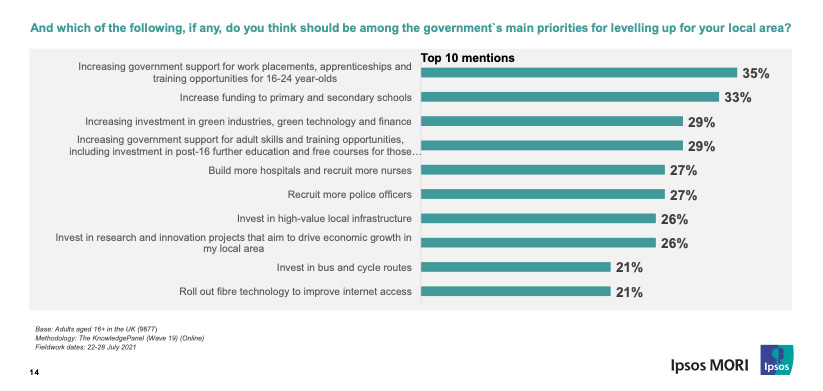 Once the Conservative party conference has wrapped up in Manchester, we will be going back to our video diary participants to get their reactions to what the Government has to say about how they are going to level up the country. Hopefully there will be metrics, timelines and clear links between projects and our participants' hopes for their areas.
Only 26% of the general public believe the Government is committed to levelling up the country – but again this is a pretty low base from which to build, so we look forward to moving onwards, and yes, upwards.
Nicola Moss is the Managing Director of Ipsos North, based in Manchester.
Levelling Up: What Britain Thinks - all our surveys on Levelling Up
Watch Part 1 in our series of Levelling Up Diaries below