Ratings for the Conservatives and Boris Johnson fall in Ipsos's latest Political Monitor
The Conservatives and the Labour party are neck-and-neck on voting intention.
Ipsos's latest Political Monitor shows ratings for Boris Johnson and the Conservatives have slipped since September. Our latest voting intention figures show the Conservatives and Labour neck- and-neck with the Conservatives on 35% (down 4 points), Labour on 36% (no change), the Liberal Democrats on 9% (no change) and the Greens on 11% (up 5 points). Fieldwork was conducted 29 October to 4 November (mostly before the Commons standards vote last week).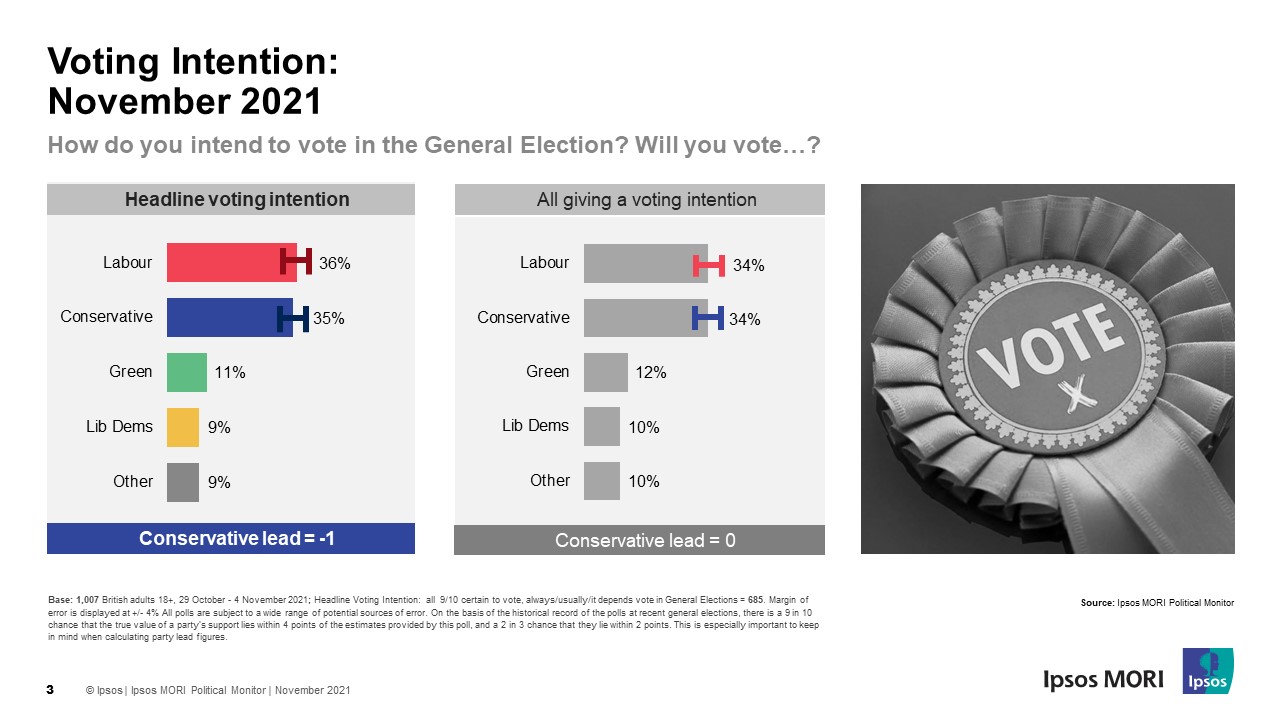 Leadership satisfaction
Overall satisfaction with Boris Johnson has also fallen. A third (34%) are satisfied with the way he is doing his job as Prime Minister (down 5 points from September) while three in five (61%) are dissatisfied (up 10 points) leaving him a net satisfaction rating of -27. Satisfaction with the government has also reduced – three in ten (29%) are satisfied with its performance (down 6 points) while 62% are dissatisfied (up 11 points) leaving it a net score of -33.
Keir Starmer has seen a slight improvement in his scores. Three in ten (29%) are satisfied with his job as leader of the opposition (up 4 points) while half (50%) are dissatisfied (no change) leaving him with a net satisfaction score of -21. Ed Davey has also seen little change with 20% satisfied with him as the Liberal Democrat leader (up 1 point) and 37% dissatisfied (up 4 points) giving him a net score of -17.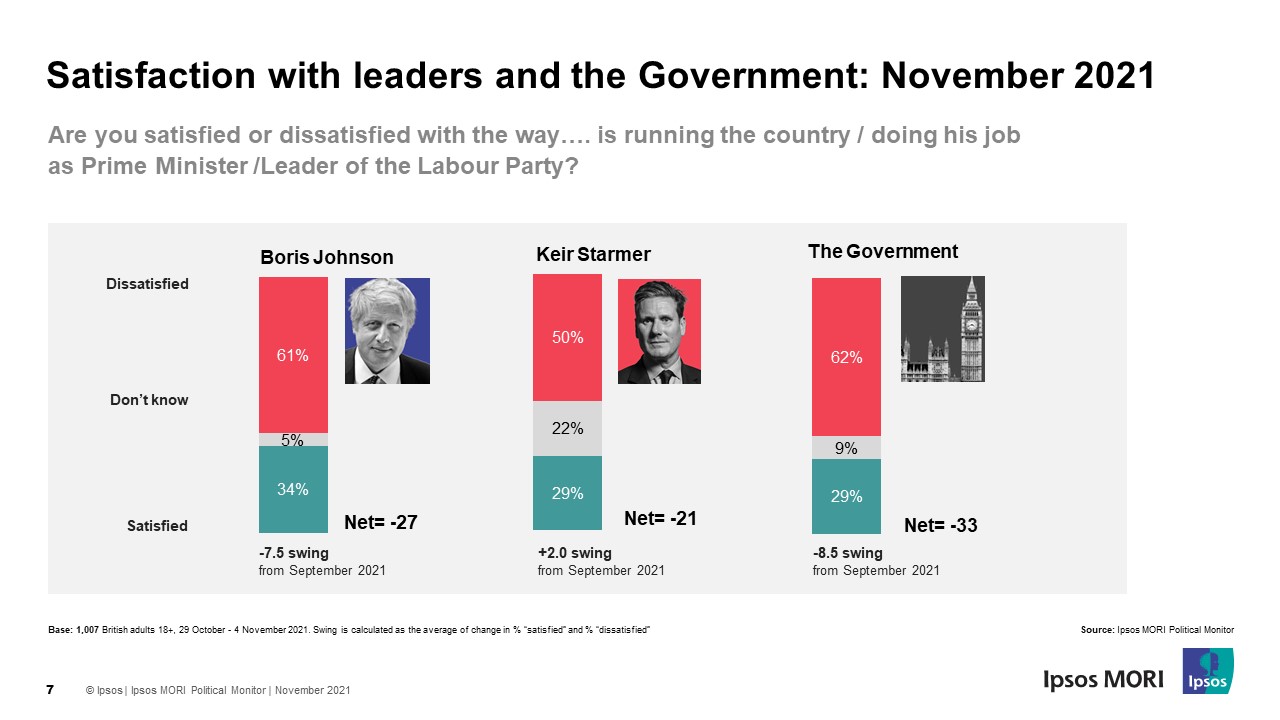 Boris Johnson however remains more popular amongst his party's supporters than Keir Starmer does amongst Labour's supporters. Seven in ten (72%) of Conservative supporters are satisfied with the PM (22% are dissatisfied) compared with 42% of Labour supporters who are satisfied with Keir Starmer (with same proportion – 42% - dissatisfied).
Who has what it takes to be a good Prime Minister?
The latest Political Monitor also reveals a fall in the proportion of people thinking Boris Johnson has what it takes to be a good Prime Minister with a third (34%) agreeing (down 11 points from June) while more than half (55%) disagree (up 12 points), his worst score since June 2019. Keir Starmer however has seen a small improvement with a fall in those disagreeing he has what it takes (down 7 points to 41%), although little change in those believing he has (25%).
The poll also finds public ratings have declined for Rishi Sunak with three in ten (29%) agreeing he has what it takes to be a good PM (down 7 points since June) and 38 disagreeing (up 9 points) – his lowest rating since the question was first asked about him in August 2020. Our first figures for the Foreign Secretary, Liz Truss, shows one in ten (10%) agree she has what it takes to be a good Prime Minister while a third (34%) disagree – a quarter (25%) however say don't know and 31% are neutral.
Handling of the Covid pandemic
Ratings for the Government's handling of the pandemic have got worse as infection rates remain high. Just over a third (36%) say the government is handling the coronavirus outbreak well (down 8 points from September) while almost half (48%) say that it is handling it badly (up 12 points) – the worst score since the beginning of this year.
Gideon Skinner, Head of Politics at Ipsos, says of the findings:
The Conservatives are facing challenges on a number of fronts. The pandemic is far from over, while we are also seeing worries about the economy, the NHS, the knock-on effects of Brexit, and other issues, all leading to rising concerns about the direction of the country - even before any long-term impact of the standards row last week. Climate change is also in the news and in the public's priorities, which may help to explain the notably good figure for the Greens. So the Conservatives are no longer in as strong position as they were earlier in the summer – although the public are still not convinced by Labour as an alternative.
Technical note
Ipsos interviewed a representative sample of 1,007 adults aged 18+ across Great Britain. Interviews were conducted by telephone: 29th October – 4th November 2021. Data are weighted to match the profile of the population. All polls are subject to a wide range of potential sources of error. On the basis of the historical record of the polls at recent general elections, there is a 9 in 10 chance that the true value of a party's support lies within 4 points of the estimates provided by this poll, and a 2 in 3 chance that they lie within 2 points. This is especially important to keep in mind when calculating party lead figures.