Scottish public supports tough restrictions – but wants to see them relaxed at Christmas
New polling from Ipsos for BBC Scotland finds strong public support for a range of tough measures to control the spread of coronavirus. However, there is also support for relaxing restrictions around Christmas time.
Strong support for tough measures
Our poll indicates that the Scottish public support tough measures to control coronavirus, including harsher consequences for those who break the rules.  Half (51%) said they would support a second national lock down in Scotland, while around a third (36%) opposed this. Half (48%) also said that the consequences for those who break coronavirus rules are not harsh enough (only 7% think they are too harsh, and 39% say they are about right just now).
Fieldwork for our poll was conducted just prior to Nicola Sturgeon's announcement that travel rules would be put into law but suggests that this decision will attract strong public support - 65% support fines for people in Scotland who break travel rules, with just 21% opposed.
The public also appear to be largely in favour of the Scottish Government's 'schools first' policy – 59% support keeping schools open throughout the pandemic, even if this means that most other businesses and services have to close (28% are opposed).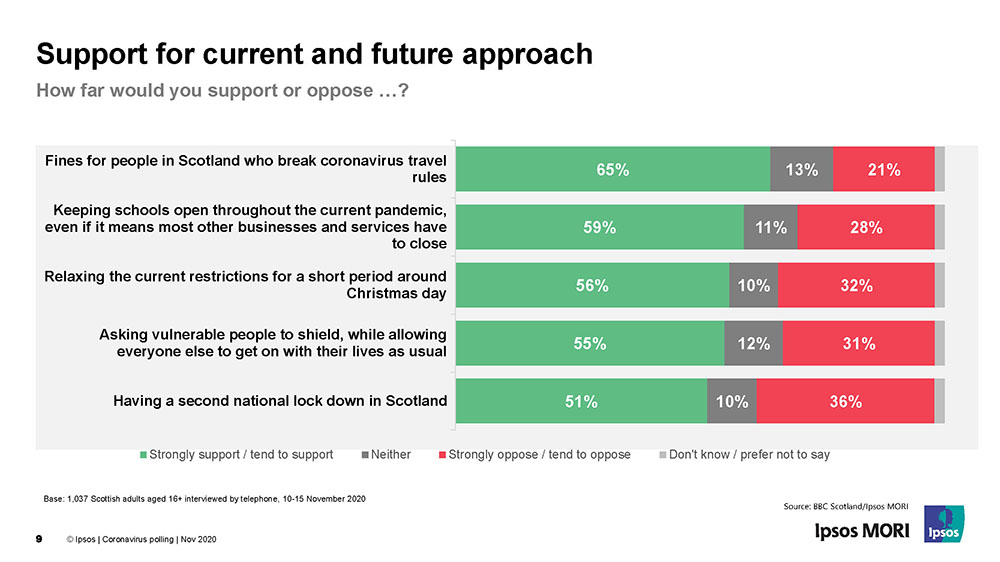 But people want a more normal Christmas
In spite of this general support for a tough stance, over half (56%) support relaxing restrictions for a short period around Christmas day (32% are opposed). It appears people are prepared to weather strict rules for now, but with the promise of a more normal Christmas.
And we are not finding all the rules easy
At the time fieldwork was conducted (just prior to Tuesday's announcement that 11 local authorities would move to Tier 4) most people (62%) felt the restrictions that applied in their local area were 'about right'. The vast majority (94%) also said they were sticking to the rules at least most of the time (although only 45% said they were sticking to them 'all the time'). However, only 20% said they were finding the rules 'very easy' to live with (and 24% said they found them 'very' or 'fairly' difficult).
The rules people most commonly report finding difficult are those relating to socialising with others – 65% of those who are not finding the rules 'very easy' say they find avoiding meeting other people in their home difficult, and 58% find avoiding meeting more than one other household outside difficult.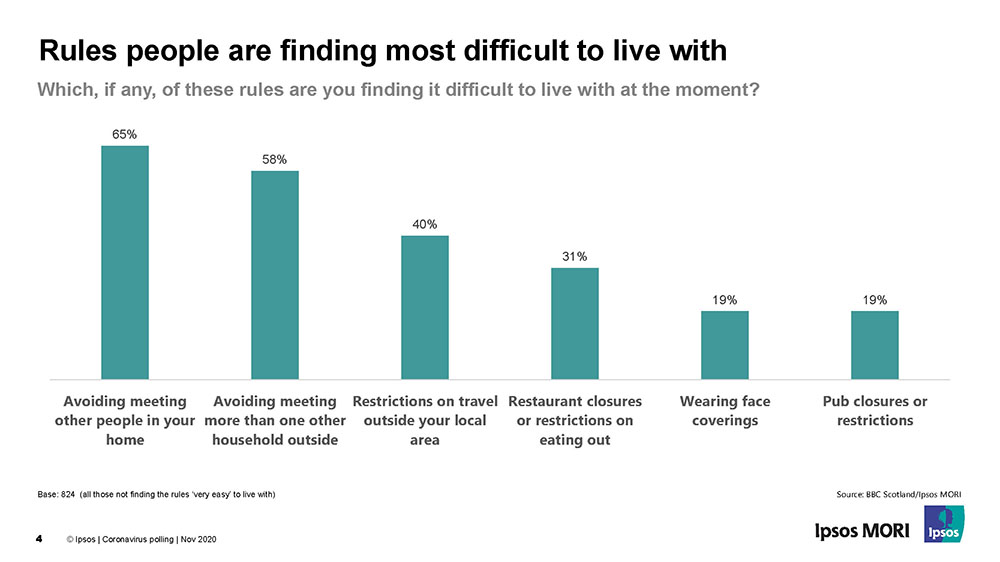 Younger people are finding living with the rules more challenging
At the time of interviewing, most people in all age groups felt the rules in their area were 'about right'. However, younger people stand out as being less likely to find them easy to live with, and less likely to say they are sticking to them all the time. 30% of those aged 16-34 say they find the rules difficult to live with – twice as many as the 16% of people aged 55 or older who say the same. Meanwhile, just 37% of 16-34 year-olds say they are sticking to the rules 'all the time', compared with 45% of 35-54 year-olds and 50% of those aged 55 or older.
Rachel Ormston, Research Director at Ipsos Scotland, commented:
"hese findings suggest that the Scottish public is hoping for a trade-off – tough restrictions and harsher consequences for rule-breakers now, if it means people can enjoy a more normal Christmas. While fieldwork took place prior to Tuesday's decision to move 11 local authorities into level 4, the findings suggest that the public is generally behind the direction of key Scottish Government policies – for example, there is clear support for fines for those who breach travel rules, and for keeping schools open even if this means other businesses and services have to close. However, it is also clear that people are finding elements of the rules – particularly those around socialising – difficult to live with. Younger people in particular stand out as a group who are finding the rules more challenging – and may, therefore, be less likely to follow the advice in the Scottish Government's most recent ad campaign and stick to them rigidly.
Technical note
Ipsos interviewed a representative sample of 1,037 Scottish adults aged 16+ by telephone between 10th and 15th November 2020. Data are weighted to the profile of the population.